From the Bishop - July 2015
The Beauty and Gift of Consecrated Life
The present issue of Harvest gives us a chance to rejoice in the gift of vocation in our diocese.  We have celebrated the ordination to sacred priesthood of Father Steven Cartwright and appointed him to the priestly ministry of serving God's people in the parish.  Matthew Gregory has been ordained a deacon and will continue his journey to priesthood.  There is much for which we can be grateful. The grace of God is surely working in our midst.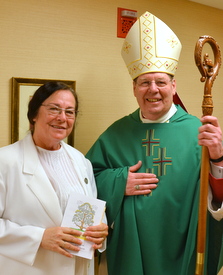 I want, however, to focus my remarks in this issue on a special vocation in the Church – consecrated life.  As you may recall, Pope Francis has set aside this year as a time in which we are asked to give thanks for this tremendous gift to the life of the Church. Pope Francis asks us to honor this group of people in the Church who live the life of Jesus in a particular way.  They consecrate their lives to God through a certain commitment to living what we call the evangelical counsels, that is the poverty, chastity, and obedience that were at the heart of Jesus' own life.
In our diocese, we are blessed with many different religious communities who live consecrated life together. There are other ways in which consecrated life is lived in the Church.  Some of these are highlighted in this issue of Harvest.  We are grateful for all of them, but the one we usually know best is the religious life.
There is no question that the number of religious has diminished.  Yet, we are constantly renewed in the lives of those who continue to witness in this way of life. We have religious sisters, priests and brothers living their vows in service to God's people in our diocese in the most wonderful and generous ways.  Our sisters, for example, serve the needs of those on the margins of our society, as Pope Francis has called us to do.  Our new immigrants from Africa, our Hispanic brothers and sisters, and our Native Americans who were here to receive the missionaries 400 years ago all know the caring presence of religious women. The sick in our hospitals, the children in our schools and faith formation, the people in parishes all receive pastoral care from our sisters.  Our religious priests assist in parishes and hospitals.  Their priestly presence provides great support to our diocesan priests. They also educate our young and provide spiritual direction.  Our brothers, though few in number, still care for the needy and offer spiritual help to those who seek their assistance.
Sisters, priests, brothers, they all live in hope, one founded in a profound trust in the Lord Jesus who has promised to be with the Church until the end of time.  From the earliest days of the Church, there have been men and women who have dedicated themselves to prayer and to selfless service to their fellow pilgrims.  The forms of consecration have changed, but the underlying realities remain and teach all of us to live in that same hope.
We want to mark this special year in which we hold up the beauty and gift that all consecrated life is to the Church.  In the commitment of those in consecrated life to follow Christ more closely, we all learn.  Their witness of life teaches us how to serve God and one another. We all can see from the witness of consecrated life that Jesus brings meaning and direction to our lives. Thus, we give thanks for the valuable heritage that those in consecrated life have made to the Church.  Each of us, I think, can think of ways in which we have been enriched by the life and mission of a person living in consecrated life. We see the witness of consecrated life in the many apostolates and ministries taken up by those committed to Christ through vows.
Pope Francis, reflecting on the smaller number of people in consecrated life within the Church today still challenges those living it to "Wake up the World!"  The Holy Father challenges members of religious communities and all those living in consecrated life to live the present with passion.  Light up the world with your witness to the truth you have found in Jesus. At the center of a religious vocation is a profound conviction of being loved by God.  No matter what happens, when everything is said and done, we are infinitely loved by a God who can only love.  Following, then, on Pope Francis, I encourage all religious and men and women in consecrated life, whether your charism be that of contemplation or action, to be Christ to those around you and thus be evangelizers.  Let your light shine.  The Church needs you.
+ Most Rev. Robert P. Deeley, J.C.D.
12th Bishop of Portland