Ministries Supported by the Catholic Appeal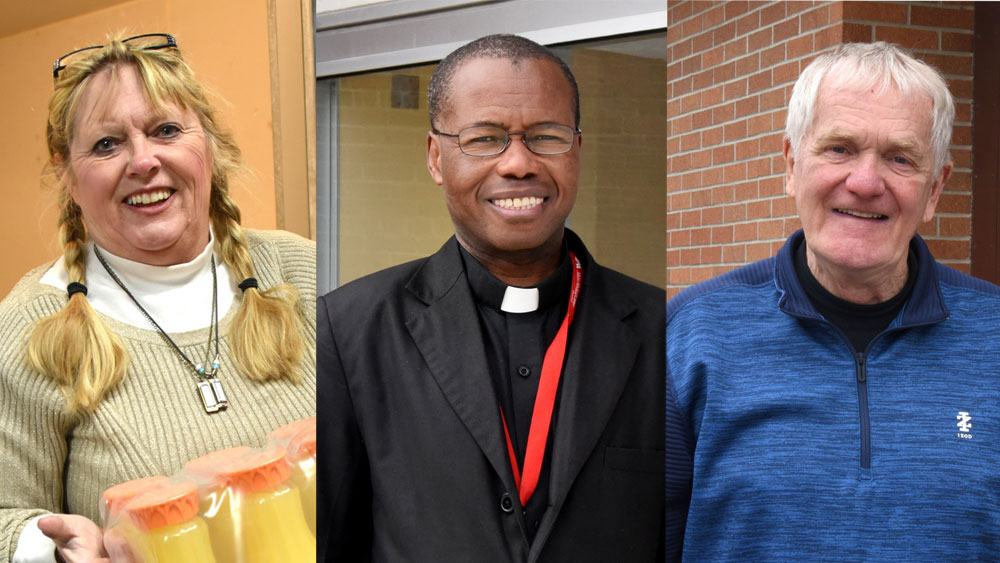 Each year, ministries supported by the Catholic Appeal touch the lives of tens of thousands of people across the state, from newborns to seniors. Through your gifts to the Appeal, hospital chaplains are able to serve at Maine's large secular hospitals, campus ministry is thriving at colleges and universities across the state, thousands in Aroostook County are served through the Catholic Charities Food Bank in Caribou, seniors are given the assistance they need to remain in their homes, and so much more. Below, read about a few of the programs and ministries supported by the Appeal.
Catholic Charities Food Bank
"We're going into some of the most challenging times I think we've ever gone into." - Dixie Shaw
The Catholic Charities Food Bank in Caribou, which is supported in part through your gifts to the Catholic Appeal, served more than 30,000 people in the last fiscal year. The food bank provides food to 28 different food pantries located across Aroostook County, as well as in northern Penobscot and Washington counties. In a recent story in Harvest magazine, Shaw, the director of Hunger & Relief Services for Catholic Charities Maine shared why these are such difficult times for many they serve. 
---
Hospital Chaplaincy
"As a hospital chaplain, I support patients emotionally and spiritually. I talk with them. I visit them. I listen to their worries, and I encourage them - Father Amandus Sway
Father Amandus Sway is one of two priest chaplains and two lay chaplains serving at Maine Medical Center in Portland, the state's largest hospital. The Catholic Appeal allows hospital chaplains to be present at Maine's largest secular hospitals. Along with MMC, they include Central Maine Medical Center in Lewiston, MaineGeneral Health in Augusta, and Northern Light Eastern Maine Medical Center in Bangor, MaineGeneral Health in Augusta.  Read about the importance of the work they are doing.
Parish Social Ministry
"What we try to do is to engage more parishioners in social outreach in their community, because when you serve others, that's when you deepen your faith" - Bill Wood
Bill Wood is one of four outreach coordinators with Catholic Charities Maine Parish Social Ministry. Bill and the other coordinators work with parishes around the state to help them engage in parish social ministry so that parishioners may fulfill their baptismal call to serve others. Bill says his goal is to have something percolating in each of the 10 parish clusters he serves. Read about the work he does.
Campus Ministry
"The whole focus is to grow closer to Christ and to bring Christ to others. It just made it real to me in a new way." - Nick Hershbine
Students participating in campus ministry say that it has helped their faith come alive and have provided them with a supportive environment during their college years. Your gifts allow campus ministers to be present at colleges and universities across the state including Bates College in Lewiston, Bowdoin College in Brunswick, Colby College in Waterville, the University of Maine in Farmington, and the University of New England in Biddeford. Recently, some students at the University of Maine in Orono shared with Harvest magazine why the Newman Center there has meant so much to their faith lives.
Cathedral of the Immaculate Conception
"I've been amazed by this building and all that it stands for since I came here." - Bishop Robert Deeley
The Cathedral of the Immaculate Conception, located in Portland, is the Mother Church of our diocese and the seat of the bishop. The Directory for the Pastoral Ministry of Bishops calls cathedrals the most important of a diocese's churches, saying they are "a sign of unity" and a "sign of the teaching authority and the sacred power" of the bishop. Special liturgies, such as the Chrism Mass, the Neophyte Mass, and ordinations are celebrated at the cathedral, and the Appeal helps the parish with the associated costs. The cathedral in Portland recently celebrated its 150th anniversary. Read about the diocese's mother church.
Catholic Schools
"I just love teaching. It's the children of course. I've always loved children." - Estelle Beauchesne
Estelle Beauchesne has been a Catholic school teacher in Biddeford for 48 years and has no plans on retiring. She says that Catholic schools offer something special to students because of the ability to teach children about God and because his presence is felt throughout the school day.
The Catholic Appeal supports our Catholic schools by paying for teachers' pensions, funding the Office of Catholic Schools, and providing grants to parishes with schools.
Read more about Estelle's service as a teacher and her honor as Maine Catholic School Teacher of the Year.
Hispanic Ministry
"As a Hispanic ministry, we have had many approaches, but one of the most important is to bring them the presence of the Church as the presence of Christ where they are." - José Peréz Lopéz
Led by Father Michael Sevigny, OFM, Cap., the Office of Hispanic Ministry is dedicated to helping members of the Hispanic community engage more fully in parish life. The office now offers Masses in Spanish at seven churches, along with sacramental preparation, faith formation for adults and children, and other services. Father Sevigny and outreach coordinators José Lopéz Perez and Rosario Starratt travel across the state to serve the community but are also seeking to establish teams of Spanish-speaking lay leaders at parishes to serve the growing Hispanic community. The Hispanic ministry team was recently featured in Harvest magazine
Office of Lifelong Faith Formation
"I really have a thirst for God and the Holy Spirit. I am driven by it. I want to learn how to be a better catechist or communicator or how to bring the word of God to others." - Joanne Fortier
Joanne is among dozens of people who are participating in Echoes of Faith, a learning tool being offered through the diocese's Office of Lifelong Faith Formation (OLFF). While designed for catechists, it is a program that will help open doors to the faith for any Catholic. Echoes of Faith is just one of many efforts by OLFF to helpful the faithful in Maine fully participate in the life and mission of the faith. The office also provides support and resources to priests, pastoral life coordinators, catechetical leaders, youth ministers, and other parish staff members and volunteers involved in faith formation. Read more about the Echoes of Faith program and the efforts of the Office of Lifelong Faith Formation. You can sign up for Echoes of Faith here.
Relief & Hope Services
"I always envisioned Catholic Charities as a place where you can turn if you feel you have no hope and you're down and out," - Stephen Letourneau
Relief & Hope Services is a Catholic Charities Maine Parish Social Ministry program that provides emergency assistance to people around the state. Volunteers, such as Julie Abbott, featured in a recent article in Harvest magazine, try to connect people with needed services or in some cases provide them with small amounts of money or gift cards. Relief & Hope Services receives around 1700 requests each year for assistance. Read about the program.
For a list of the other ministries and programs supported by the annual Catholic Appeal, see the annual report for the 2021-2022 fiscal year.