Totus Tuus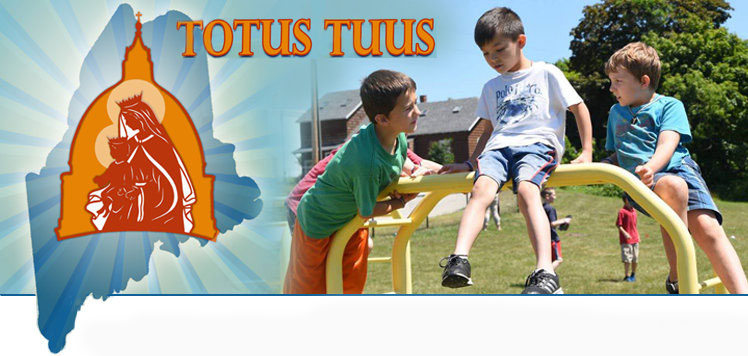 Totus Tuus is a Catholic youth program for students from 1st through 12th grade dedicated to teaching the Gospel and deepening love for the Church through catechesis, prayer, Christian witness, and the sacraments. The program's strong emphasis on devotion and love for Christ in the Eucharist and for Mary, Mother of the Church, leads participants to an exhilarating encounter with the timeless treasures of the Catholic faith. Through age-appropriate, dynamic, and faithful content presented each day, young people are motivated and equipped to live the radical call of the Gospel in today's world.
Sponsored by the Office of Vocations & Seminarians, Totus Tuus sessions are led by college students and seminarians. Sessions will be held at 10 parishes across Maine this summer. Registration information may be found here.
Dates and Locations
June 18-23
Prince of Peace Parish (Lewiston)
St. Mary of the Visitation Parish (Houlton)
June 25-June 30
St. John Vianney Parish (Fort Kent)
St. Joseph Parish (Farmington) and St. Rose of Lima Parish (Jay)
July 9-14
Parish of the Precious Blood (Caribou)
St. John Paul II Parish (Scarborough)
July 24-29
St. Anthony of Padua Parish (Windham)
St. Paul the Apostle Parish (Bangor)
July 30-August 
All Saints Parish (Brunswick)
Christ the Divine Mercy Parish (Millinocket)
Totus Tuus Daily Schedule
1st-8th Grade Program (Monday-Friday)
8:45 am - WELCOME!
9:15 am - Warm up/Songs
9:30 am - Class Period 1
10:00 am - Snack Break
10:15 a.m. - Music preparation for Mass
10:30 am - Class Period 2
11:00 am - Mass preparations / confessions
11:30 am - Mass
12:15 pm - Lunch / Recess
1:15 pm - Cool Down / Water Break
1:30 pm - Class Period 3
2 pm - Break
2:10 pm - Class Period 4
2:40 pm - Review and Closing Prayer
3:00 pm - Dismissal
*The Friday schedule is slightly altered for fun outdoor water games in the afternoon, concluding at 3 pm.
High School Program (Sunday-Thursday)
7:30 pm - Introduction/Icebreakers
7:45 pm - Session 1
8:10 pm - Session 2
8:35 pm - Session 3
9:00 pm - Break
9:15 pm - Night Prayer
9:30 pm - Dismissal