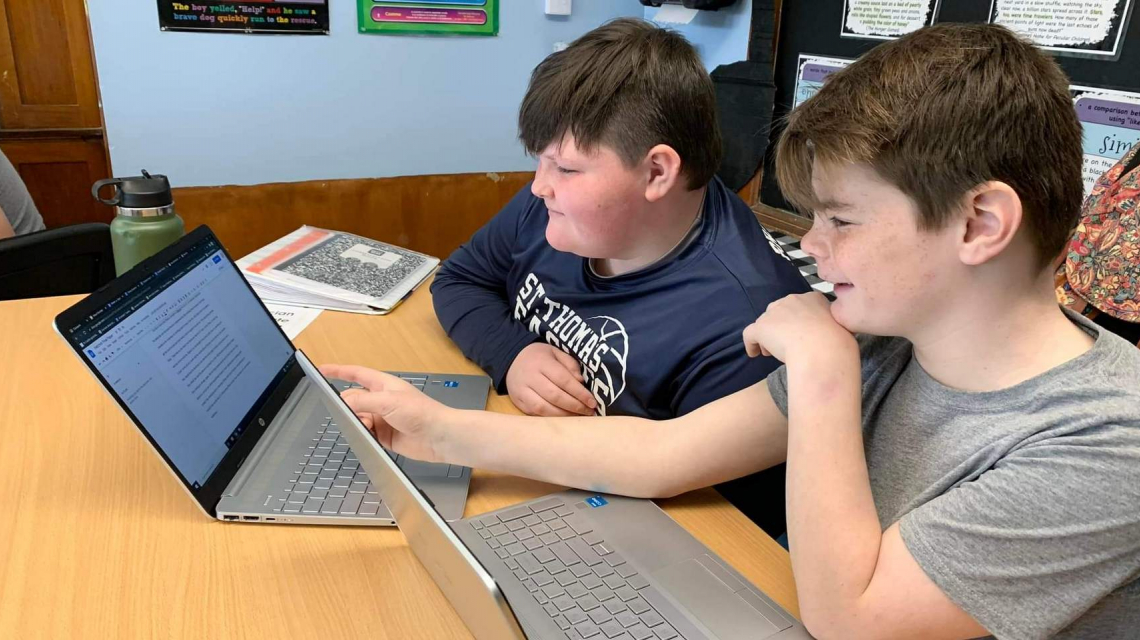 On behalf of our school community, welcome to St. Thomas School. Rooted in the beliefs and teachings of the Catholic Church, St. Thomas welcomes students and families of all faith to explore our school community. All students regardless of race or creed experience a values-centered environment that emphasizes compassion, respect, integrity and service to one another.
Students actively participate in religion classes, religious celebrations and liturgies while attending St. Thomas and are encouraged to grow in their own spirituality.
As the first parish school to be accredited by the New England Association of Schools and Colleges, St. Thomas is committed to maintaining high academic standards in all facets of its Pre-K to eighth grade program. With state certified teachers who follow the Archdiocese of Hartford standards-based curriculum, your child will create, evaluate, analyze and apply within each discipline.
Daily religion classes, coupled with music, art, physical education and Spanish instruction ensure a complete and fulfilling learning experience. Our student to teacher ratio of 1:10 for pre-K and 1:17 for first to eighth grade provide our students with the personalized attention they need to excel. We hope you will join us at St. Thomas!
Our Mission
"Where Faith and Education Meet"
St. Thomas School serves the parishes of St. Thérèse of Lisieux, Holy Spirit and St. Matthew. In partnership with the family, we are dedicated to nurturing the personal development of the whole child. Our mission is to instill Catholic values, foster self-discipline and promote academic excellence in the spirit of a caring and affirming community.
Faith
At St. Thomas, we integrate prayer and service into students' daily lives. We start each school day with the entire school gathered to say the Pledge of Allegiance to the flag and pray together. Students also have daily religion classes and opportunities for prayer throughout the day. We attend Mass as a school once a month, hold prayer services led by the classes, and encourage student to participate in service projects throughout the year including missions, food pantry collections and the Sanford Back Pack Program, Toys for Tots donations and more.   
Our junior high students also have twice a week ministry programs, help plan the Masses and participate as servers, music, ushers and lectors.
Academics
For all of our students, success and academic excellence are expected at St. Thomas School. Our smaller class sizes enable faculty and staff to know our students personally and provide for each students' learning needs.  
We have fully certified and accredited teachers and programs for all of our grades from pre-K to eighth grade. Along with our core offerings of math, language arts, social studies and science, we offer a rich arts program, speech services, Title I literacy and math enrichment or intervention.
We also encourage leadership and learning through programs such as our Book Buddy Program between older and younger classes. Many of our students meet or exceed the goals in reading, math and language on the NWEA test for students in grades 2nd-8th and recent statistics show our students consistently perform well at the high school level.
Enrichment
St. Thomas offers many enrichment activities including a strong arts program with a Christmas program and spring concert, an academic fair and a health fair each year. A yearly favorite, our Enrichment Day gives students opportunities to learn about a variety of fields including sports, hobbies and job interests. We also offer many after school clubs including running, drama, Legos, yearbook, cheering and basketball teams. Our classes often take fieldtrips and guest speakers are always welcome to share their knowledge and experience with our classes.