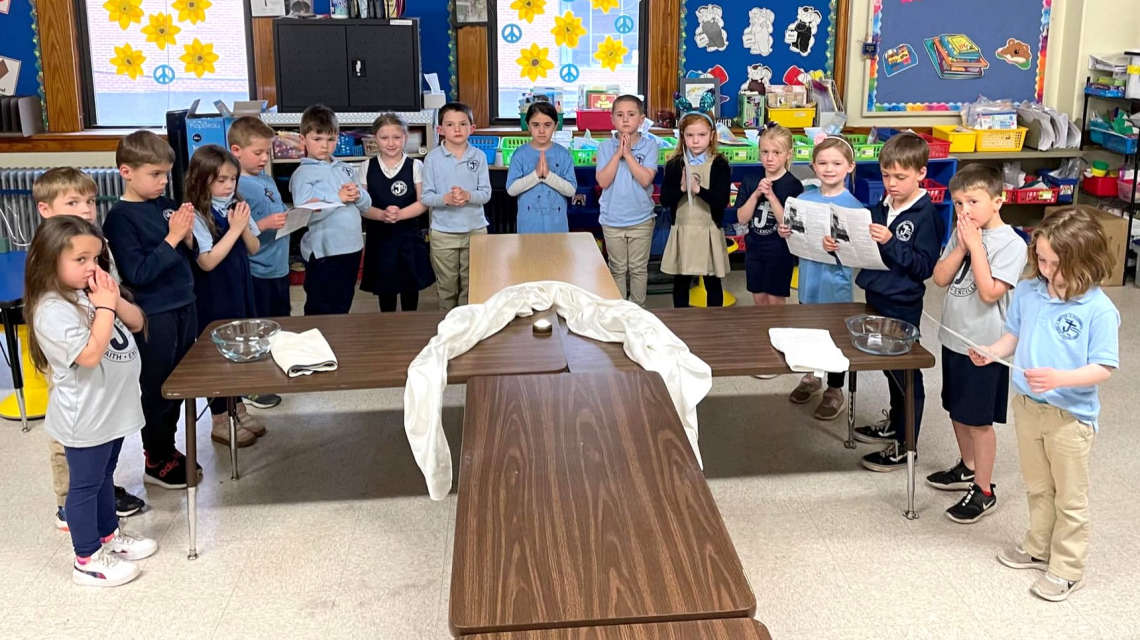 Welcome to Saint James School where our students are always our priority. The friendly and welcoming environment at Saint James provides a family feel and our devoted staff are dedicated to meeting each child's needs. Differentiated learning takes place in every classroom, with tailored instruction based on assessments that are used to understand what each child knows and what they need to know. Students are often seen in mixed age level groups working together.
Saint James students have a well-rounded education, with a rigorous curriculum that follows the Archdiocese of Hartford standards. Students in K-8 learn French, have the option to learn other languages, and participate in STREAM (science-technology-religion-engineering-art-math) classes.  
All students at Saint James are taught to be respectful and kind. Area high school teachers often tell us that they can recognize a student that has been educated at Saint James because they are prepared for school and respectful. We teach the whole child to grow into a well-rounded, faith-filled adult.
We are a small Catholic school where every child thrives. We hope you will join us!   
Nancy Naimey
Our Mission
St. James is a Catholic parochial school committed to fostering spiritual, intellectual, social, emotional and physical growth in a S.A.F.E. and collaborative environment while empowering students to be creative, to think critically, to act responsibly and to serve with integrity.
St. James School is S.A.F.E. - Service • Academics • Faith • Excellence
Faith
Faith is an integral part of each school day. Students begin each day praying the Our Father or the Hail Mary, and end with the Pledge of Allegiance. They attend Mass each week and learn about their faith through the Sadlier series, "We Believe." Caring for those less fortunate is a hallmark of our school. Our Student Council chooses service projects for the entire school, and 8th grade students accumulate twenty hours of community service prior to their class trip. 
Academics
With differentiated instruction at all grade levels, Saint James meets students where they are and takes them as far as they can go. We have highly qualified, dedicated and fully certified teachers. In addition to our core curriculum, we offer special classes such as French, library, music, physical education and STREAM.
Saint James students graduate from high school in the top of their high school graduating classes, with many in the top 25 percent. The foundation of a Saint James education lasts throughout their high school careers and beyond.
We also promote healthy living through our award-winning healthy eating, exercise and school lunch programs; salad and fruit bars at lunch, and ample opportunity for physical activity with recess and P.E.
Enrichment
From Math Club to soccer, we offer many exciting activities for students and families. Enrichment opportunities include Students to Sisters (students visit local retired sisters), Student Council, newspaper, First LEGO League, yearbook, a biennial school play; clubs include math, board games, aquarium, art and gardening. Sports include middle school co-ed soccer, boys and girls basketball, coed indoor track, baseball and softball. Band and guitar are also available for a small fee.
Many fundraising events also help bring families together, including a yearly spaghetti supper, 5K road race and kid's fun run. The opportunities for families to interact is one of the many reasons both adult and student friendships last well beyond their years here.