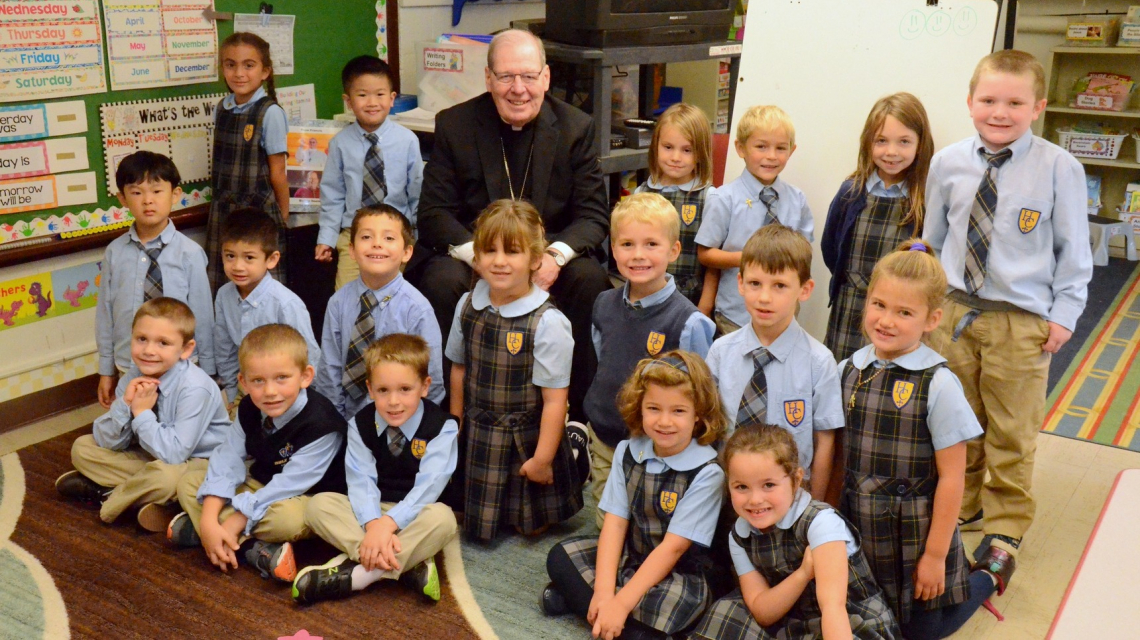 "Compassionate Education for the Heart, Mind and Soul."
Welcome to our community at Holy Cross School. We are excited about the opportunities we offer young people at our school and the chance to share those opportunities with you and your family.
Holy Cross exists to teach our students about the world around them while deepening their relationship with Jesus Christ. The next generation of leaders will need the knowledge and skills to solve problems and faith to make caring for others a priority.
We are proud of our faculty and staff who partner with each student to grow and succeed.
A rigorous academic program, enhanced by a second-to-none technology program, ensures every Holy Cross student is prepared for the future.
Join us at Holy Cross on our journey of faith, our adventures in learning and our joy of being a caring school community. We are ready to assist you as you explore our school.
Our Mission
Holy Cross School is dedicated to helping our students reach their God-given potential and succeed both academically and in life. At Holy Cross School, you will find excellent academics, Gospel-centered values, and a nurturing environment focused on students' spiritual, moral, intellectual and social development. These values lead not only to academic excellence but also to socially responsible individuals who pursue full and meaningful lives and enrich the lives of those around them. 
Student Mission Statement
Every day, Holy Cross Students strive to be kind, capable, responsible, and respectful. 
Faith
Our faith journey at Holy Cross is focused on becoming better followers of Christ everyday. Our students and staff strive to live the teaching of Jesus to care for one another. Service is the hallmark of our school community. As we learn about the world around us, our students recognize that there are many people in need. Service projects to help ease suffering, provide comfort, and share the grace of God are a continuous theme.
Holy Cross students have daily theology classes, celebrate mass as a school, create prayer services, and observe Stations of the Cross. Our Prayer Partners pair an older student with a younger student as a mentor and role model. We learn our faith through its living.
Academics
The academic goal at Holy Cross is to prepare our students for the next steps in their lives at high school, college and beyond. The curriculum is based upon gaining knowledge and developing skills in mathematics, science, language arts and social studies using the latest opportunities of technology. Moving beyond the classroom, students have access to a world of information through a 1-to-1 device program and learn to use that information to be creative and problem-solve. The curriculum is enhanced with learning experiences in Latin, engaging in art and music, and growing through physical education. Students become skilled at public speaking, group work, and collaborative efforts.
Enrichment
Holy Cross looks to develop the entire student through faith, academics and extracurriculars. A wide range of sports and athletic teams, the Odyssey of the Mind program, robotics, and the Math Team are offered to reach every student and the variety of interests they possess. Our values as Christians guide our efforts in all of these adventures.
Family Involvement
The development of every student is a collaboration between the student, teachers, and the family. Our families are encouraged to be a large part of our community through volunteer service in our classrooms, at events, and in our extracurricular activities. We know that each of the three partners must be engaged for students to succeed. 
We look to our families for support and assistance. Classroom volunteers, substitute teachers, chaperones on field trips, coaches and activity leaders, staffing our library, and help with our many events brings families into the school. Your presence and involvement greatly enhances your student's experiences. Join us at Holy Cross and be involved.