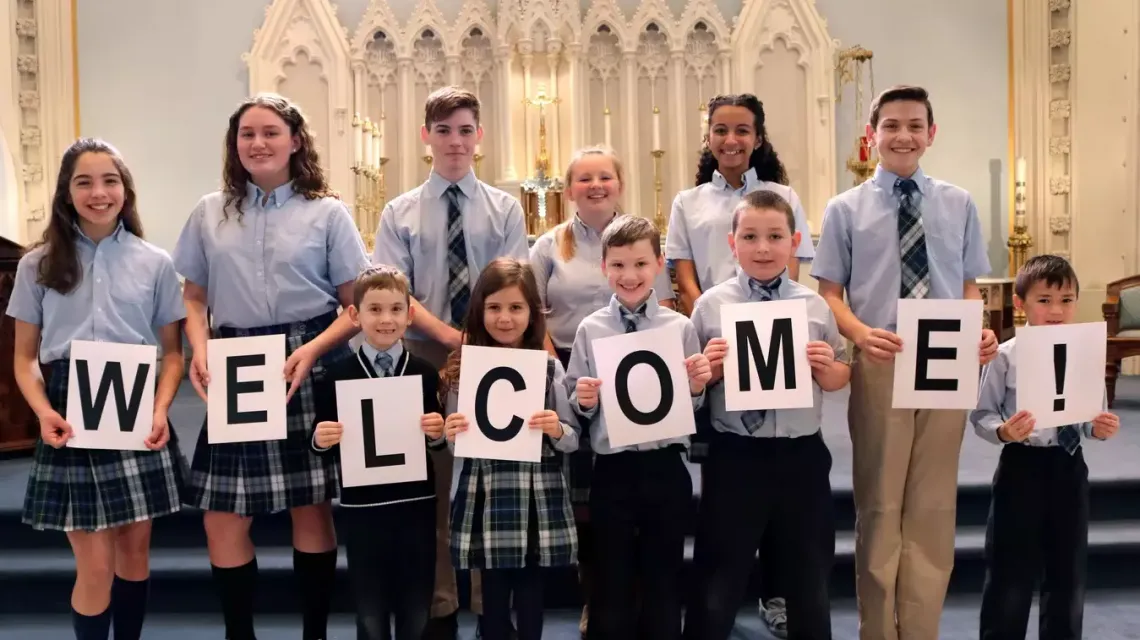 Welcome to All Saints Catholic School! With a rich 150-year history, we strive to work closely with parents to ensure a fantastic Catholic school experience for your child, filled with academic growth, social and emotional development, and a strong foundation of our Catholic faith. 
All Saints serves nearly 200 students at our two campuses in Bangor, with preschool through 4th grade at our St. Mary campus,and 5th through 8th grade at our St. John campus. 
Our faith-centered learning environment features stellar teachers and administrators who ensure that learning is integrated and fun for all ages, while also encouraging academic excellence, social maturity and spiritual guidance. We believe that in partnership with parents, helping children learn about and serve God equips them with the necessary tools to realize their full potential as individuals called by God. 
If you are looking for a child-oriented, God-centered and value-rooted environment for your student, join us! We look forward to welcoming you and your children into the All Saints family.
Our Mission
All Saints Catholic School's mission is to educate and form disciples of Jesus Christ.  We will journey together to develop and deepen our relationship with God and one another.  We will lead each other to Jesus, to truth, and to virtue as acts of the HEART. 
H…the universal vocation of HOLINESS.
E…the EUCHARIST and EQUAL dignity of all human beings as created in the image and likeness of God.
A…the ACTION and ATTITUDE of the heart as central to our ACADEMIC excellence.
R…the RELATIONSHIPS and REDEEMING love of God.
T…the call to live in the TRUTH and TRADITIONS of the Ca
Faith
Students at All Saints Catholic School participate in daily religion classes, attend Mass once a week and pray with classmates and their teachers. They also participate in sacramental preparation, the Prayer Partner Program, community and parish service projects and other faith-based activities throughout the year. 
Catholic beliefs and values are an integral part of the All Saints Catholic School curriculum. Because of this, our faculty integrate the moral, social and ethical concerns and responsibilities of humanity as part of a well-rounded education. 
Academics
All Saints students are taught by experienced, highly qualified teachers who have perfected their craft and know how to teach to each child's individual needs. We encourage rigorous academic studies at all grade levels. Our curriculum includes core classes in math, science, social studies and language arts. We also offer students Spanish, art, music, technology and physical education. As our middle school students in grades 6-8 prepare for high school, there are opportunities for students to learn at higher levels in subjects they excel at such as math. 
Enrichment
All Saints Catholic School encourages the development of the whole person by offering a wide variety of enrichment activities for its students, both during and after school. 
Along with academic-based activities such as Math Counts, Robotics, field trips and the Genius Hour Project, we offer chess club, scouting troops, yearbook, choir and a variety of interests-based clubs. We also offer sports programs for middle-school boys and girls including soccer, cross-country, track and field, basketball, cheerleading, softball and baseball. Our winning athletic activities also foster personal development along with team and school spirit. 
In addition, there are many family-based activities such as the Christmas fair, other holiday family festivities, art nights and concerts, which bring families together and create a close-knit school communit