Sister Laurianne Michaud, OSU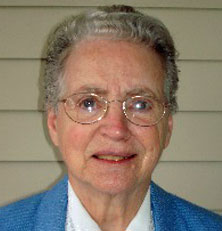 Your prayers are requested for the repose of the soul of Sr. Laurianne Michaud, OSU, also known as Sister Elizabeth Therese, who died on October 11, 2022, at the youthful age of 97. At the time of her death, Sister Laurianne was living in Waterville.
Sister was a professed member of the Ursuline Sisters for 75 years. The daughter of Joseph Michaud and Mary Ann Desilets, she was born August 7, 1925, in Lewiston, She entered the Ursuline community in 1944 and professed her vows on January 16, 1947.
During her long career, she taught almost every grade from kindergarten to 12 and served many years as a principal. She served in parish schools staffed by the Ursuline Sisters in Waterville, Brunswick, Sanford, and Lewiston. She also served at her communities' schools in Massachusetts and New York.
Sister Laurianne also held many positions in the community, including as prioress and province counselor.
One could always count on Sr. Laurianne if anything had to be done. She loved her sisters in community, her students, and her family. A woman of prayer, she sought to bring people together and help them to the many changes she experienced in her lifetime.
Sister's interment was held at St. Angela Way Cemetery.
Please remember in your prayers the loved one Sister leaves behind, her natural family, her religious family and her many friends and acquaintances.
May her soul and the soul of all the faithful departed rest in peace.