Sister Eunice Boyd, RSM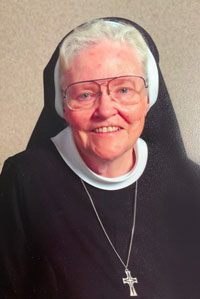 Please pray for the repose of the soul of Sister Eunice Boyd a member of the Sisters of Mercy of the Americas, who died on Friday, December 3, 2022, at the age of 92.
Sister Eunice taught at Sacred Heart School, Portland; Immaculate Conception School, Calais; St. Dominic's School, Portland; St. Mary's School, Houlton, and Cathedral High School, Portland.
In 1970, she joined the faculty at Saint Joseph's College of Maine, the start of a long career in the college's science department.
In 1979, she took a sabbatical, traveling to Nairobi, Kenya, where she was a visiting researcher at the prestigious International Louis Leakey Memorial Institute.
Sister Eunice's students thought she was a very good teacher, and she made her classes interesting by sharing with them her travels in Kenya, Egypt, Germany, Italy, and France.
She was especially proud of her Irish heritage and treasured the memories of her time in Ireland.
Please keep in mind those she leaves behind, family, religious community and friends.
Sister Eunice was laid to rest at Calvary Cemetery in South Portland. May her soul and the soul of all the faithful departed rest in peace.