​Sister Eileen Ward, SCIM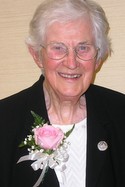 Please pray for the repose of the soul of Sr. Eileen Ward, a member of the Good Shepherd Sisters of Quebec, who died may 9, 2022, at the age of 87. Sister Eileen was born in 1934 to Martin Ward and Margaret Higgins Ward of Long Island, New York.
She entred the Congregation of the Servants of the Immaculate Heart of Mary, also known as the Good Shepherd Sisters of Quebec, at Bay View in Saco in 1956, professing her perpetual vows in August 1963.
Known as Sister Martin Marie at the time, she taught at St. Joseph School and St. Lois High School in Biddeford and then in the Van Buren School District, but her real love was social work. After earning her MSW, she worked at St. André Home, Inc. for 39 years, overseeing the home in Bangor, where she lived until her retirement. She was a competent administrator, a sympathetic listener and a teacher for the women she serve.  Sr. Eileen spent her final years at St. Joseph Convent in Biddeford where she brought much joy to the sisters with whom she lived.
Please remember in your prayers her family, her religious family and the many friends she leaves behind May her soul and the soul of all the faithful departed rest in peace.