Sister Barbara Brennan, RSM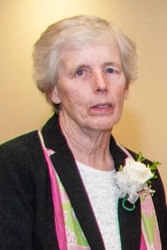 Please join in praying for the repose of the soul of Sister Barbara Anne Brennan, R.S.M., a Sister of Mercy of the Americas, who died at the age of 83, following a short illness.
Sister Barbara was born in Portland to John Joseph Brennan and Catherine Josephine Mulkern, the youngest of eight children.
In 1956, she graduated from St. Joseph's Academy in Portland and entered the Sisters of Mercy in the fall. She earned her B.S. in elementary education from St. Joseph's College of Maine in Standish and obtained her M.S. in education from the University of Southern Maine in Portland.
For much of her religious life, Sister Barbara served in the ministry of education, as a principal and teacher. She served at St. Athanasius School in Rumford, Cathedral Elementary School in Portland, St. Mary's School in Biddeford, St. Joseph's School in Portland, St. Mary's School in Bangor, St. Patrick's School in Portland, and St. Mary's School in Augusta..  
In addition to her years in education, Sister Barbara's work also took her to the Bahamas where she was a pioneer in developing the mission in the South Andros area before they had water and electricity. She also spent some time as a unit coordinator at Mercy Hospital in Portland; a resident service coordinator at Deering Pavilion in Portland, and an assistant librarian at St. Joseph's College, and she spent a summer ministering in Appalachia.
Sister Barbara served on the boards of Mercy Hospital and Catherine McAuley High School and on the Sisters of Mercy Sponsorship Council.
Sister Barbara cared deeply for people and gave of herself to those in need whom she encountered – always willing to go the extra mile. She was also known for her love and devotion to her family and enjoyed entertaining guests. 
Visiting hours: Thursday, August 18, 3 p.m. to 6:30 p.m. at Conroy-Tully Walker Funeral Home, 172 State Street in Portland.
Prayers: Friday, August 19, 9:15 a.m. at Conroy-Tully Walker Funeral Home, 172 State Street in Portland.
Mass of Christian Burial: Cathedral of the Immaculate Conception, 307 Congress Street, Portland, with The Most Reverend Robert P. Deeley, J.C.D., as principal celebrant. Burial will follow at New Calvary Cemetery, South Portland.
To view the livestream of the Prayer Service and Mass, please visit https://www.facebook.com/ConroyTullyWalker
In lieu of flowers, donations may be sent to: Sisters of Mercy, 966 Riverside Street, Portland, ME 04103
Back to Obituaries Home