Father Maurice T. Lebel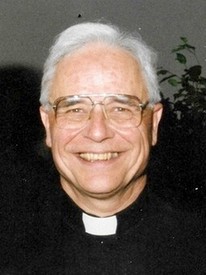 Please pray for the repose of the soul of Father Maurice Lebel who died on January 16, 2023, at the age of 90
Born in Brunswick on Dec. 14, 1932, to parents Thaddie and Marianna (Labbe) Lebel, he was the youngest of three children. After graduating from Brunswick High School, he went on to graduate from Fordham University School of Pharmacy in 1954. Later that year, he enlisted in the army and was stationed in Europe, where he served as a medic.
Soon after discharge, he worked as a pharmacist until he felt called to serve the Church. He entered the Society of Jesus in 1959 and was ordained a priest of the Jesuits in 1967.
Father Lebel's assignments included teaching at Cranwell Preparatory School in Lenox, Mass., serving as rector of Bishop Connolly High School in Fall River, and serving in the Social and Special Apostolate and in the Catholic Counseling Service, both in the Diocese of Fall River.
In 1991, Father Lebel returned to Maine and was incardinated as a diocesan priest, serving in Bangor, Presque Isle, Auburn, and Norway. He retired from active ministry in 2003 but continued to assist at Holy Spirit Parish in Wells.
A Mass of Christian burial was celebrated by Bishop Robert Deeley on February 17 at St. Mary Church in Wells.
Please make memorial contributions to Holy Spirit Parish or to any worthy charity.