Father John Skehan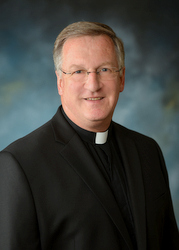 Father John R. Skehan, pastor of St. Michael Parish in Augusta, passed away unexpectedly on August 31, 2022. He was 66 years old.
Born in Bangor, on February 15, 1956, Father John was the son of the late John and Patricia (Theriault) Skehan. He was raised in Bath and Hampden and graduated from Hampden Academy, before receiving a bachelor's degree in biology from Bowdoin College in Brunswick.
Prior to entering seminary, he was the educational coordinator for "Up with People" (1978-1980) and a junior high science teacher in Oakland, Maine (1980-1982).  He completed his clerical studies at the Theological College in Washington, D.C. and was ordained to the priesthood by Bishop Edward C. O'Leary on May 24, 1986, at St. Matthew Church in Hampden.
During his ministry, Father Skehan served at parishes in Waterville, Portland, Houlton, South Berwick, Berwick, York, Kittery, Bar Harbor, Bucksport, Ellsworth, and Augusta, where he had served as pastor since 2018.
He also served in campus ministry at Colby College and Union College, hospital ministry at Maine Medical Center, and as the director of the Office of Parish Planning for the Diocese of Portland.
Please pray for the repose of Father John's soul and all the souls of the faithful departed. Please also keep in your prayers Father John's family and friends, including his brother and sister and the parishioners of St. Michael Parish.