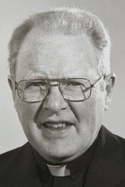 Father Harold Moreshead
Please pray for the soul of Father Harold Dickson Moreshead who passed away on Monday, June 6, 2022, at the age of 92.
Father Moreshead was born in Meriden, Connecticut, in August 20, 1929, but grew up in the city of Portland. After attending St. Paul's Seminary in Ottawa, Ontario, he was ordained by Bishop Daniel J. Feeney, the seventh bishop of Portland, on June 4, 1955.
Father Moreshead's pastoral assignments included serving as a parochial vicar at St. John the Evangelist Parish in South Portland, Immaculate Heart of Mary Parish in Fairfield, St. Joseph Parish in Portland, and the Cathedral of the Immaculate Conception in Portland, where he spent eight years. He was then named temporary administrator of St. Matthew Parish in Limerick, after which he served as pastor of St. Christopher Parish on Peaks Island, St. Teresa Parish in Brewer, St. Joseph Parish in Bridgton, St. Catherine of Sienna Parish in Norway, St. Edmund Parish in Westbrook, and then at Our Lady of Ransom Parish in Mechanic Falls, from which he retired from active priestly ministry in 1999.
At the time of his retirement, Bishop Joseph Gerry, OSB, wrote, "You have always been the priest and the shepherd. Your piety and devotion to the Lord have served as a witness to me and to your brother priests and your parishioners."
In addition to his parish assignments, Father Moreshead served on the Diocesan Continuing Education for Clergy and as chaplain of Marian Council 11493 of the Knights of Columbus in Mechanic Falls.