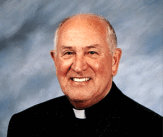 Please pray for the repose of the soul of Reverend Real J. Nadeau, 77, who died in the early morning hours of Saturday, August 30, 2014, in Florida.
Real was born in Biddeford, Maine, on October 15, 1936, the only child of Joseph Albert and Irene (Grenier) Nadeau.  His high school and college years were spent at St. Charles Seminary, Sherbrooke, Quebec.  Afterwards, he studied philosophy and theology at St. Paul's Seminary & University, Ottawa, Canada.  After completing his clerical studies, he was ordained to the priesthood by the Most Reverend Daniel J. Feeney, Seventh Bishop of Portland, at the Cathedral of the Immaculate Conception, in Portland, on May 26, 1962.
During his years of full-time ministry, Fr. Real Nadeau served in the following assignments:
Saint Ignatius Parish, Sanford – Parochial Vicar (Summer 1962)
Holy Family Parish, Lewiston – Parochial Vicar (September 1962-January 1965)
St. Joseph Parish, Old Town – Parochial Vicar (January 1965-October 1969)
Husson College Newman Center, Bangor – Chaplain (October 1969-June 1976)

 

Added St. Ann's Indian Reservation, Old Town (August 1970-June 1976)
Added University of Maine, Bangor, Newman Program (August 1970-June 1976)
Added Eastern Maine Vocational School, Bangor (August 1970-June 1976)
St. Philip's Parish, Auburn – Temporary Administrator (July 1976-September 1976)
Holy Cross Parish, Lewiston – Parochial Vicar (September 1976-July 1977)

 

Went on to serve as Temporary Administrator and Pastor of Holy Cross Parish (July 1977-July 1985)

St. Andre Parish, Biddeford – Pastor (July 1985-July 1987)
Sabbatical Year, Washington Theological Union (August 1987-July 1988)
St. Michael's Parish, South Berwick – Pastor (July 1988-June 1993)
Ss. Peter & Paul Parish, Lewiston – Pastor (July 1993-June 1999)

 

Added St. Patrick's Parish, Lewiston – Pastor (July 1996-June 1999), an early "twinning" in the southern part of the diocese

St. Raphael Parish, Kittery – Pastor (July 1999-September 2006)
On October 1, 2006, Fr. Real retired from full-time ministry, eventually moving to Florida, where he continued to serve in Assumption Parish, Lauderdale-by-the-Sea, the parish in which he lived.  He also enjoyed serving as a cruise ship chaplain through the Apostleship of the Sea of the USA.
In addition, Fr. Real also served the diocese in the following capacities/roles:
Vicar Forane of the Southern Penobscot/Piscataquis Deanery (1973-1976) and Androscoggin Deanery (1983-1985)
Diocesan Priests' Senate, as a Deanery Representative (1973-1975) and (1979-1985)
Chaplain to the Roman Catholic Students at University of New England, Biddeford (1985-1988)
Chaplain to the Knights of Columbus Great Works Council #10259, South Berwick (1991-1993)
Chaplain to the Knights of Columbus Rev. Daniel J. Hagerty Council #9881, Lewiston (1996-1999)
Chaplain to the Knights of Columbus Rev. Henry Lapin Council #11228, Kittery (1999-2006)
He also served on the Diocesan Liturgical Commission, the Diocesan School Board, St. Peter's Cemetery Board of Directors, and the St. Dominic's School Board.
In a letter to the Bishop's Office, the following observation was made of Fr. Real, who had a passion for preaching God's Word and reaching out to the marginalized and disenfranchised:  "Father is not just spreading the Word of the Church, he is spreading the word of life and how to enjoy it fully."  May our prayer be that Fr. Real will enjoy life to the full in the Kingdom of Heaven.
Please pray for the consolation of his family and friends.