Father Arthur Pechillo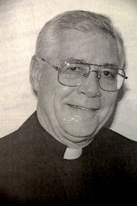 Please pray for the repose of the soul of Reverend Arthur "Art" C. Pechillo, 79, who died in his sleep in the early morning hours of Friday, July 10, 2015, at his daughter's home in Windsor, VT.
Arthur Pechillo was born to Henry and Lucy Pechillo on December 21, 1935, in Brooklyn, NY. After graduating from Loyola High School, Towson, MD,  he was in formation with the Maryland Province of the Society of Jesus (from 1953-1960), during which time he earned his B.A. from Fordham University, NY.  For the next 37 years, he taught Latin, French and English in the public schools of Bridgeport, CT, and Tucson, AZ.
In 1997, he resumed formation for the priesthood, this time with the Diocese of Portland.  He received his M.Div. from Pope John XXIII National Seminary in 2001.  At age 65, he was ordained to the priesthood by the Most Reverend Joseph J. Gerry, O.S.B., Tenth Bishop of Portland, on Saturday, May 5, 2001, at the Cathedral of the Immaculate Conception, Portland.
During his years of full-time active ministry, Fr. Pechillo served in the following assignments:
Parochial Vicar at Holy Rosary Parish, Caribou; St. Denis Parish, Fort Fairfield; and St. Louis Parish, Limestone (June 2001-June 2003)
 
Pastor at Our Lady of Good Hope Parish, Camden (July 2003-February 2009, beyond the retirement age of 70)

 

During this time, for a brief period, he also was temporal administrator of St. Francis of Assisi Parish, Belfast (2004)
Parochial Vicar at St. Michael Parish, Augusta (after a period of retirement, he returned to active ministry from June 2011-February 2013)
A parishioner once wrote that Fr. Art is "in every fiber of his being, a parish priest […with] youthful zeal. Every Sunday, Father Art delivers a great gift to his congregation:  his homily—wonderful, simple and powerful … and his great reverence for the Eucharist." 
Please keep in your prayers his daughter, Pamela Rice, her husband, Michael, and Fr. Art's granddaughters, Kacey and Erin.  Fr. Art is also survived by his brother, Thomas Pechillo, and his sister, Sr. Marilyn Pechillo, SND.
"May Father Arthur's soul, and the souls of all the faithful departed, through the mercy of God, rest in peace. Amen."