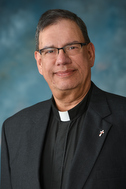 Please pray for the repose of the soul of Deacon Richard Doyle, who passed away on Thursday, April 19, with his loving wife, Pat, by his side.
Deacon Richard was originally from Connecticut but lived most of his life on the Pleasant Point Reservation in Maine.
On August 27, 2011, the Most Reverend Richard J. Malone, Bishop of Portland, ordained Richard to the Order of Deacon at the Cathedral of the Immaculate Conception in Portland. 
Deacon Rick's ministry embodied the meaning of diakonia in his humble service to so many parishioners at St. Kateri Tekakwitha Parish in Calais, the Passamaquoddy Tribal Community, and beyond. He will be remembered for his many selfless works of kindness and his compassion over the past seven years.  He will be sorely missed but never forgotten in our hearts.
Please join in praying for the repose of Deacon Rick's soul and for the consolation of his wife, Pat, the parish community, and the entire Passamaquoddy Tribe - Pleasant Point, where he served as tribal governor from 1997-2002. May our merciful God give them peace and strength during this difficult time.
May Deacon Rick's soul, and all the souls of the faithful departed, through the mercy of God, rest in peace.  Niyalich (Amen).