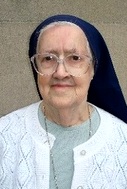 Sister Martin Drouin, OSU
Please pray for the repose of the soul of Sister Martin Drouin, 93, a member of the Ursuline Sisters for 72 years, who died December 29, 2018, at the Ursuline Convent in Waterville. Sister was dedicated to community service and served both in Massachusetts and Maine.  A quiet, prayerful religious, Sister Martin will be missed by her community and her family.  Ten days before Sister Martin's death, her younger sister passed away, so please keep the Drouin family in prayer as the mourn the loss of two members.  Keep also, Sr. Martin's religious community in prayer.
Sister Martin's funeral will be at the Ursuline Convent, 1 St. Angela Drive, Waterville at 10 a.m. on Friday, January 11.
May her soul and the soul of all the faithful departed rest in peace.  Amen.