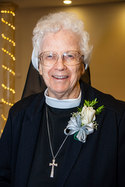 Sister Mary Denis Schwartz (affectionally known as Mother Denis) died peacefully on Saturday, August 24, 2019, at Frances Warde Convent in Portland. She was 93 years old.
Born in New Brunswick, Canada, her family moved to Fort Fairfield when she was a young girl, and that is where she was raised.  That is also where she first came to know the Sisters of Mercy who taught her religious education at St. Denis Church.
Sr. Mary Denis entered the Sisters of Mercy in September 1946, taking her religious name from the parish.  She taught in schools from Portland to Houlton.  Much beloved, sister was elected general superior of the Sisters of Mercy in 1967.  During her years of leadership, she served on many boards and committees and led the expansion of the sponsored ministries of the Sisters of Mercy, in particular Mercy Hospital and St. Joseph's College.  She sent sisters to operate the Northern Maine Security Home in Eagle Lake, established a ministry on Andros Island in the Bahamas, and oversaw the construction of Catherine McAuley High School in Portland. After completing several terms in leadership, Mother Denis became the treasurer of the community, a position she held for nearly 20 years.
In her later years, her ministry was one of prayer, during which she focused especially on immigrants.
"I have such compassion for the immigrants as I was once an immigrant myself," she once said.
Mother Denis was beloved by many, family, friends and her sisters in community.  She always had time for anyone who approached her.
Please pray for the repose of the soul of Sr. Mary Denis Schwartz and for the consolation of her family, both natural and religious, and her friends.
May her soul and the soul of all the faithful departed rest in peace.  Amen.