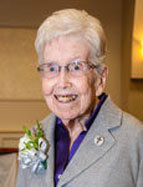 Sister Elizabeth Kilbride, R.S.M., (Sister Mary Alacoque), age 96, died peacefully at Frances Warde Convent on August 11, 2020.  Sister Elizabeth was the daughter of Ernest E. and Margaret Mary McGuiness Kilbride.
After graduating from Cathedral High School, she attended St. Joseph's College, then located on Walton Street in Portland.  In 1946, she entered the Sisters of Mercy to begin religious studies while earning a B.A. in French.  She then pursued a M.A. in Latin from Boston College as well as Greek studies at Regis College, Weston, MA and at The Catholic University of America, Washington, D.C.  She also took advanced studies in Spanish from the University of New Hampshire and took courses in guidance and library science at the University of Maine at Orono.  
Sister Elizabeth taught primarily in high school and college, concentrating in foreign languages.  She taught at St. Joseph's Academy in Portland and then served at Cathedral High School as a teacher and principal.  That was followed by John Bapst High School in Bangor, St. Joseph's College of Maine in Standish, and Bangor High School, where she taught for 18 years. Her many accolades include being honored as the Maine Classicist of the Year in 1980.
Upon her retirement, she worked in the library at St. Joseph's College and volunteered as a student advisor. In 2010, Sister Elizabeth began volunteering as an extraordinary minister of holy Communion at Mercy Hospital and was in prayer ministry.
Affectionately known as Sister Betty to many, she especially cared for those in need.  An example of this was when on campus, she could be seen collecting cans and bottles, using the money for a girl in her residence who didn't have gas money to go home. 
She showed her love, loyalty, and faithfulness to her many friends, family, and community.  This was especially true of her beloved sister, Sister Patricia, with whom she shared so many community and family events until her death six years ago. 
Because of COVID-19, Sister Elizabeth's family gathered outside her window as she was dying and sang her favorite hymns and songs, just like they did at family gatherings.  She always loved this, and it was their gift to her in return for all she had given them. 
Sister Elizabeth is survived by her sister-in-law and friend, Patricia Kilbride; her many nieces, nephews, great nieces, great nephews and their families; several close friends and her sisters in community.
Please pray for the repose of her soul and the consolation of her family and friends.
Visiting hours will be from 3 p.m. – 6 p.m. on Saturday, August 15  with a prayer service at 3:30 p.m. at Conroy-Tully Walker Chapel, 1024 Broadway, South Portland.  Burial will take place on Monday, August 17, at 9:30 a.m. at New Calvary Cemetery in South Portland.