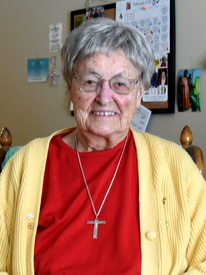 Sr. Thérèse (Aurelie) Michaud was called to her eternal reward on February 12, 2021, at the age of 99, 81 of them spent in religious life. She professed her first vows with the Daughters of Wisdom in 1940 and spent decades caring for those most in need.
Sister Aurelie's first ministry was teaching children with developmental disabilities in Port Jefferson, New York, but she left teaching, feeling called instead to nursing. As a nurse, she treated children with polio during the 1950s epidemic, even though she knew the risks because her own brother had died of the disease.  She also worked at a health clinic in rural Appalachia, West Virginia. And in the 1980s, when little was known about the disease, she cared for those suffering from HIV and AIDS.  In addition to New York and West Virginia, she also served in Connecticut and Maine.
At the time of her passing, Sister Aurelie was recognized as the doyenne of the American Province of the Daughters of Wisdom, its most senior member. She was also honored in 2020 as the town of St. Agatha's oldest resident. The town declared February 2, 2020, as "Sister Therese Michaud, DW, Aurelie Day."
Please pray for the response of her soul and for the consolation of her religious and natural families, and her many friends. May her soul and the soul of all the faithful departed rest in peace.  Amen.