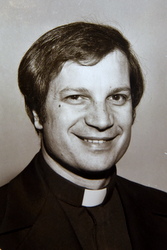 Please pray for the repose of the soul of Father Constanzo (Chris) Piselli, a priest of the Diocese of Portland, who died Saturday, April 10, at age 83.
Born in Waltham, Mass., in 1927, he was ordained to the priesthood by Bishop Peter Gerety on February 12, 1969, at the Cathedral of the Immaculate Conception in Portland.
During his many years of active ministry, Father Piselli served at parishes across the diocese including the cathedral, St. Pius X in Portland, Most Holy Trinity in Saco, St. John in Bangor, Sacred Heart in Auburn, Sacred Heart in Yarmouth, St. Joseph in Gardiner, St. Mary in Bath, St. Francis de Sales in Waterville, Sacred Heart in North Caribou, St. Bridget in North Vassalboro, St. Francis Xavier in Brownville Junction, including St. Paul Church in Milo, St. Christopher in Peaks Island, St. Francis of Assisi in Belfast, Holy Spirit in Waterville, St. John the Baptist in Winslow, Immaculate Heart of Mary in Fairfield, and St. Theresa in Oakland. Father Piselli retired from active ministry in 2007.
Funeral arrangements:
Reception of the Body, Wednesday, April 21, 5 p.m. at Notre Dame Church, 116 Silver Street in Waterville. The wake will continue until 7 p.m.
Mass of Christian Burial: Thursday, April 22, 10 a.m. at Notre Dame Church, 116 Silver Street in Waterville