Tree Festivals planned for Brunswick, Madawaska, and Portland
Image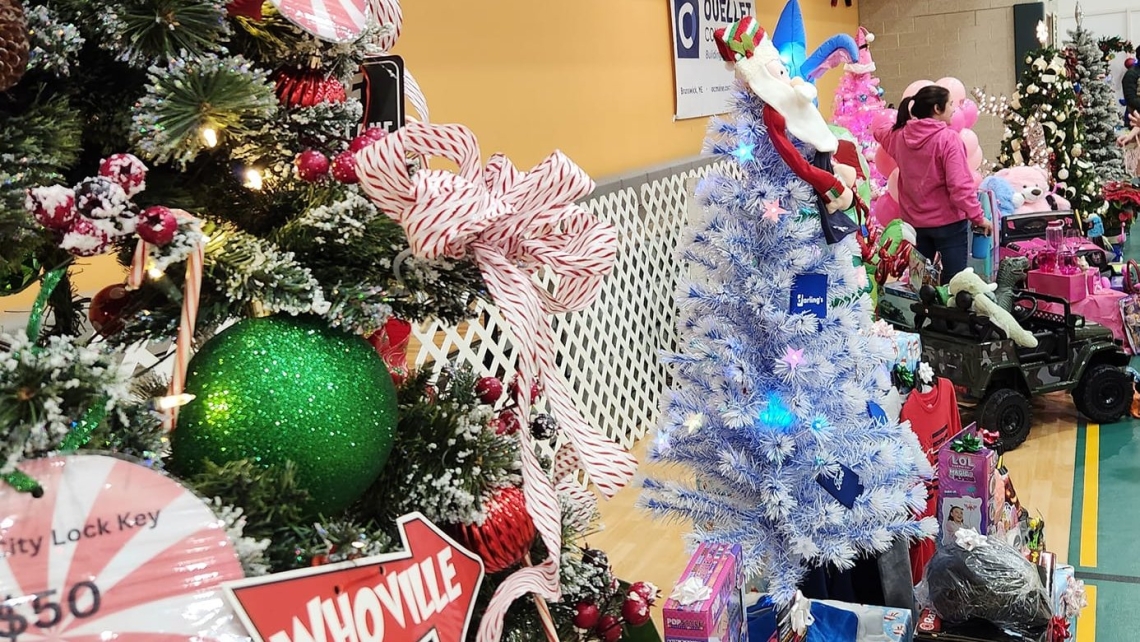 Tree festivals, in which businesses and parishioners donate decorated Christmas trees that are then raffled off as fundraisers, are planned for Brunswick, Madawaska, and Portland.
Brunswick
The grand opening of the 5th Midcoast Tree Festival is Friday, November 17, 4 p.m. to 8 p.m., at the St. John's Community Center, 43 Pleasant Street in Brunswick.
The festival features 50 trees with a variety of themes, including a Barbie tree, a Whoville Grinch tree, and the "Mega Tree," an oversized Christmas tree donated by Priority Real Estate Group, which features more than $4,000 worth of gifts and goodies. All the trees were decorated and donated by area community organizations, businesses, and individuals and will be raffled off to benefit All Saints Parish in Brunswick, the Bath-Brunswick Regional Chamber, and Spectrum Generations, which operates Meals on Wheels.
The festival also features a variety of entertainers, such as the Playing for Laughs Improv Troupe, a magician, and school choirs.
After the opening night, the festival will continue November 18 & 19 and November 24 & 25, 10 a.m. to 6 p.m., and conclude on November 26, 10 a.m. to 2 p.m.
The cost for admission is $2 for adults. Children aged 12 and under enter for free. Each raffle ticket is 50 cents. For more information, call All Saints Parish at 207-725-2624 or visit www.midcoastmaine.com/midcoasttreefestival.
Madawaska
The Daughters of Isabella will hold their 4th annual Christmas Tree Festival from December 1-3 in the Knights of Columbus Hall, 172 Fox Street in Madawaska.
Under the guidance of organizers Deadra and Della Schlicher, area businesses, community organizations, and families decorate and donate different themed trees and then place gifts around them. While final numbers aren't in yet for this year, last year's festival featured nearly 30 trees.
Festival hours are December 1, 4 p.m. to 8 p.m.; December 2, 9 a.m. to 8 p.m.; and December 3, 9 a.m. to 1 p.m. Raffle tickets are 10 for $5. The festival will also feature a bake sale.
Portland
Our Lady of Hope Parish in Portland will hold its Festival of Trees on December 1 and 2 in the hall of St. Pius X Church, 492 Ocean Avenue in Portland. People can stop by to view beautifully decorated trees donated by area businesses and organizations and can buy raffle tickets to win them. The trees will be available for viewing on Friday, December 1, 5 p.m. to 8 p.m., and on Saturday, December 2, 8 a.m. to 2 p.m. Raffle tickets are $1 each.
The festival will also include a meat pie supper at 5 p.m. on Friday and a Christmas concert at 6:30 p.m. by St. Brigid School students. The cost of the meal is $20. On Saturday, children can enjoy stories with Santa at 8 a.m. That will be followed by a Christmas cookie, crafts, ornaments, and toy sale from 8:30 a.m. to 2 p.m., a luncheon from 11:30 a.m. to 1 p.m., and games of chance from 9 a.m. to 2 p.m.
The festival will conclude with a 7 p.m. live auction, which will include hors d'oeuvres, beverages, and live music. Admission is $20. To reserve a spot for the Friday meal or the Saturday live auction, call the parish at 207-797-7026.