Pope Francis announces Year of St. Joseph
Image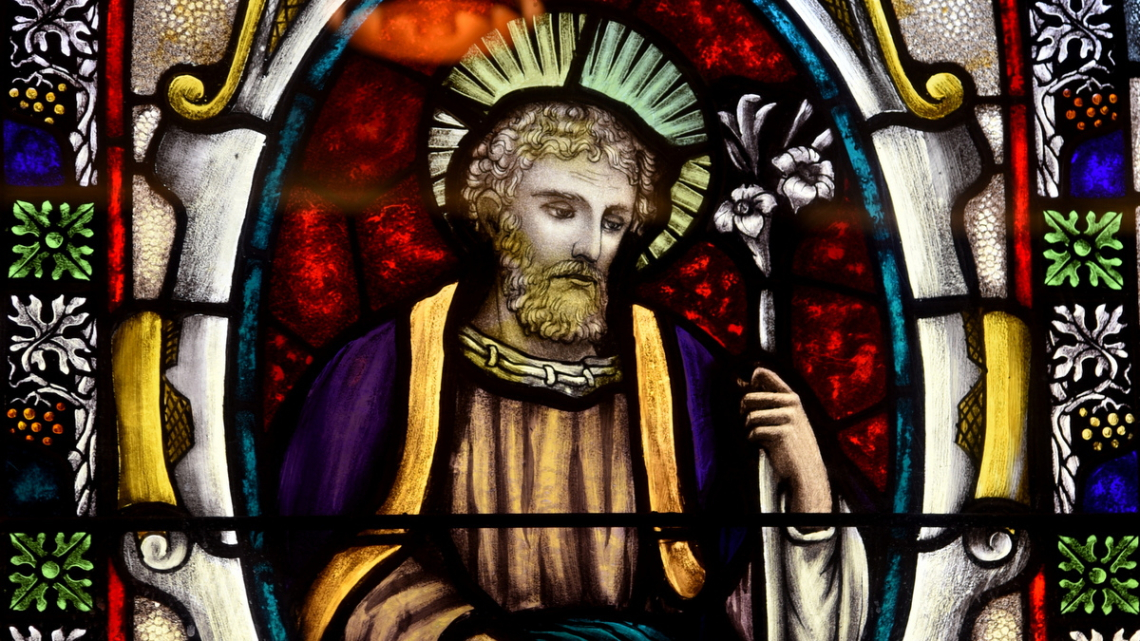 Father, protector, worker, patron – they all describe St. Joseph, a quiet man who put his trust in God and played a key role in salvation history.
"In the Scriptures, there is not one word spoken by Joseph, but he was attentive, he listened, and he acted. So, this is a wonderful model," says Sister Judy Donovan, leader of the Sisters of St. Joseph of Lyon in Maine.
It is a model that Pope Francis would like Catholics around the world to learn more about and to follow. On December 8, 2020, the Solemnity of the Immaculate Conception, the pope proclaimed a Year of St. Joseph and issued Patris corde ("With a Father's Heart"), an apostolic letter celebrating the 150th anniversary of Pope Pius IX's declaration naming St. Joseph the patron of the Universal Church.
"The aim of this apostolic letter is to increase our love for this great saint, to encourage us to implore his intercession, and to imitate his virtues and his zeal," Pope Francis says.
In his decree declaring the Year of St. Joseph, which will continue until December 8, 2021, the pope says it will give all the faithful "the opportunity to commit themselves, with prayer and good works, to obtain, with the help of St. Joseph, head of the heavenly Family of Nazareth, comfort and relief from the serious human and social tribulations that besiege the contemporary world today."
He says he was moved to issue the decree and apostolic letter during the many months of the global pandemic, saying it has shown "'how our lives are woven together and sustained by ordinary people, people often overlooked.'"
"Each of us can discover in Joseph – the man who goes unnoticed, a daily, discreet and hidden presence – an intercessor, a support and a guide in times of trouble. Saint Joseph reminds us that those who appear hidden or in the shadows can play an incomparable role in the history of salvation," the pope says.
Pope Francis' decision to celebrate a Year of St. Joseph is being applauded by those for whom the saint holds a special place.
"We know the pope has a great devotion to St. Joseph, however, it certainly took us by surprise that, on the Feast of the Immaculate Conception, he would announce this year will be dedicated to St. Joseph. As Sisters of St. Joseph, that, of course, warms our hearts and enlivens our spirits and our desire to deepen our own devotion to our patron," says Sister Judy.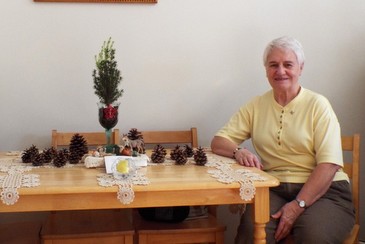 "It's a way of recognizing special people in the Church, and certainly, Joseph deserves that recognition," says Sister Angela Fortier, CSJ. "At this time, when life is so chaotic, we need somebody stable and a good protector, and I think that's what Joseph reflects."
Sister Angela, who is originally from Lac-Mégantic, Quebec, says her devotion to St. Joseph goes back to her childhood.
"We were brought up on St. Joseph," she says. "We had this little statue of St. Joseph in the kitchen. Every morning, we saluted St. Joseph on our way out and in from school."
She says she never asked her mother the reasons for her deep devotion to the saint but says it is common among French Canadians, pointing to the influence of Saint André Bessette, whose own devotion to St. Joseph led to the founding of St. Joseph's Oratory of Mount Royal.
"With Brother André, we asked mom if he was a distant relative whom we had never met with the way she talked about him," Sister Angela recalls. "He died in 1937 and I was born in 1938, so my folks were very familiar with him."
Sister Angela credits St. Joseph with helping her to discern her vocation to religious life. After attending school in Jackman, where she was taught by the Sisters of St. Joseph, she returned to Quebec where she was employed as a bank secretary. At the encouragement of her mother, she used to stop at the church on her way to work to pray at the altar of St. Joseph.
"Every morning, I stopped at the church and asked St. Joseph to guide me, to help me discern," she says. "I did that for two years, every day, Monday through Friday."
She says St. Joseph has stayed by her side throughout her 61 years of religious life.
"I learned a little bit more about St. Joseph, his simplicity, his yes to the angel to accept Mary and then to go to Egypt, and his dedication to Mary and to Jesus. That always helped me – his simplicity," she says.
Sister Angela has a statue of the sleeping St. Joseph, similar to the one that Pope Francis keeps on his desk.
"I have that statue, and whenever I have a big decision to make or whatever, I put a little slip of paper under his pillow. He has been a great, great, great help, a great friend," she says.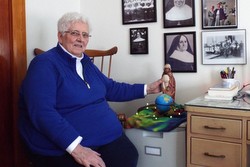 St. Joseph has also been a friend and companion to Sister Janet Gagnon, CSJ, who is originally from Livermore Falls. She spent many years in religious education including five as regional director for the Diocese of Portland's Office of Catechetics, during which time she would often travel alone through the backroads of Maine.  Before the days of cellphones, she says she welcomed St. Joseph's company.
"Joseph became my ever-present companion. Traveling with him became like a sense of security," she says.
St. Joseph continued to journey with her when she became provincial and then general superior at the international level, a position that took her to the 17 countries where the sisters serve.
"I used to have to go to these countries and travel alone at times, so that's also when he became very real to me. I said to my Joseph, 'I don't have a husband, so you're my protector,' and that is how my relationship with Joseph operated. He became really my guide and my protector. I would have good conversations with him as we traveled," she says. "There was one time particularly when I was flying from Greece to Lyon, and the turbulence was incredible. I'm not often scared of flying, but this was one time when I was really, really scared, and all I said to Joseph was, 'You're going to keep us up in the air and let us down when it's time to be down,' and that's what happened."
While Sister Janet sees St. Joseph as a companion and protector, Sister Judy says she feels closest to St. Joseph the worker.
"I lived and worked for years in Brazil among the very poor. I saw laborers who lived quiet and beautifully devoted lives but lives of great suffering," she says. "These people worked very hard for very little, yet they were still deeply devoted and deeply committed to the common good of their local communities and to promoting the word of God and to living and working for justice. It was very inspiring, so St. Joseph the Worker became a favorite of mine during those years.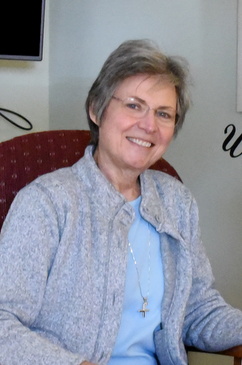 We know from Matthew's Gospel that St. Joseph was a carpenter. However, Sister Judy notes that the actual word in Greek is τέκτων, which is closer to a handyman or builder. Since Nazareth was a small village, she says he would likely not have had his own shop but, rather, would have traveled to different work sites. She says this would have given him the opportunity to see the poor working conditions of those laboring to build the Roman Empire's spectacular cities and monuments, making him an apt patron for laborers.
Sister Judy says we know that Joseph sympathized with the poor and marginalized by the way he listened to and treated Mary after learning she was pregnant. He had decided to divorce her quietly, rather than denounce her, until an angel appeared to him in a dream, telling him not to be afraid to accept Mary into his home.
"He had the attentiveness and courage to listen to God in a dream. So, here is a man who probably listened to and saw the suffering of his people. He listened to a girl and took her word seriously. He listened, most importantly, to the dream of God. He believed God was doing something new in his life and the life of Mary, and he acted on it."
In Patris corde, Pope Francis tells us that "the spiritual path that Joseph traces for us is not one that explains but accepts." Still, the pope says, "Joseph is certainly not passively resigned but courageously and firmly proactive."
"I think he spoke with his actions. He was a just man. He was a man who did what he felt was right," says Sister Rita Bujold, CSJ, a Waterville native now serving in Lyon. "He never wanted to be in the limelight, but he did extraordinary things, just in a hidden way."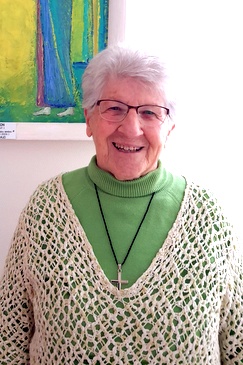 Sister Rita says what we can learn from St. Joseph is how to live simple, humble lives.
"I think maybe it's Joseph's humility that I'm most attracted to," she says. "Maybe there is a sense that I need to work on that humility in my life."
The Sisters of St. Joseph say St. Joseph is a saint for our times, because, despite the difficulties he faced, he trusted in God and moved forward.
"He took responsibility for life as it came to him," says Sister Rita. "I think so many people are suffering in our world with difficulties, and I think Joseph can be a model, a sign of hope for them if they turn to him."
"I think it's quite apt in this time of COVID, in this time of division and violence, that we're called to look to St. Joseph and to call on his patronage and for his intercession. He is kind of a patron of the pandemic life with his hidden life, the hidden life so many of us are living now," says Sister Judy. "St. Joseph's life says God sees us. God hears us. God is with us."
The sisters say, due to the pandemic, celebrations of Year of St. Joseph will likely be low-key, but that's OK. St. Joseph would probably prefer it that way.