The bishop welcomes St. Dom's students & staff for Mass on the Feast of the Exaltation of the Holy Cross
Image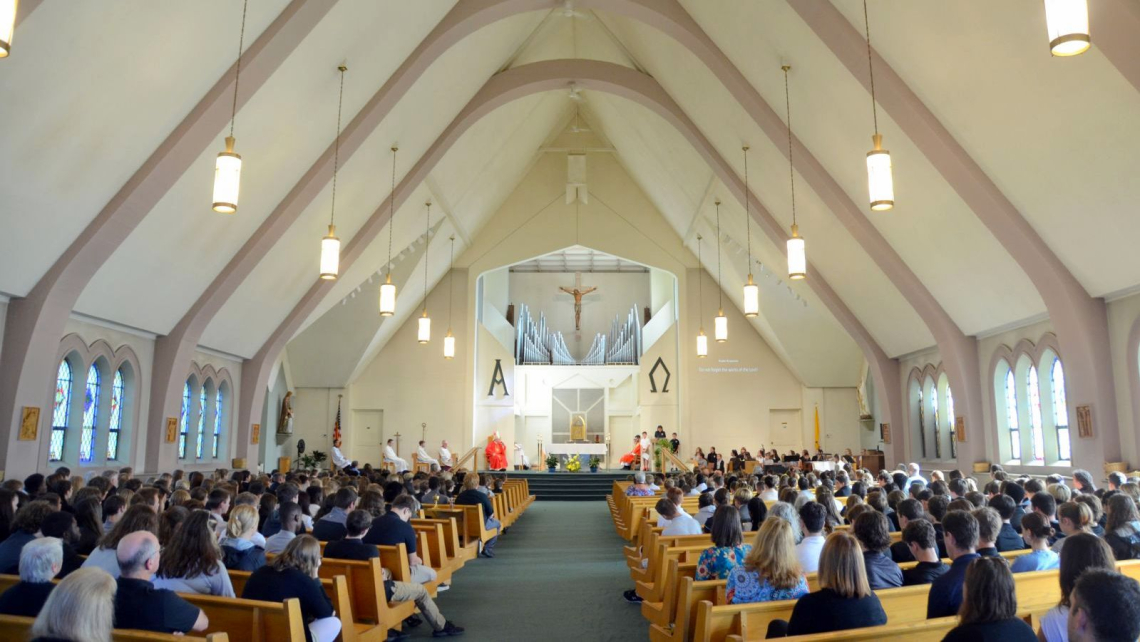 For the first time since the COVID-19 pandemic reached Maine, the Saint Dominic Academy school community gathered together for a schoolwide Mass on Wednesday, September 14, with Bishop Robert Deeley serving as the main celebrant (many additional pictures below).
September 14 is the Feast of the Exaltation of the Holy Cross, with a focus on the cross, its saving importance, and what Jesus wishes for us as our own mission in life.
Fittingly, the students, staff, and faculty from both the Auburn and Lewiston campus joined Bishop Deeley for the Mass at Holy Cross Church on Lisbon Street.
"The cross is a symbol of who we are," the bishop told the students during his homily. "It reminds us of how God is in our lives. Jesus sacrificed himself to save us."
The bishop slowly prayed the Sign of the Cross with the students, saying its recitation is a great way to start and end every day.
"How many pieces of wood does it take to make a cross?" asked the bishop.
"Two," quickly responded one of the younger students.
"That's right. One faces up and one faces to the side. The vertical piece reminds us of where Jesus comes from and went, and how he came to us out of God's love to show us how to live with love in our lives. The piece that spreads out from side to side reminds us that Jesus tells us to share that love and mercy with those around us in the world. Take the things in your hearts and share them. God's love is not just for us, it's for us to share."
After the Mass, the St. Dom's baseball team and its coach, Bob Blackman, were honored in front of the assembly for their triumphant run to a state championship last year, just two seasons after not winning a game.
Each player took a turn ringing the St. Dom's bell, a longstanding tradition at the school for teams that become state champs.