Bishop Deeley Ordains Daniel Mahoney to the Permanent Diaconate
Image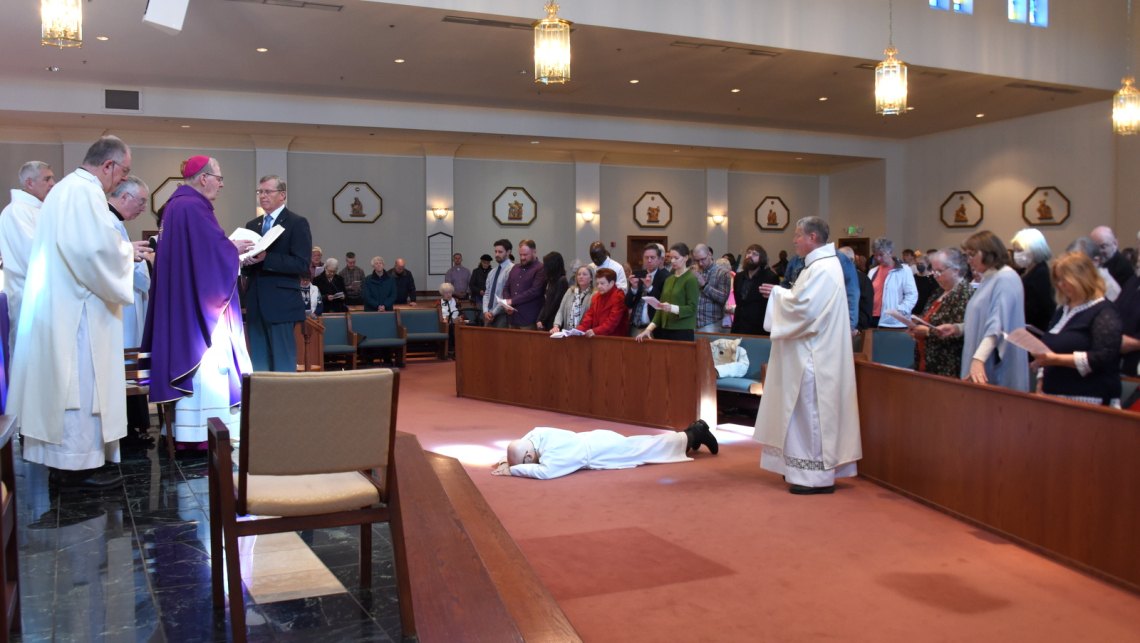 "Relying on the help of the Lord God and our Savior Jesus Christ, we choose this man, our brother, for the Order of the Diaconate." – Bishop Robert Deeley
With family, friends, and members of his parish community looking on, Daniel Mahoney was ordained to the permanent diaconate by Bishop Robert Deeley on Sunday, March 19, at his home church of St. Martha in Kennebunk.
"It's humbling," he said, following his ordination. "I'm excited and I'm glad to have the power and the fullness of the Spirit that comes with it all, but I also feel very humble."
The Mass was celebrated on Laetare Sunday, a day the Church sets aside for rejoicing amid the penitential season of Lent, something the bishop noted was an appropriate choice for Mahoney's ordination.
"We have reached the middle of the season of Lent. And, indeed, we have much to be joyful about this morning. We have reason to rejoice not only in the coming of Easter but, also, in what happens here today. We come to a special day in the life of Daniel Mahoney," the bishop said. "The Church calls us on this Sunday to rejoice. And we ordain Dan to this ministry of joy. The diaconate is a ministry of joy because it is Jesus' ministry.  We, who are his ministers, deacons, priests, and bishop, are to be imitators of Christ who tells us that 'the Son of Man did not come to be served but to serve and to give his life as a ransom for many.'"
A permanent deacon's ministry is threefold: the service of the liturgy, the word, and charity. Permanent deacons assist priests at the altar and may offer the sacraments of baptism and marriage. They preach the Gospel and teach the faith. And they are called to service. The word diaconate comes from the Greek word "diakonia," which means service.
"You are called to be a servant. This is not something new for you. It has been a part of your Christian witness," the bishop said in his homily, speaking to Mahoney. "You have exercised it in your work here in the parish. You have also exercised it in the work you do each day in the world as you help to heal and make whole those who have struggled with addiction. Today, however, your service takes on a sacramental character."
A Ministry of Service
Deacon Mahoney has long lived a life of service, helping people overcome substance use disorders. That has included directing an opioid treatment program in Portland for 10 years and, as of 2014, opening and operating two recovery residences for men, one in South Portland and one in Westbrook.
"It's been my whole life. It's in my DNA," Deacon Mahoney said. "I always see things and understand people who are on the fringe or on the margins, so to help them has always been my goal."
The Westbrook center includes Morning Star Recovery, a faith-based nonprofit dedicated to helping people recover from addiction by blending the 12 steps of Alcoholics Anonymous and Narcotics Anonymous with Catholic spirituality.
"We believe that if you really want to get clean and sober, the most dynamic, powerful way to do that is to integrate the 12-steps with the sacramental life of the Church," Deacon Mahoney said.
Some of the men who have been helped by the recovery program attended the ordination Mass, saying they wanted to be there because of the difference the program and Deacon Mahoney have made to their lives.
"Dan has been a big part of my life since I came to Morning Star about 10 months ago. I see him as a sort of spiritual father, as do I think the rest of the guys in the house at Morning Star Recovery, so we just wanted to come to support him at his ordination and to be there for him," said Alex Laccetti.
"I came here today for Dan. I came here to celebrate Dan and this new chapter of his life because he was an instrumental part of the beginning stages of my journey to recovery and also to my conversion to Catholicism," said Greg Mendis, who traveled from Dorchester, Mass., where he now lives, to attend the Mass.
Deacon Mahoney said the presence of men such as Mendis and Laccetti at his ordination meant a lot to him and was a way of bringing the two worlds together.
"It is connecting it all, making it all the same or all a part of the Church," Deacon Mahoney said.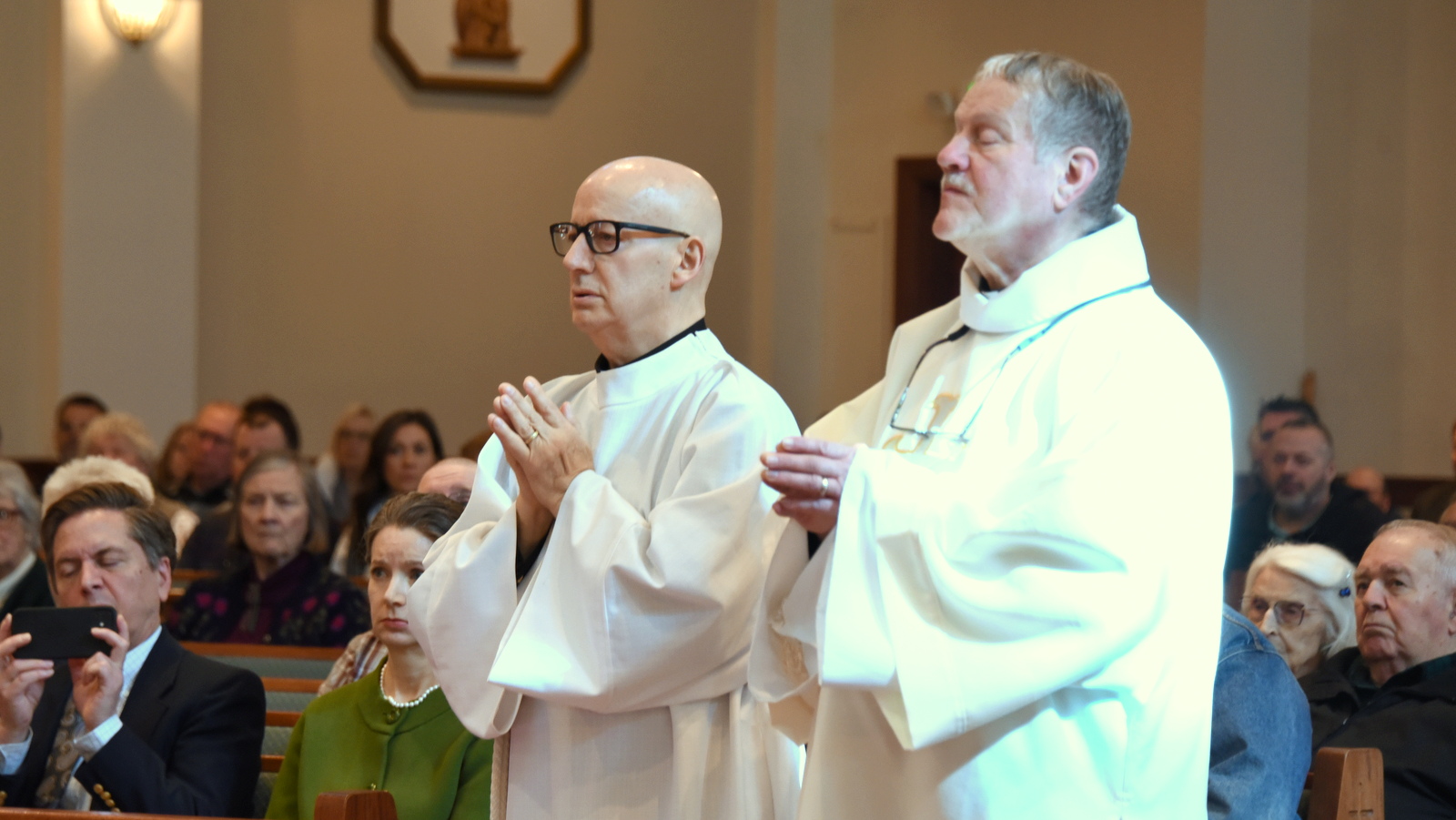 The Ordination Rite
During the ordination Mass, Deacon Mahoney stood before the bishop and promised to discharge the office of deacon with humble charity in order to assist the priestly order and to benefit the Christian people. He also resolved to proclaim the faith in word and deed according to the Gospel and the Church's traditions, to maintain and deepen a spirit of prayer, and to conform his way of life to the example of Christ.
Mahoney then lied prostrate while the Litany of Saints was sung, seeking Christ's mercy and the intercessory prayers of the communion of saints.  
"It was kind of neat because you don't get distracted by anything, so I could hear the Litany of the Saints — 'Pray for Us.' Then, at the end of the Prayer of the Litany of the Saints, four or five times, it mentions 'this consecrated man.' It's like 'Wow.' It kind of blows you out of the water that I am now a consecrated man."
After lying prostate, Mahoney knelt before Bishop Deeley who laid hands on him in silence and then prayed the Prayer of Consecration, asking the Lord to "look with favor on this servant of yours who will minister at your holy altar and whom we now humbly dedicate to the office of deacon. Send forth upon him, Lord, we pray, the Holy Spirit that he may be strengthened by the gift of your sevenfold grace for the faithful carrying out of the work of the ministry."
Now a deacon of the Church, Mahoney was vested with the stole and dalmatic, symbols of the diaconate, by Father Fred Morse, pastor of Holy Spirit Parish, which includes St. Martha Church, and by Deacon Dennis Popadak.
Once vested, Deacon Mahoney knelt again before the bishop who handed him the Book of the Gospels, counseling him to "Believe what you read, teach what you believe, and practice what you teach."
The bishop then congratulated him with a fraternal kiss of peace, as did all the twelve permanent deacons who attended the Mass. They included Deacon Carl Gallagher, who traveled from Caribou to be there. Deacon Gallagher was a member of the deacon class with which Deacon Mahoney first studied.
"He is my friend," said Deacon Gallagher. "Those guys we went to school with, they will always be really close friends. That was a wonderful experience. It was the highlight of our lives."
The Long Road to the Diaconate
The journey to ordination day was a long one for Deacon Mahoney. While the diaconate formation program in the Diocese of Portland usually lasts about five years, Mahoney first entered formation more than a decade ago. Deacon Mahoney has dyslexia, a condition that made it difficult for him to complete the coursework on time.
"I started to try to learn the way everyone else learns, and that didn't work for me," he said. "I was really struggling. It was affecting me emotionally and spiritually, so I resigned in order to take of myself."
As a result, when 11 men were ordained to the permanent diaconate in 2017, Deacon Mahoney was not among them.
The call to the diaconate, however, did not leave him, and so, supported by his wife, Liz, he persevered, determined to finish the academic studies even if it did not lead to ordination.
He said his biggest struggle wasn't with reading but with writing and getting the words to come out. A friend recommended that he pray and contemplate upon the Seven Sorrows of Mary, which he did. He also prayed the 11-step prayer and meditation of Alcoholics Anonymous, seeking to understand God's will for his life.
"I started to pray and ask him – 'If it is your will for me to write, then give me the power to carry it out,'" he recalled. "I started to pray that, and it was almost like the Holy Spirit said to me, 'Do this as an act of worship.'"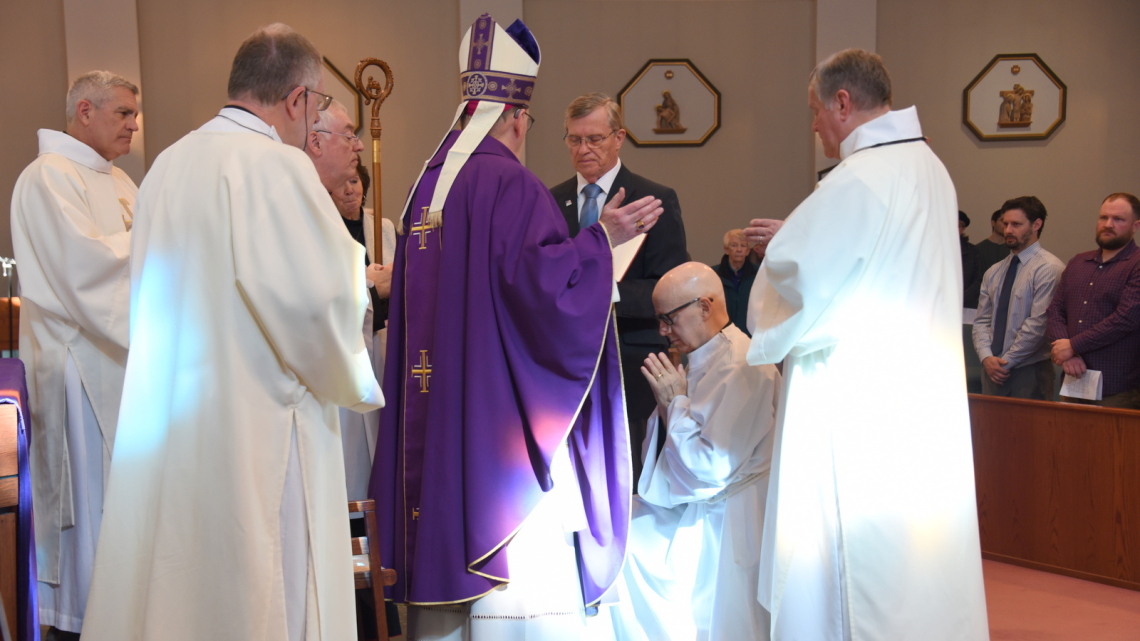 Making that commitment, he said that within the next few weeks, a half of page came out. Then, two weeks later, he wrote a full page, and eventually, he was writing a page a week. It allowed him to earn a certificate in pastoral ministry from the Loyola Institute of Ministry in New Orleans, and two years ago, the bishop accepted him back into formation. Deacon Mahoney said that he will forever be grateful.
"The rules say I have to promise obedience to him and his successors, but I tell you from the heart, it doesn't have to be the rule. Out of love and gratitude, I'll be doing that without question or pause for as long as I breathe," Deacon Mahoney said.
Deacon Mahoney's Early Faith Journey
Deacon Mahoney was raised on Long Island, New York, by devout, Irish Catholic parents.
Not yet diagnosed as dyslexic, Deacon Mahoney said he struggled in school, and after high school graduation, he joined the U.S. Marines, seeking more discipline in his life. He remembers once praying, "Mary, if you could help me make my mother as proud of me as your son made you proud of him."
He said that prayer filled him with an insatiable desire to know Christ. However, it also led him to the Evangelical Protestant Church and later to attend a Protestant seminary in Massachusetts in hopes of becoming an ordained minister. He said, however, the language studies proved too much for him due to his dyslexia.
It was while serving in a Protestant church community that he began his ministry to those struggling with addictions. He then got a job in an emergency room doing assessments and said that is when he discovered that he had a gift for working with people with addictions, something he attributes in part to his own struggles with alcohol. He said, through his work, he got sober himself and has remained so for 30 years.
Deacon Mahoney moved to Maine in 1999 and continued his service to those with addictions. It was while attending a conference in Washington, D.C. that he met Liz, who was living in Chicago and was a devout Catholic. After a commuter relationship, the two married and settled in Maine. Although they attended Protestant services at first, Deacon Mahoney said it is was Liz who led him back to Catholicism.
"We were attending a Protestant Church one Sunday morning, and she got up, and she said, 'I crave the Eucharist. I have to go back to the Catholic Church.' So, I said to her, 'I'm going to go with you because if we don't worship together, we're not going to last.'"
He said he came to believe that his Protestant journey was part of God's plan.
"After I returned to the Catholic Church, I was doing an Ignatian Life Examen, and it just showed me that it was the Lord giving me an education, teaching me about the separated brethren, and then, when I had enough, he brought me home," Deacon Mahoney said.
It wouldn't be longer after he returned home that he began to consider the permanent diaconate. At St. Martha Church, he got to know Deacon Darrell Blackwell and began shadowing him and asking him questions.
Along with Deacon Blackwell and Deacon Dean Lachance, whom he calls a spiritual mentor, Deacon Mahoney said there were many others who helped him along his journey, most especially his wife, son, and daughter, and his parish community.
"As we celebrate today, it's really not about me, it's about you," he told parishioners at a reception following the ordination Mass. "I really owe you a debt I cannot repay."
Although he has faced some health challenges recently, he vowed to serve the community to the best of his ability for as long as he is able.
"I will be serving you because that is what the Lord and the bishop have called me to do," he said, adding, "I'm excited about that."