Spotlight on CRS: Serving 140 million people
Catholic Relief Services commitment to our Gospel mission knows no bounds. Since 1943, CRS has gone where it has been called, often to the most remote places to achieve the greatest impact, alongside the world's most vulnerable people. Whatever obstacles the world puts in the way, CRS is committed to not stopping until all of God's children can fulfill their human potential in thriving families and communities; just, peaceful and vibrant societies; and flourishing landscapes.
Now in its 78th year, CRS serves 140 million people in 115 countries. Ninety-two percent of the money donated to CRS goes to programs. Here are more facts and figures.
Celebrate Advent with people around the world
Catholic Relief Services has everything you need for a meaningful Advent celebration. With our daily online Advent Calendar, spend time praying and preparing for Christ's arrival. Scripture, quotes and images filled with hope give you daily reminders of why Jesus' life calls us to care for our sisters and brothers around the world.
Move prayer into action with our CRS Advent Giving Tree, a wonderful way to include family and community in the beauty of sharing gifts with people who need it most.
Sign up today for our free online Advent Calendar: https://www.crs.org/advent-calendar. Get everything you need for an incredible community giving opportunity with the CRS Advent Giving tree here.
Haiti Earthquake Relief
On August 14, 2021, a 7.2 magnitude earthquake hit the western side of Haiti, causing what could be a significant number of deaths and damage. The cities of Les Cayes and Jeremie were particularly hard hit. In the six hours following the initial earthquake, there were 10 more aftershocks at 4.0 and above.
Speaking a day after the earthquake struck, Pope Francis called all of us to unite with the people of Haiti, saying, "May the solidarity of all alleviate the consequences of the tragedy."
Catholic Relief Services, which has been in Haiti for 60 years, is assisting families in recovering from the devastating earthquake. Please consider supporting CRS's work by visiting www.crs.org/our-work-overseas/where-we-work/haiti.
You may also donate to support the people of Haiti through MISSIO, a division of the Pontifical Mission Societies, the official missionary arm of the universal Catholic Church. Through MISSIO, the Pontifical Mission Societies can reach out to support local priests, religious sisters and brothers, and lay pastoral workers who are bringing relief and compassionate care to those in greatest need. Donations through MISSIO may be made online here.
Mission Cooperative Plan
Each summer, the Diocese of Portland participates in the Mission Cooperative Plan (MCP), through which deserving missionary groups have the opportunity to come to Maine to share information about the important work that they're doing and to seek support for that work. The Missions Office in the Diocese of Portland Maine receives hundreds of requests each year from mission groups and religous organizations, but unfortunately, we are only able to invite about 30 missionary groups to do appeals every summer. The Diocesan Missions Office selects mission groups that are authentic witnesses to the love of Christ and to the magisterium of the holy Catholic Church.
We hope their visits will enliven the understanding of parishioners as they relate the work being done around the world in Christ's name. We pray that the faithful will embrace the missionaries and their blessed work and provide both hospitality and assistance. Through the MCP, you can make donations to directly assist missionaries in their efforts to evangelize, form holy vocations, build congregations, and propagate the faith in countries around the world.
"There is no place for selfishness and no place for fear! Do not be afraid, then, when love makes demands. Do not be afraid when love requires sacrifice," Saint John Paul II said. "To the whole Church is addressed Christ's соmmаnd: 'Gо оut tо the whole world; proclaim the Good News to all creation' (Mk 16:15). The whole Church, therefore, is missionary and evangelizing; she lives constantly in a state of mission. To be Christians means to be missionaries, to be apostles. It is not enough to discover Christ - you must bring Him to others!"
World Mission Rosary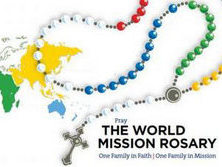 As we especially reflect upon the Sorrowful Mysteries this Lent, join in praying a rosary for missionaries all over the world and those they serve. Each color of the World Mission Rosary represents a different region, from the rich greens of Africa to the yellow of the rising sun in the Far East. Free rosaries are available to all. Contact the Office of Missions for more information. Learn more.
---
Mass Cards and Enrollment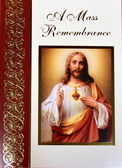 We offer many ways to honor your loved ones. They include enrollment in the Society for the Propagation of the Faith for individuals and families, as well as Masses of remembrance. Masses will be said for your loved ones by missionaries around the world.
For more information, contact the Office of Missions.
Missio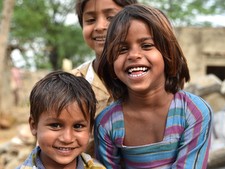 "It's not just charity. It's change."
A direct way to help missions around the world is through Missio, a connection with Pope Francis' missions around the world.
You can choose the project to which you would like to contribute, whether it's assisting religious sisters as they combat COVID-19 in Kenya, supporting a children's village in El Salvador, or growing a parish farm in the Philippines. Learn more and Donate today.
CRS Downloadable Prayer Book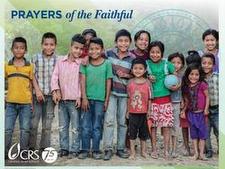 Join together in prayer with this downloadable prayer book from Catholic Relief Services. It includes some of the basic prayers of the Catholic Church, such as the Our Father, Hail Mary, and the Nicene Creed, accompanied by images of our brothers and sisters around the world.
---
Contact Us:
Office of Missions / CRS
Ms. Yvonne Borelli-Chace, Director
510 Ocean Avenue, Portland, ME 04103
207-321-7817
yvonne.chace@portlanddiocese.org