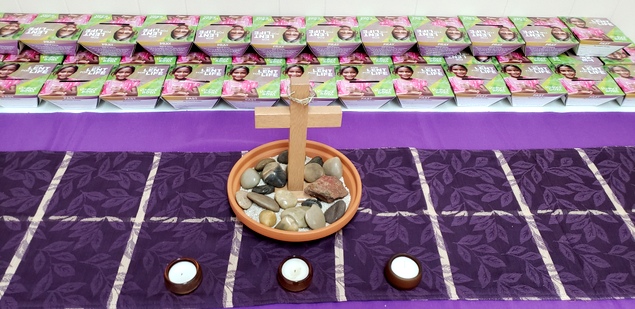 St. Michael Parish, Augusta
CRS Rice Bowl
CRS Rice Bowl is Catholic Relief Services' Lenten program for families and faith communities in the United States who want to bring Lent to life. Through CRS Rice Bowl, faith communities in dioceses throughout the United States put their faith into action through prayer, fasting and almsgiving. Lenten alms donated through CRS Rice Bowl support the work of CRS in more than 100 different countries each year. Twenty-five percent of your donations to CRS Rice Bowl will stay in our diocese, supporting hunger and poverty alleviation efforts. Since its inception in 1975, CRS Rice Bowl has raised nearly $300 million. Learn more.
World Mission Rosary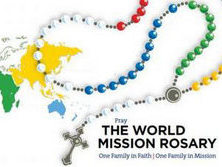 As we especially reflect upon the Sorrowful Mysteries this Lent, join in praying a rosary for missionaries all over the world and those they serve. Each color of the World Mission Rosary represents a different region, from the rich greens of Africa to the yellow of the rising sun in the Far East. Free rosaries are available to all. Contact the Office of Missions for more information. Learn more.
---

Mass Cards and Enrollment
We offer many ways to honor your loved ones. They include enrollment in the Society for the Propagation of the Faith for individuals and families, as well as Masses of remembrance. Masses will be said for your loved ones by missionaries around the world.
For more information, contact the Office of Missions.

Missio
"It's not just charity. It's change."
A direct way to help missions around the world is through Missio, a connection with Pope Francis' missions around the world.
You can choose the project to which you would like to contribute, whether it's building a greenhouse in Kenya or growing a parish farm in the Philippines. Learn more and Donate today.
CRS Downloadable Prayer Book
Join together in prayer with this downloadable prayer book from Catholic Relief Services. It includes some of the basic prayers of the Catholic Church, such as the Our Father, Hail Mary, and the Nicene Creed, accompanied by images of our brothers and sisters around the world.
CRS / Ethical Trade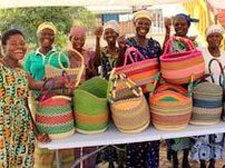 Catholic Relief Services provides assistance to those in need all over the world. You can help by donating or hosting an Ethical Fair Trade sale. Contact the Office of Missions for details.
---
Contact Us:
Office of Missions / CRS
Ms. Yvonne Borelli-Chace, Director
510 Ocean Avenue, Portland, ME 04103
207-321-7817
yvonne.chace@portlanddiocese.org