St. Thomas School in Sanford Names New Principal
Image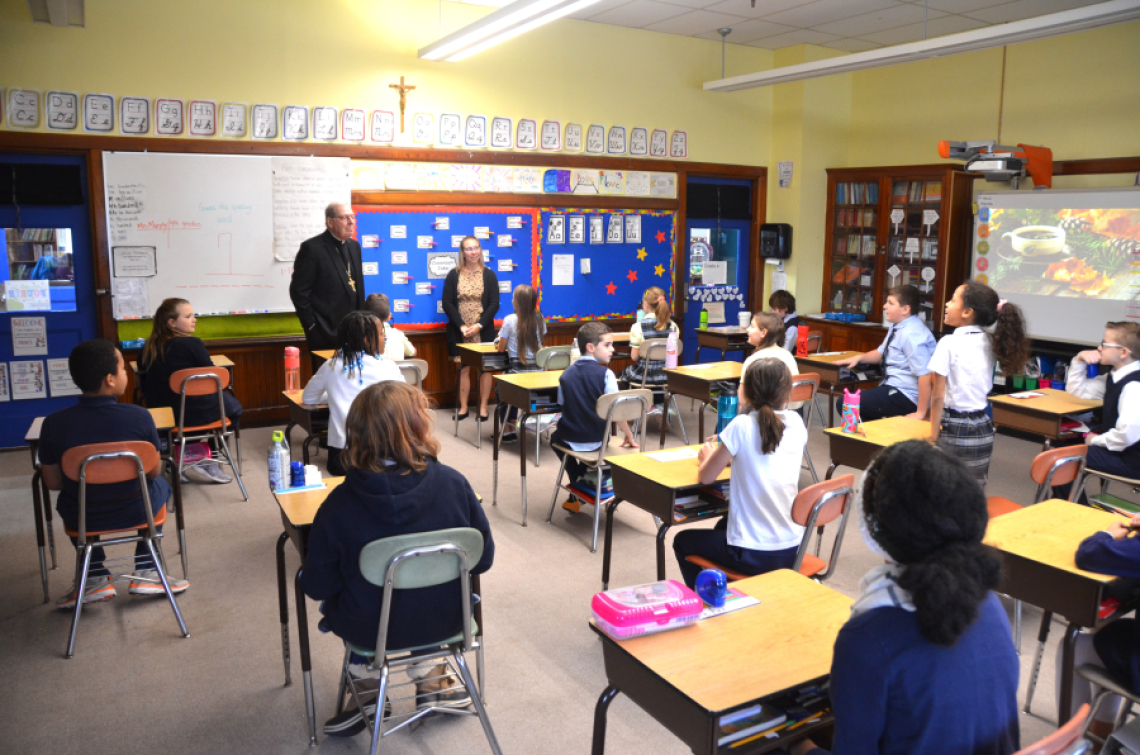 SANFORD---The Office of Maine Catholic Schools is pleased to announce that Angela Madigan (pictured below) has been named the new principal of St. Thomas School, located on 69 North Avenue in Sanford. Madigan, who has served as principal of Waterboro Elementary School in North Waterboro since 2019, succeeds Ericka Sanborn who was interim principal at St. Thomas.
"With a strong Catholic faith and many years of educational experience, I look forward to the opportunity to answer God's calling as the leader of St. Thomas School," said Madigan. "We, as collective servants of the school, will work to revitalize our great community of learners and grow in faith together."
Opened in 1972 and accredited by the New England Association of Schools and Colleges, St. Thomas School has encouraged students to live their faith, perform service, and excel academically, with many graduates going on to routinely fill the top ten academic lists at area high schools. The tradition built by Sister Therese Berube, Donna Jacques, and others is one Madigan is excited to nurture.
"My hope is to grow Christ-centered, lifelong learners in both academics and our Catholic faith and develop a structure, system, and strong foundation which can be achieved by the St. Thomas team now and in the future," said Madigan.
When visiting the school during the interview process, Madigan knew it was the place for her.
"My visit provided me with a profound feeling of family and faith. It is evident that most of the staff has longstanding ties to St. Thomas and care so deeply about the school, children, families, and greater parish community."
For eight years, Madigan served as a teacher in both second and fifth grade at Acton School and Waterboro Elementary, assuming the role of assistant principal at Waterboro in 2016 before being appointed principal at the school three years later.
"I executed an annual comprehensive needs assessment using data to design school improvement goals for academics, attendance, school culture, and functional student support," said Madigan. "Facilitated academic growth led to increasing scores each year, even thru the pandemic."
Madigan holds bachelor's degrees in psychology and elementary education from Southern Connecticut State University in New Haven and earned a master's degree in educational leadership from Southern New Hampshire University in Manchester. She also has a certificate in school management and leadership from the Harvard Graduate School of Education and Harvard Business School in Cambridge.
"In my research, I noted that St. Thomas School is frequently highlighted for its academic excellence and contributions to the community," said Madigan. "That will continue as we develop new ideas and opportunities to catalyze growth and sustain the strong bonds of community and faith at St. Thomas School."
For more information about the school, which is part of St. Thérèse of Lisieux Parish in Sanford, visit the school's website or Facebook page.