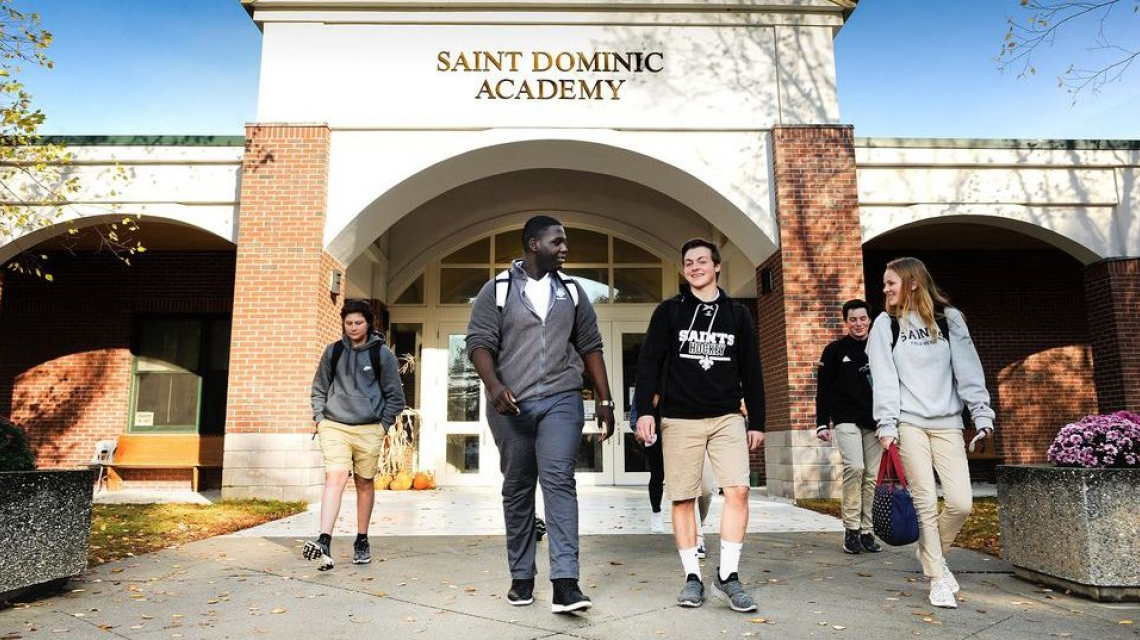 Welcome to Saint Dominic Academy! We are Maine's only diocesan school serving students from preschool through high school. We are located in Lewiston (grades pre-K-5) and Auburn (grades 6-12). Since our merger in 2010, we have been working to provide our students with a curriculum that spans these grades, implementing new programming and offering our students a faith-based, well-rounded education that will serve them for their entire lives.
Although many of our students live in Lewiston/Auburn, we draw from 43 different towns in the surrounding area and provide a bus for students in the Augusta area both to and from Lewiston/Auburn. We are a Catholic school that serves students from many faith backgrounds including those with no or limited faith experiences.
In 2023, Saint Dominic Academ received accreditation from the New England Association of Schools and Colleges (NEASC). A globally recognized standard of excellence, NEASC accreditation attests to a school's high quality and integrity.
Our Mission
Through study, prayer, community, and service, Saint Dominic Academy teaches its students Veritas Vitae, the truth of life, so that they may set the world afire.
Faith
At St. Dom's, we base everything we do on the Dominican pillars of study, prayer, community, and service. We are fortunate to have a chaplain provided by our bishop who celebrates weekly Masses and oversees an assistant chaplain program that fosters student leadership in faith. Beyond our religion classes that are provided at each grade level, our teachers are proficient at pointing out the wonders of our creator throughout all academic courses. We have a robust retreat program that we offer to each grade and our service program is comprehensive from our preschool "Coats for Kids" fundraiser to our culminating senior service project "Mission to Mississippi."
Academics
Our curriculum is adapted from the Archdiocese of Hartford, which combines national subject area standards with benchmarks set forth by the National Catholic Education Association. We use a virtues-based restorative form of discipline that is a Christ-centered approach that uses both honor and respect to reconcile students. Our academic day includes the use of learning centers, blended learning technology, science labs, projects and writing, lecture and discussion in a way that prepares our students for college and beyond.
Enrichment
We offer many extra-curricular activities, including Drama Club, chorus and band, Recycling Club, Key Club, robotics competition, mock trial, Model UN, Student Senate, National Honor Society and others so our students are able to experience group activities that lead them to appreciate the many facets of life in our world. Academically, we offer Advancement Placement courses, online Virtual High School courses, programs such as MobyMax Math, Lexia Reading, and we are working on a partnership with our neighbor, Central Maine Community College, to offer our students the chance to earn even more college credits while in high school.