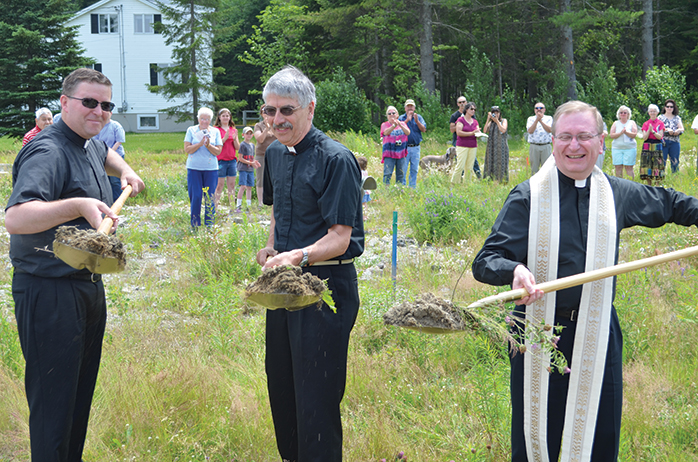 With each of the folding chairs in the main hall at the American Legion occupied by parishioners, a handful of people were happy to stand against walls and even in the adjoining kitchen as a special Mass began in the town of Jackman on Sunday, July 7.
Crowded quarters have become routine for members of St. Anthony Parish since Masses moved to the hall shortly after St. Anthony Church was demolished in October 2009. But on this day, the proud community gathered to celebrate a new beginning: the groundbreaking and blessing of the site of the new St. Faustina Church of St. Anthony Parish.
"Just as the former stone structure symbolized the faith of your ancestors, so too will this new building be a place to which you, your children, and your children's children will come together to be strengthened in your Catholic identity, nourished by the Word of God and fed by the Body, Blood, Soul and Divinity of Christ in the Holy Eucharist," said Monsignor Andrew Dubois, moderator of the curia for the Diocese of Portland, during his homily.
Following Mass, more than 100 parishioners joined other community members at the site of the new church, which will be constructed where the old church once stood. Bricks and stone from the old St. Anthony Church still sit in a corner of the field, a bittersweet reminder for parishioners who fondly remember the shining moments and shared joy experienced in their old home while enthusiastically anticipating a new one.
"This is beautiful," says Frances Morin, whose husband, Walter, served on the building committee and parish council over the years before passing away in April. "This new church building is what we need to bring the people back, I hope and pray."
"My mother and father helped build the first church," says Glenn Levesque, a lifelong resident of Jackman. "It is certainly a great day to see a new building that we can call home."
Monsignor Dubois, joined by Father Kevin Martin, the current pastor of St. Anthony Parish, and Father Richard Malo, who formerly served as pastor, led the assembly in song and prayer, blessed the building site, and sprinkled the area with holy water. The three then symbolically raised gold shovels and tossed dirt. Father Martin capped off the groundbreaking by lifting a bucket of soil with an excavator, which brought cheers from the crowd.
"I'm so excited," says 82-year-old Rosemarie Paradise. "I kept thinking that we would never get this, that I would die first, but I am more excited than Father Martin!"
Sweltering heat and high humidity did not dissuade the smiling parishioners from attending. A community so eager to welcome a new spiritual home after years of saying goodbye to many beloved buildings stood in a square around the perimeter of the future church.
Across the street, town offices and a vacant field have replaced a school and a hospital that were once run by the Sisters of St. Joseph. Then, four years ago, deterioration at St. Anthony Church, which would have required in excess of $1.2 million in repairs, along with rising heating costs, led to the parish's decision to demolish that building as well.
"It's been difficult," says Father Malo, who was pastor of the parish at the time of the church building's demolition. "In the 1990s, we were paying off the debt for the restoration of the church which was over $300,000. Twenty years later, we were tearing it down. I know the people here are looking forward to their own space. This is special."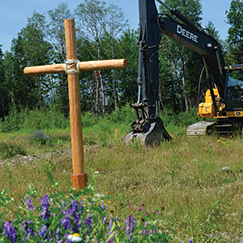 Generous donors in Jackman and beyond continue to sacrifice to make that dream come true. St. Anthony Parish currently has more than $280,000 in available funds and donated building materials, and the parish will receive a $200,000 mortgage from the Diocesan Savings & Loan. Parishioners continue to hold yard sales, raffles, dinners and bottle drives to raise money. The cost of the new church building is estimated at $575,000.
"I know that we have a long road in front of us," says Father Martin. "I am hopeful that with continued contributions and efforts from our parishioners and many friends, the dream to move into our new church building will become a reality."
After facing countless challenges over the years, from the closing of the local mills to a decline in population, the parish's strong and resilient members are certain that they will persevere and overcome together.
"The church community is a body, not just a building," says Levesque. "Overcoming challenges just shows the commitment that the people in town have. They've sacrificed a lot. The town economy is tough. A lot of people don't make a lot of money, but they are showing with their heart and sacrifices what is important to them."
– Dave Guthro
---
Contributions welcome
If individuals or businesses would like to make a contribution designated toward the construction of St. Faustina Church of St. Anthony Parish in Jackman, please contact Father Kevin J. Martin, pastor, at 207.695.2262, or mail the donation to St. Faustina Church Building Fund, P.O. Box 457, Greenville, ME 04441. Donations can be made in memory of a relative or friend, or in honor of a birthday or anniversary.