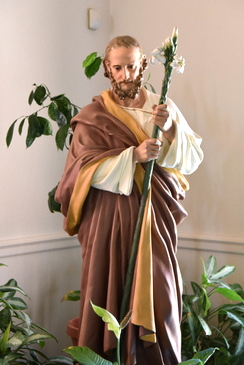 "The greatness of Saint Joseph is that he was the spouse of Mary and the father of Jesus. In this way, he placed himself, in the words of Saint John Chrysostom, 'at the service of the entire plan of salvation.'" - Pope Francis
On December 8, 2020, the Solemnity of the Immaculate Conception, the pope proclaimed a Year of Saint Joseph, which will continue until December 8, 2021, and issued Patris corde ("With a Father's Heart"), an apostolic letter celebrating the 150th anniversary of Pope Pius IX's declaration naming Saint Joseph the patron of the Universal Church.
"The aim of this apostolic letter is to increase our love for this great saint, to encourage us to implore his intercession, and to imitate his virtues and his zeal," Pope Francis wrote.
The pope said he was moved to issue the decree and apostolic letter during the many months of the global pandemic, saying it has shown "'how our lives are woven together and sustained by ordinary people, people often overlooked.'"
The pope said that, "Each of us can discover in Joseph – the man who goes unnoticed, a daily, discreet and hidden presence – an intercessor, a support and a guide in times of trouble. Saint Joseph reminds us that those who appear hidden or in the shadows can play an incomparable role in the history of salvation."
And the pope sees in St. Joseph a model for all Catholics to follow because of the trust he placed in the Lord, even when unsure and facing a difficult situation.
"Joseph found happiness not in mere self-sacrifice but in self-gift. In him, we never see frustration but only trust. His patient silence was the prelude to concrete expressions of trust," the pope said.
Pope Francis has long had a devotion to St. Joseph. He formally inaugurated his papacy on March 19, St. Joseph's feast day. He has a spikenard, the flower used as a symbol of St. Joseph, in his papal coat of arms, and he keeps a statue of the sleeping St. Joseph on his desk.
During the Year of St. Joseph, Catholics may receive plenary indulgences. Plenary indulgences, which are full indulgences, complete the healing process from sins forgiven during the sacrament of reconciliation. This is necessary because, even though God forgives us, sins have consequences in our lives and can harm our relationship with God and others, including the Church. Learn more about the conditions and ways to receive a plenary indulgence.
Resources for the Year of St. Joseph: