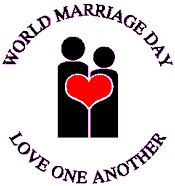 February 10, 2019, is World Marriage Day, a celebration of Christian marriage that honors husband and wife as the foundation of the family. World Marriage Day salutes the faithfulness, sacrifice, and joy that are part of daily living for husbands and wives and their generous love that gives rise to new life.
"Love One Another" is the theme of every World Marriage Day. The World Marriage Day symbol shows a husband and wife as candle-like figures, a reminder that married love enlightens the world. The couple is joined by a heart to show that it is the power of love that fosters unity within the couple.
World Marriage Day got its start in Baton Rouge, LA, in 1981, when St. Valentine's Day was proclaimed "We Believe in Marriage Day." The day was so successful that it was adopted by Worldwide Marriage Encounter, which helped it to spread across the United States and the world. In 1983, the name was changed to "World Marriage Day," and the date was established as the second Sunday in February. In 1993, Pope Saint John Paul II, imparted his apostolic blessing on the day.
Celebrations in the Diocese of Portland
• Bishop Robert Deeley will celebrate a World Marriage Day Mass at St. Augustine Church, 75 Northern Avenue in Augusta, on Sunday, February 10, at 10 a.m.
• St. John Vianney Parish will celebrate World Marriage Day with its 4th annual Married Couples Night Out on Friday, February 8, at the Knights of Columbus Hall in Fort Kent. [More Details]
• The Parish of the Precious Blood is sponsoring a World Marriage Day Dinner on Friday, February 8, at the Presque Isle Inn & Convention Center. [More Details]
• St. Mary of the Visitation Parish in Houlton will host a World Marriage Day Dinner on Saturday, February 9. [More Details]
• The Christian Life Center in Frenchville will host a Couples Night Out on Friday, February 15. [More Details]
Bishop Robert Deeley's World Marriage Day Message 2019
On World Marriage Day, we admire the beauty of marriage as lived by husbands and wives in the permanent commitment they make to each other and the sacrifices they make for each other and their children. Marriage is a true grace for families and a gift to the Church.
This is also a moment to remember that marriage is not lived in the idea but rather, in reality. As Pope Francis wrote in Amoris Laetitia, marital joy involves understanding that "marriage is an inevitable mixture of enjoyment and struggles, tensions and repose, pain and relief, satisfactions and longings, annoyances and pleasures, but always on the path of friendship, which inspires married couples to care for one another" (N. 126).
The Holy Father captures the true beauty of marriage. A man and woman witness to the true meaning of married love by their support for each other, in good times and in bad, by their commitment to honor each other all the days of their lives, as well as by their dedication to the children born of their love for each other. Marriage, seen in this way, is the foundation of family, society and the church.
May God bless all married couples. May they see in marriage their vocation, their way of bringing God's love into the world.
World Marriage Day Prayer
Father, as we prepare for World Marriage Day, we thank you for your tremendous gift of the sacrament of marriage. Help us to witness to its glory by a life of growing intimacy. Teach us the beauty of forgiveness so we may become more and more one in heart, mind, and body. Strengthen our dialogue and help us become living signs of your love. Make us grow more in love with the Church so we may renew the Body of Christ. Make us a sign of unity in the name of Jesus, our Lord and Brother. Amen. - Fr. Bill Dilgen, S.M.M.
Resources
Click on any of the links below.
• Church Teachings on Marriage
• Joy of the Family Reflections
• Marriage Unique for a Reason
• Silver & Gold Mass (For couples celebrating special anniversaries)
• Worldwide Marriage Encounter in Maine