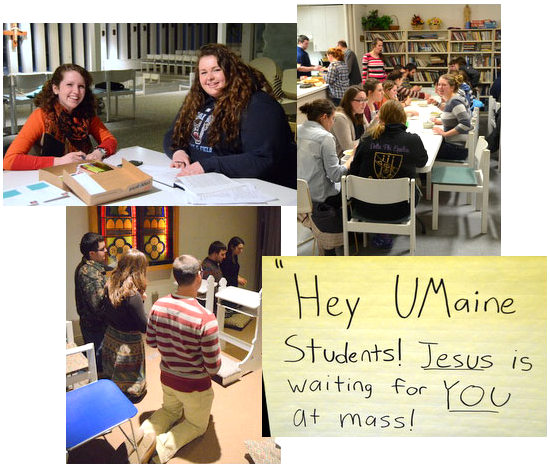 The Newman Center is the gathering place for the Catholic community at the University of Maine Orono. The Newman Center is part of the Parish of the Resurrection of the Lord and is located at Our Lady of Wisdom Church on 83 College Avenue in Orono.
We welcome all members of the university community including students, faculty, staff, and administrators, as well as family members.
As a campus ministry center, we have a special ministry to university students. Students gather for Mass, Eucharistic adoration, Bible studies, retreats, and social gatherings, including our Wednesday and Sunday night suppers.
Mass is celebrated on Sundays at 11 a.m. throughout the year and at 6:15 p.m. when the university is in session.
The campus ministers are Father Bill Labbe, JoAnn C. Hall, and Audrey Ouellette. We are also pleased to have FOCUS missionaries with us on campus
The Newman Center is open daily from 8 a.m. to 4:30 p.m. and later on evenings when Masses or events are scheduled.
Feel free to stop by, call us at 207.866.2155, or email Audrey Ouellette at audrey.ouellette@umit.maine.edu or audrey.ouelette@portlanddiocese.org.
Read more about the Newman Center.
---
"Meek & Mumble" Black Bear Catholic Newsletter
Click on the links below to view the newsletters (newsletters will be posted upon release):
Meekness and Mumbling and Independence, Oh My!
---