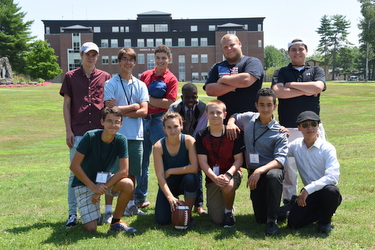 Teenagers from parishes around the Diocese of Portland spent a week of their summer vacation learning how to become better leaders, both in their parishes and their communities.
"I wanted to see what more I could do to get more into my faith and how I could learn about being a leader, and it really has taught me that," said Isabelle Castonguay, from St. Rose of Lima Parish in Jay.
"I came to this week because it's about leadership," said Lucas Gombojov, who attends youth ministry at St. Michael Parish in Augusta. "I came because I want to be a leader in my church. I want to be a leader in my family."
The teenagers participated in Empowering Young People in Christ (E.P.I.C.), a youth leadership institute offered through the Office of Lifelong Faith Formation. The program, held July 23-27 at Saint Joseph's College of Maine in Standish, was intended to help teens develop as leaders and as young disciples of Christ. It stresses that youth can make a difference now.
"They're not the Church of the future. They're the Church of today. They're an important part of the Church today, so that means empowering them, encouraging them, equipping them with skills where they can go back to their parishes, their schools, and their communities, and for the lack of better term, go make a difference, have an impact, help the other young people come closer to Christ through them and be a witness of Christ's love and mercy," explained Clay Imoo, an associate director in the Ministries and Outreach Office of the Archdiocese of Vancouver, who was one of the presenters.
To help the teens connect with their parishes, they were accompanied at E.P.I.C. by their youth ministers, who served not just as chaperones but as full participants.
"When I get back, I'm definitely going to continue this conversation with the youth," said Kristin Mango, the youth minister from All Saints Parish, Brunswick, who accompanied six young men to E.P.I.C. "I've seen the boys grow tremendously in their faith in the course of five days. I've seen them transform and come out of their shells. Just seeing this journey and their faith for the last week and having my tiny part in this has been such a joy."
"It taught us how to just be better Christians and an idea of how we need to be more proactive, and we need to plan ahead, and we need to be more responsible in our lives," said Bryan Hillman, a junior from All Saints Parish.
"It's gone very well. I've learned a lot about leadership and standing up and taking control if no one else will. It taught us how to facilitate better, and what to say and how to say it, and to not jump to a solution before you figure out what the problem is," said Brendan Walton, a sophomore from All Saints.
The week featured a combination of skills-based sessions and ones centered on faith and values.
"They're learning practical skills like how to be a better communicator, a better facilitator, a better negotiator, how to lead proactively and not reactively. Those are kind of the head ones. There are heart ones, too – how to live like Jesus did, how to lead out of your principles and values, things like that," explained Imoo. So, it's a nice mix of practical skills-based things versus who are we? Are we rooted as Catholic Christians? What are we supposed to do? How are we supposed to live as witnesses?"
Throughout the week, the youth also joined together for morning and evening prayer and for daily Mass, including the closing Mass celebrated by Bishop Robert Deeley. The bishop emphasized to the young people the importance of pushing aside distractions to focus on their relationship with the Lord.
"What Jesus is telling us is that I want your heart, your undivided heart. I want you to, in your prayer, listen to me and allow what I say to be present with you in such a way that informs and guides your life," the bishop said. "You've heard how you are called to live, to be leaders, the ways in which you can be more effective leaders, but at the heart of all of that is always the relationship that you develop with Jesus and your conversation with him."
During the Mass, each of the teens and youth leaders shared with the bishop a gift they have which they plan to bring back and share with their parish. They included attributes such as courage, joy, and service.
The teens said they found the week valuable and believe they have developed skills that will serve them well, whether they're helping out at their churches, sitting in classrooms, or hanging out with their friends.
"I learned that a leader is not always the commanding one who is giving instruction. He is also the person who knows how to serve others," said Jean Daniel Liwanga, a junior from the Cathedral of the Immaculate Conception in Portland.
"This week has really shown me and helped me come out of my comfort zone, so hopefully, I can use that aspect to reach out to people who are new to youth group, newcomers to youth ministry in the parish, and to invite people and make better connections in the parish," said Matthew Sawicki, a senior from Prince of Peace Parish in Lewiston.
"I learned how to go more in depth into leadership, planning out stuff, kind of making everything come together," said Theo LaFreniere, a junior from St. Matthew Parish in Limerick. "I think it will serve me pretty well, especially getting more youth to come to youth ministry and planning out events to maybe attract more youth to the Church."
"I'll be more openminded in being able to hear what other people think," said Jaime Dupuis, a senior from St. Maximilian Kolbe Parish in Scarborough. "My friends always have questions for me about my faith and stuff, and now I can answer them confidently."
"I think the biggest takeaway from the week for me was how to be a better leader but not just from the religious standpoint," said Cameron Walton, a senior from All Saints Parish. "They're teaching us this so that we can go out and make the world a better place."
More than 30 young people and youth ministers participated in E.P.I.C. The teens said that, in addition to the skills they learned, they also value the connections and friendships they gained throughout the week.
"It's really fun. You make a lot of friends, and you learn a lot about yourself and other people," said Brendan.
The week included time for the youths and youth ministry leaders to enjoy the beautiful Saint Joseph's College campus, including using the indoor pool, tossing a football around on the green, taking walks by the lake, and enjoying s'mores by a bonfire.