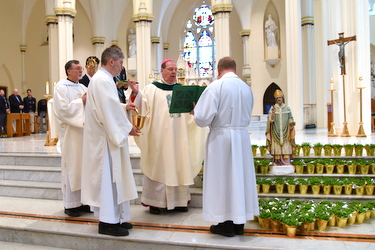 "Through the intercession of St. Patrick, may we always respond to God's call to generously share our faith with others and so go forth to build up the Church." – Bishop Robert Deeley
Recalling his own Irish heritage and calling on the faithful to carry on the saint's evangelizing mission, Bishop Robert Deeley celebrated Mass to commemorate the feast day of Saint Patrick.
"Here in the Cathedral of the Immaculate Conception, we mark the feast day of one of the patron saints of the Diocese of Portland, St. Patrick of Ireland. In our gathering in prayer at this Eucharist, we ask this holy man to pray for us and help us to be people of faith and disciples of Jesus just as he was," the bishop said
Saint Patrick is one of the secondary patrons of the diocese, along with Saint Jean Baptiste, in recognition of the early influence of the Irish and French in the founding of the Catholic Church in Maine.
During the Mass, the bishop blessed potted shamrocks as signs of God's "loving goodness and with gratitude for the enduring faith of the people of Ireland." The shamrocks were then distributed to parishioners. It is believed that Saint Patrick used the plant's three leaves to explain the Holy Trinity to the people of Ireland.
While Saint Patrick's Day is known for shamrocks, the wearing of the color green, and parades and festivities, the bishop noted that this year the feast day falls on a Friday of Lent, drawing our attention also to betrayal and suffering, for it was on Good Friday that Christ was crucified. The first Scripture reading during the Mass told of the betrayal of Jacob's son Joseph, who was sold into slavery by his brothers. And Saint Patrick, too, suffered enslavement, being taken from his home in Roman Britain to Ireland when still a teenager.
"The telling of the story of Joseph's betrayal points us forward to Christ and his betrayal. The story of Patrick, on the other hand, shows the grace of God alive in one who is striving to live as Jesus did," the bishop said. "As he came to know God in prayer, Patrick knew himself as a man who had need of God's forgiveness."
The bishop said that Patrick's captivity gave him time to think and pray and, as a result, he came to know God. In a dream, Patrick was told how to escape his captors, and after six years, he was able to make his way back home. There, praying and reflecting on what happened, he felt called to become a priest and then was ordained a bishop. It would lead him back to the place of his captivity, not as a slave but as a servant.
"In all of this conversion of his life, he also knew that he was called to forgive his captors and return to Ireland to serve them, the very people that had captured him. He knew that it was his responsibility to preach the Gospel to them. It would not be an easy thing to do – to forgive his captors and, then, depart once again from his family and return to Ireland," the bishop said. "Because he knew himself as a sinner who had been forgiven and strengthened by God, he could forgive."
Saint Patrick would dedicate the remainder of his life to evangelizing what was then a pagan country.
"He sought to place himself in God's hands and overcome the evil he had suffered with the good of the message of the Gospel he was sent to proclaim. He has encountered Jesus Christ; his life is made new, and in his joy, he wants to bring the Good News he has heard to others. That is how he spends his life. He lived and died in Ireland serving the people whom he claimed for himself," the bishop said.
Saint Patrick died on March 17, 461, which is why his feast day is celebrated on March 17.
The bishop concluded the Mass with words from an Irish blessing: "May you have warm words on a cold evening, a full moon on a dark night, and the road downhill all the way to your door."
To learn more about Saint Patrick and celebrations in the Diocese of Portland visit, http://portlanddiocese.org/feast-saint-patrick. To learn about and journey with other saints whose feasts days occur during Lent, visit http://portlanddiocese.org/content/saints-lent.