Saint Oswald of Worcester - Feast Day: February 29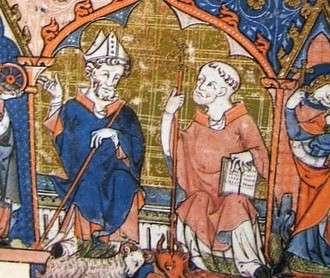 St. Oswald of Worcester, also known as St. Oswald of York, is a 10th century saint known for his work to revive monasteries and reform the Church.
St. Oswald was born around the year 925 in England, where his parents had moved from Denmark. His Uncle Odo (St. Odo the Good) was the Archbishop of Canterbury and played a key role in Oswald's early education. Feeling called to a stricter, monastic lifestyle, Oswald followed in his uncle's footsteps and entered the Benedictine Monastery in Fleury, France, where he was ordained to the priesthood.
After spending several years there, Oswald was summoned back to England by his uncle, who was nearing death. With his uncle's passing, Oswald began assisting another relative, Oskytel, then Archbishop of York. His work caught the eye of the new Archbishop of Canterbury, St. Dunstan, who consecrated Oswald as Bishop of Worcester.
St. Oswald was a great supporter of St. Dunstan and St. Dustan's efforts to reform the Church. Along with St. Dunstan and St. Ethelwold (the Bishop of Winchester), he is credited with reviving English monasticism by building and rebuilding many monasteries. They included a small Benedictine monastery at Westbury-on Trym in Gloucestershire, which Oswald founded shortly after becoming bishop, and Ramsey Abbey, which he founded in Huntingdonshire in 974. It went on to become a religious center.
St. Oswald is also known for promoting learning among the clergy in his diocese, bringing in instructors from Fleury.
St. Oswald was later named Archbishop of York, but he also retained the See of Worcester, where he often resided and carried out his reform work.
St. Oswald is a leap year saint. He died on February 29, 992, making his feast day February 29. When it is not a leap year, the celebration of his feast is transferred to February 28.