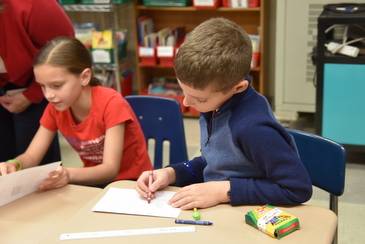 With Veterans Day just around the corner, third graders at St. Brigid School in Portland have been using their artistic talents to make greeting cards that express their appreciation for those who have served in the U.S. Armed Forces.
"I just wanted to let them know that we are thankful for them, and we thank them for everything that they do for our country," said Skylar, a third grader. "They do many things for our country."
The greeting card project, an annual endeavor, coincided this year with New England Catholic Schools Week and was part of St. Brigid School's efforts to honor our nation, the special focus of one of the days during the week. Appropriately, the day also coincided with Election Day.
Over the years, the cards have been sent to various veterans and veterans' organizations, but this year, they will be given to some of the students' relatives who served in the military. Mikey's uncle, for instance, served for 40 years in the U.S. Air Force.
"He was in the military and was saving a lot of people's lives," Mikey explained. "I wanted to tell him thank you for your service. It is me, Mikey. It is my class, and I hope that you have a good day."
Another student, Chase, has an uncle who served in the U.S. Navy.
"I am writing to thank you for doing service and thank you for all your help to this country," Chase said, sharing the message in his card. "He helped all of us, and he is keeping our country safe."
In addition to writing greeting cards, students at St. Brigid are participating in Operation Shoebox, a project which delivers care packages to U.S. troops. Each class is collecting different items for the boxes, with third graders contributing something practical – razors – and a treat – Twizzlers.
Mary Ellen White, a third-grade teacher at St. Brigid, said it is important for the students to appreciate the freedom that we have in the United States and to express their gratitude to the men and women who have defended liberty here and around the globe.
"I get emotional when I talk about. We're the greatest country on earth. We can come to school happy every day, when there are a lot of schools in Afghanistan that no longer even exist because they've been bombed, or they're empty because it is too scary for kids to go there," she said. "I want kids to really appreciate living in this amazing country and to not forget the people who made sacrifices for us."
As part of the school's patriotic celebration, students, staff, and teachers were encouraged to dress in red, white, and blue for the day.