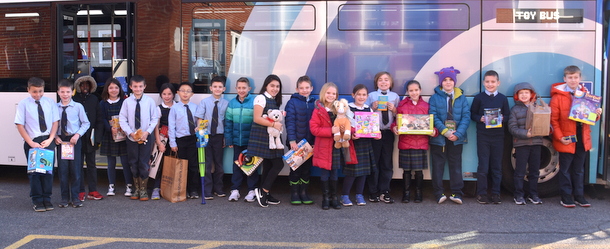 With dolls and games, Legos and Mr. Potato Heads, students at Brigid School in Portland stuffed a bus full of toys to brighten the Christmas of other children in the community.
"We get to give to children who can't have toys or can't afford toys, and that's really good because it would be sad to wake up Christmas morning and not have any presents," said Sydney, age 10, who is in fourth grade.
"We put them in there for children in need and for the people who can't afford Christmas presents for their children," said Madelyn, age 9, also a fourth grader. "We're really about helping the community and having fun in this school. We really enjoy giving."
"We're stuffing the bus to make kids happy and have a good Christmas," said Leah, age 9, a third grader.
This is the eighth year that St. Brigid School has partnered with Greater Portland METRO on the stuff the bus project. The toys were transported to WGME 13 in Portland as part of its Joy of Sharing campaign, which helps the Salvation Army deliver thousands of toys to children throughout the area.
Children in every grade level, from preschool to grade eight, as well as faculty and staff participated in stuffing the bus.
"It gives the kids an opportunity to share the joy of Christmas and the gift of giving. It really takes hold in our school community. Everyone embraces it, and we fill the bus up every year," said William Burke, principal. "There is just a good spirit in the community. People want to be a part of something much bigger than just our little school here and share their God-given gifts and their toys with other children who are in need."
"We need to give toys to other children because that's what schools do," said Emma, age 4, a preschooler.
"Stuff the bus is a good idea because they can have something that they deserve because they don't get stuff every day," said Lila, age 8, a third grader.
Many children brought in toys they would enjoy themselves. They included sporting equipment, paper dolls, books, blocks, toy cars and trucks, stuffed animals, and much more. In some cases, the toys the students were toting were as large as the children themselves.
"I bought a stuffed animal. Kids that don't have that much stuff, they can have it as a friend, and they can name it, and they can do stuff with it and keep it with them," said Joseph, age 9, a third grader.
"I brought a game, a bracelet maker, and a unicorn thing. It sounds fun," said Leah.
St. Brigid School is the only stop the Toy Bus makes, but Denise Beck from METRO said it is a tradition the company plans to keep.
"We're part of the fabric of communities and what is good about this is that we have kids giving to kids through the Joy of Sharing," she said.
Although the Toy Bus has already made its delivery to WGME 13, there is still time to give to the Joy of Sharing campaign. Toys can be dropped off at WGME through Monday, December 17.