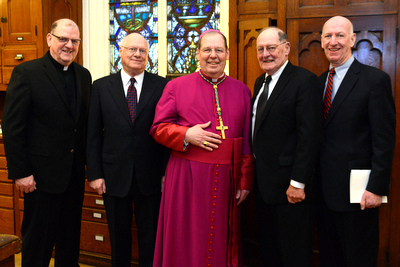 Bishop Robert Peter Deeley, J.C.D., says it is with "great joy" that he begins his service as the 12th Bishop of the Diocese of Portland.
"I'm looking forward to the opportunity to be the pastor of this diocese," he says.
Bishop Deeley was installed as the Bishop of Portland on February 14, at the Cathedral of the Immaculate Conception. He begins his ministry here after 40 years in the priesthood, serving in the Archdiocese of Boston and in Rome. He was ordained auxiliary bishop of the archdiocese by Cardinal Séan O'Malley in January 2013.
"Pope Francis has blessed the clergy, religious and faithful of the Diocese of Portland by naming the Most Rev. Robert P. Deeley as their twelfth bishop," says Cardinal O'Malley. "The Archdiocese of Boston will greatly miss Bishop Deeley's leadership that follows from a deep love for the Church."
"The spirit of God within me is one of joy," says Bishop Deeley. "I feel a great sense of joy in the message of the Gospel and in being a minister of it and in being able to convey that to people."
Bishop Deeley has some familiarity with the state of Maine. His niece lives here. A nephew was married in Boothbay Harbor and a cousin in York Beach. He also has attended meetings and vacationed and skied here.
"Maine is called 'Vacationland' and that, indeed, it is, blessed as it is by the incredible beauty of nature."
He says, since being named bishop, he has been warmly received in his new home.
"I am amazed how welcoming everybody has been," he says. "I found people to be very friendly."
Still, he says he knows he has much to learn about the diocese and says that is how he plans to spend his first months on the job.
"I can only move things forward if I find out where things are and then learn where we might go," he says. "I come only as your new shepherd, and, as Pope Francis is fond of telling bishops, I will have to get to know the smell of the sheep before I can serve you as well as the Lord calls me to."
He compares it to climbing aboard a moving train.
"It will be my task to move through the train observing, listening, and sharing ideas with those who are doing the work of God in this beautiful state."
He says he especially wants to meet with the priests whom he calls his "first collaborators."
"They pastor the people. It's my job to be a pastor to them, and so, in the initial stages of my coming, I want to get to know the priests in the various regions of the diocese."
Those who know Bishop Deeley describe him as a hard worker who is full of energy.
"He's not someone who is going to hide in his office and close his door. He'll be out there meeting people and talking to people," says his brother Kevin, a priest in the Archdiocese of Boston.
"He's a pretty determined and disciplined person, so he'll do what he needs to do," says his brother Paul. "As a priest, he's always been someone who has had two or three jobs. If he was working in an office job, he was chaplain to an order of nuns, or helping the parish, always doing things."
That work ethic, Paul Deeley says, goes back to their upbringing in the town of Belmont, MA. In addition to Paul and Kevin, Bishop Deeley has two other brothers, Tom and John. Their father worked in the forest industry and later as a welder at the Charlestown Navy Yard. Their mother took care of the five boys.
"In those days, there was not a lot of surplus," Paul says. "So early on, we learned a good work ethic, probably from our parents, as well as from the Sisters of St. Joseph at the parish school."
For Robert, that meant getting a job delivering newspapers when he was age nine and then working in the library at Harvard University at age 16.
"It was a broadening experience," Bishop Deeley says of the latter. "I met people outside my own experiences and outside my own parish and school life, some very, very interesting people."
The bishop's brothers say he has always been a people-oriented type of person.
"He is really a smart guy, and he's personable. He gets along with people. Oftentimes, those things don't go together – smart and personable. Some people get arrogant, but I don't see that in him," says John. "He just enjoys being with people."
"He's a good listener. He reaches out. He's very empathetic, has a good sense of humor," says Paul.
"He's very friendly. He is very outgoing. He gets involved in everything," says Tom, the oldest brother. "He's had many, many friends from many, many years, and he still keeps in touch with everybody. He's the type of guy who never leaves anybody by the wayside. He always checks up on everybody."
Monsignor Henchal has known the bishop since their seminary days in Rome. He says Bishop Deeley's election as president of the Canon Law Society of America (2000-2001) is indicative of his ability to connect with others.
"If you get elected president of the Canon Law Society, it's partly because a lot of people in the Canon Law Society have gotten to know you and respect you and want you in this position. There might be other guys who sit in the room and do wonderful canon law, but this is somebody connected with a lot of people who gained their confidence, and that's the reason why he is where he is today – his ability to connect with people and build relationships and a network of support and friends."
Monsignor Henchal says Bishop Deeley has always been willing to give advice and share his canon law expertise when asked. "Despite what must be a monstrous burden of work in Boston as the vicar general to Cardinal Séan, he's always been very generous with his time and his efforts and his wisdom in helping us out when we needed it."
It was wisdom gained in part through seven years of service at the Congregation for the Doctrine of the Faith at the Vatican. Bishop Deeley had the opportunity to work with Cardinal Joseph Ratzinger, who was prefect of the Congregation before becoming Pope Benedict XVI.
Bishop Deeley says he has great respect for the emeritus pope.
"I think his writings, his appreciation for Scripture, the depth within which he prayerfully has considered Scripture and passed it on to us is a tremendous gift," Bishop Deeley says. "He brings us back to the early days of the Church in its richness and its newness. He is constantly seeing new ways of looking at Scripture."
After returning to Boston in 2011, Bishop Deeley had the opportunity to work closely with another respected Church leader, Cardinal Séan O'Malley, serving as vicar general and moderator of the curia of the archdiocese. He describes the cardinal as a "listening leader."
"He has an incredible ability to listen to what's happening and to inform himself and to analyze an issue in the calmness that listening permits him and to seek ways to involve people in resolving questions," he says. "He's a very humble man who is very prayerful and very good to work with."
Bishop Deeley hesitates to describe his own leadership style, saying, "You have to ask the people who work with me."
Still, he says, "I want good collaborators. I want people who are positive and looking for ways to move forward. I think that I value the counsel of people around me to point out the pitfalls of directions that I might want to take, but I think that, eventually, the most valuable thing is when we can work together to solve a problem."
The bishop says there are a lot of hardworking people committed to the work of the Church in Maine. Yet, he is aware that there is still much work to do. A secularized society along with a shortage of priests are among the challenges the new bishop faces.
"We can only be a Eucharistic community if we can gather for Mass, and for that we need priests. And one way in which we encourage young men to consider the priesthood is to strengthen parish communities where the love of God is celebrated in worship and in charity," the bishop says.
Currently only about 30 percent of Catholics in Maine say they regularly attend Mass. Many in the state report no religious affiliation at all.
Changing that, Bishop Deeley says, is the challenge of evangelization, but he says the first step is helping people to have an encounter with Jesus.
"It was essentially contained in the message of Pope Benedict, but Pope Francis is bringing it to the fore," he says.
"Part of what Pope Francis is trying to do, it seems to me, is to help people to come to know that Jesus loves us and that Jesus wants to have a relationship with us and that Jesus is the answer to the meaning of life. Though there are a lot of people who aren't going to church, there are many, many people who have that emptiness in their lives, that sadness in their lives that we believe that Jesus can answer."
He says evangelization isn't a process or a program; it's a relationship. "You can't say, 'I want you to meet my friend down the street.' You have to bring people to Jesus."
He says a bishop's role is to encourage people to do that "by making sure that he is, in his own preaching and teaching, giving people the message that the Gospel imparts, the message of joy that Pope Francis speaks of."
The bishop describes his own spirituality as Christocentric.
"I find the Eucharist is at the heart of my spirituality, and the end is to draw closer to the Lord in my own life so I can bring others to the Lord. I find that preparing for the Eucharist, and the reflection of Scripture, and the preparation of homilies, and all the rest of that are a great way to deepen prayer life for myself but, also, to listen in that process to what the Lord is saying to me through others, so I can help them to draw closer to the Lord themselves."
The bishop also cites some saintly inspiration, beginning with his namesakes Saint Robert Bellarmine, who was a Jesuit cardinal and canonist, and Saint Peter.
"Saint Peter, as a bishop and as a man, is a tremendous reminder to us of our own fallibility and our own need to constantly renew the relationship we have with the Lord."
The bishop says he also draws strength from St. Elizabeth Ann Seton's dedication to the priesthood and the mystery of the Church. His episcopal ordination Mass was celebrated on her feast day.
His installation Mass, meanwhile, was held on the Feast of St. Cyril & St. Methodius.
Many of Bishop Deeley's family members traveled from Massachusetts and beyond to attend, saying they wouldn't miss it.
Father Kevin Deeley says he was excited when his brother told him of the appointment, yet admits it came with a tinge of sadness.
"I was very happy for him and for the Church because I think he's got a lot to offer, and I think he'll be a very good bishop for the diocese. But, at the same time, I was kind of sad for myself, for my family, because family is very important to us, and I knew what that meant," he says. "Even though Maine isn't that far way, it is in a way. His whole focus will now be the state of Maine, so it takes away a little bit from family life."
"We really enjoy each other's company when we get together, including the sisters-in-law," says his brother John.
Along with his brothers and his sisters-in-law, Bishop Deeley has one niece, seven nephews, four grandnieces, and ten grandnephews.
"Family is very important to him," says Tom. "He's a great brother to have."
Tom Deeley says he still has to pinch himself when he stops to think that his younger brother is a bishop.
Yet, the brothers say they believe he possesses the qualities to do the job well.
"I'm just pleased that he's being recognized this way," says John. "I expect that he'll be cardinal one day."
"He is very intelligent. He is a man who is of good judgment," says Paul. "I think he'll be good. That's my unbiased opinion."
Bishop Richard Malone, who has known Bishop Deeley since they entered seminary together in 1964, says he is confident he is leaving the diocese in good hands.
"I can promise the people of our great Diocese of Portland that they will be pastored by a man who is, in St. Timothy's words, truly 'strong, loving and wise.'"
Bishop Deeley says he wants the people of Maine to know he is excited to be here. He says he is grateful for the Holy Father's trust in him, and while he recognizes the great responsibility he has accepted, he says, "if the Holy Father is asking me to do this, it is God's will for me, and I am ready."