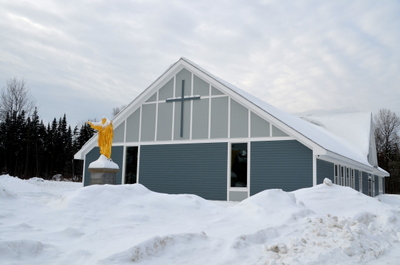 "It's beautiful, absolutely beautiful."
As Lori Poulin looks around the new Saint Faustina Church of St. Anthony of Padua Parish in Jackman, it is with a sense of awe.
"It amazes me how we did it," she says. "I have no idea how we did it."
For four years, parishioners here prayed and persevered, their determination overcoming any doubts, as they worked and gave so that a new church could be built.
"To me, it was almost like a miracle that this has happened because I was thinking that it would never fly," says Louise Lacasse, a member of the parish most of her life. "But, we've got our church thanks to a lot of kind-hearted people."
"I knew that something would happen," says Christine Hughey, a long-time parishioner. "I have a lot of confidence in the power of prayer, and I knew everybody was praying."
"He [God] has made all this possible," said Father Kevin Martin during the dedication Mass. "Miracle after miracle after miracle; story after story after story of amazing grace has guided us throughout this period of time in our parish history."
The rise of the new church began with the fall, literally, of the old one. In 2009, parishioners made the difficult decision to demolish their beloved St. Anthony of Padua Church, which dated back to 1928. Even though the stone church had undergone significant renovations in the past quarter-century, it was estimated that more than one million dollars would be needed for additional repairs and maintenance. It was just too great a cost for this small community to shoulder.
"I didn't really want it to happen," admits Clayton Achey, who helped maintain the old church. "We just didn't have the people here to take care of it, but it would have been nice to keep it. There was a lot of history in that church."
Watching their church being torn down and seeing the empty lot that replaced it was just the latest heartbreak for this Catholic community. Older parishioners still remember the days when the Sisters of St. Joseph from Lyon operated a convent, boarding school, parochial school, and hospital. Now, none of it is left.
"Part of the whole complexity of the mourning of this community was the loss of everything," says Father Kevin.
One of the few things that remained was the statue of the Sacred Heart of Jesus that stood outside. But, after the church was demolished, that also vanished, the result of vandalism.
"Someone wrapped a chain around it and pulled it off its base," says Father Kevin. "It went about 100 yards, and he was lying in the middle of the road, arms broken off, face all scarred."
While a sense of defeat could have overwhelmed the parishioners of Jackman, they instead faced the future with determination. For four years, while they raised money, Mass was celebrated at the American Legion Hall, with folding chairs replacing pews. While some parishioners did drift away, most stood firm in faith.
"I took it in stride because we had Mass on Sunday, and that was the main thing," says Louisa Quirion.
"I talked to God, and He said, if you want this, it will happen," says Connie Guay, a parishioner for 65 years.
Their faith was rewarded. In July 2013, ground was broken for the new church, and five months later, on December 14, Saint Faustina Church of St. Anthony of Padua Parish was blessed and dedicated.
"It was, sort of, the culmination of the last months of effort from everybody," says Pat Doyle, a parishioner for 26 years. "It was such a nice, beautiful ceremony."
"There wasn't a dry eye in the house that day, including mine. Several times throughout the Mass, I was blowing my nose and crying," says Father Kevin. "It was really overwhelming for me, it really was, but how beautiful at the same time."
Due to a snowstorm, Bishop Richard Malone was unable to attend the dedication Mass and delegated the responsibility to Father Kevin, who told parishioners in his homily, "I cannot be more joy-filled and happy for this extraordinary moment of grace."
The new Saint Faustina Church seats 124 people, although Father Kevin says you can fit as many as 140. For celebrations such as Christmas and Easter, chairs can be set up in the adjoining hall.
The building, which also includes a small apartment for the priest, is 50 feet wide by 108 feet long. It cost $575,000 to construct. Father Kevin says, early on, he had concerns about raising enough money to complete the job, but it came together through the generosity of those in Jackman and beyond. Money for it came from the "Strengthening the Heartbeat of the Church" capital campaign, from memorial donations, and from parishioners' ongoing contributions. There have been dinners, bottle drives, and other fundraisers. Contributions have also been received from other parts of the diocese. And the parish received a $200,000 mortgage from the Diocesan Savings and Loan.
In addition to monetary donations, Norman Pomerleau of NRF Distributors in Augusta donated flooring, the Moose River Lumber Company of Jackman donated wood studs, and a nearby home builder donated sand used for fill.
Some parishioners were among those who helped build the church, including Butch Haggan, of C. Haggan, Jr., Excavation, who was involved in both the demolition of the old one and the construction of the new one.
"When we finally got to break ground and start new…it was a good feeling," he says.
Dan Poulin did some of the electrical work.
"It's quite an honor," he says. "You can see all the work that went into this building."
Not everything, however, is new. The parish preserved as much as possible from the former church including the baptismal font, ambo, base of the altar, and some of the woodworking. The statues were all restored.
The church also includes elements from other churches, including the pews and Stations of the Cross from the former St. Louis Church in Auburn and the tabernacle light from the former St. John the Evangelist Church in South Portland.
Back also, in front of the church, is the statue of the Sacred Heart of Jesus, which was restored by Ronald Harvey of Tuckerbrook Conservation in Lincolnville.
"The return of the statue to town was phenomenal," says Father Kevin.
Although it's been a long journey, parishioners say they feel blessed.
"It's been hard work, but I find, for what we have, we are lucky," says Louisa Quirion. "It's good that we have our own church. You come in, and it's peaceful."
"We love it. It feels warmer, more inviting," says Connie Guay. "We waited four long years, and Jesus deserves this setting. I'm enjoying it as much as I'm sure He is."
"I think it's perfect. I love the set up, and I love the ambience of it," says Christine Hughey.
"I think it's fabulous. It's just a real blessing," says Donna Frigon. "The other church was old and had beautiful architecture, but this one just feels fresh, like a fresh new beginning."
There is still exterior work to be done and more money to be raised, but Father Kevin says now the real work is getting people to come home. He says he wants them to know, "We're here to stay."
Contributions Welcome
Contributions to help pay for the construction of the new church can be sent to St. Faustina Church Building Fund, P.O. Box 457, Greenville, ME 04441.