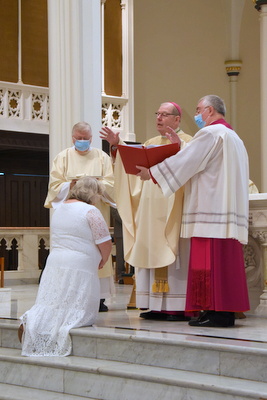 Praying that God would grant her kindness with true wisdom, gentleness with strength of character, and freedom with the grace of chastity, Bishop Robert Deeley presided over the Rite of Consecration of a Virgin for Angela McCormick on Saturday, September 11, at the Cathedral of the Immaculate Conception in Portland.
"Angela McCormick asks God's blessing on her choice of her life, her vocation. It is her way of seeking holiness. God has called her to be more closely united to himself and to be dedicated to the service of the Church and of mankind," the bishop said. "By what we do today in this rite, by our prayer together and our acceptance of her intentions, Angela will be irrevocably consecrated to God."
"This is a calling from God on my heart," said McCormick. "I want to be a witness of Christ's love for the Church as his bride."
Consecrated virgins are spiritually espoused to Christ, forming an intimate relationship with him. They dedicate their lives to prayer and service, but unlike members of religious communities, they do so as individuals living independently in the world.
Consecrated virginity dates back to the days of the apostles. In fact, legend has it that St. Matthew consecrated the first virgin. Use of the rite declined, however, with the rise of religious orders, and by the 10th century, it was used only sparingly. That changed following Vatican II. In 1970, Pope Paul VI approved a revised rite, which is used in the Church today. There are now an estimated 5,000 consecrated virgins living in the world, including three from the Diocese of Portland.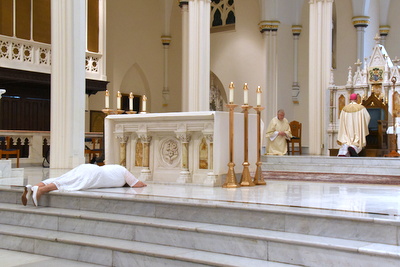 "I feel that the consecration is confirming the way of life I've been living," said McCormick. "There is a sacredness about the whole ceremony that is beautiful."
During the rite of consecration, McCormick resolved to persevere throughout her life in a holy state of virginity in the service of Christ and his Church, to follow Christ in the spirit of the Gospel, and to accept solemn consecration as a bride of the Lord.
The bishop then prayed that God would pour out the Holy Spirit on McCormick, who lied prostrate before the altar while the Litany of the Saints was sung.
After McCormick again professed her desire to follow Christ in a life of perfect chastity, the bishop prayed the Prayer of Consecration, praying, "Lord, look with favor on Angela, your handmaid. She places in your hands her resolve to live in chastity. You prompt her in this, her intention; now she gives you her heart. Only you can kindle this flame of love and feed its brightness."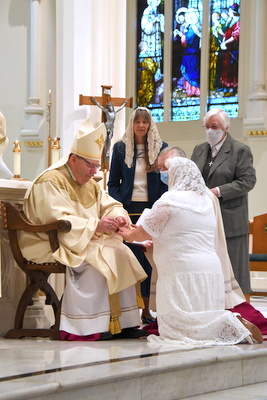 At the conclusion of the prayer, the bishop presented McCormick with a veil and a ring, insignia of her consecration, telling her to "keep unstained your fidelity to your Bridegroom and never forget that you are bound to the service of Christ and of his Body, the Church."
She was then given the book of the Liturgy of the Hours, the daily prayer of the Church, which she is to pray daily, something McCormick has been doing for years, along with regularly praying the Rosary.
"I make prayer part of my life throughout the day," she said. "I continue the Liturgy of the Hours, praying every day, praying for the Church, praying for the priests, especially the priests of Maine."
McCormick described the rite of consecration as amazing, saying that "it's hard to find words to describe it." She said, however, what was most moving to her was receiving the Eucharist after she had been consecrated.
"It was wonderful. It was beautiful, even more so than usual, much more so," she said. "That is Christ's most loving gift to us. The most intimate act that we can have with Christ is to take him, his whole body and soul, within ourselves."
McCormick said she now feels like a different person.
"I feel like I've moved from a state of a close relationship with Christ to a spousal relationship with Christ. The intimacy has deepened quite a bit in my heart," she said.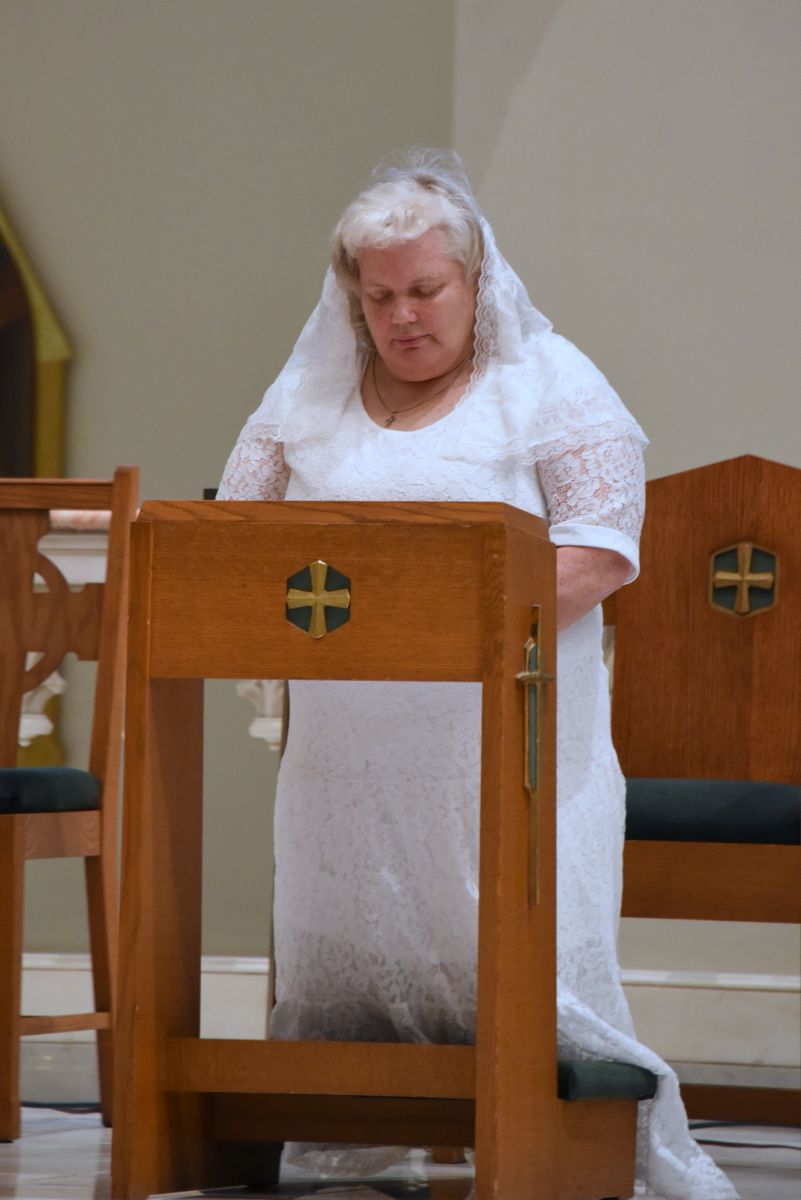 McCormick said she has felt a closeness to Christ since she was a child growing up in Indiana, but said it was in her 20's that she began to think about devoting her entire life to him.
"Even though I was drawn to marriage at some point, I had a stronger desire to stay single and just be, 'Lord, my life is completely yours, whatever you want to do with it,'" she recalled.
Raised in the Methodist Church, she began attending a Presbyterian church while in college but then, sensing something missing, explored Catholicism, which she had been introduced to by her brother and sister-in-law who are Catholic. She began to attend Mass and fell in love with it.
"Even though I didn't understand the Catholic faith, I felt drawn to the Eucharist," she said. "I was also drawn to the sacrament of reconciliation."
She joined the Catholic faith when she was in her early 40's. At the time, she had just begun working towards a doctorate in psychology at a university in Oregon. While there, she began attending daily Mass and going to a nearby Benedictine Monastery to join the nuns in prayer. It would lead her to discern whether she was being called to join a religious order. She first discerned with the Sisters of Mercy in Maine, where her brother and sister-in-law lived, but then, deciding that she might be called to a more monastic way of life, entered St. Benedict's Monastery in Minnesota.
It was while in formation there that she learned of consecrated virginity and came to believe that was her true call.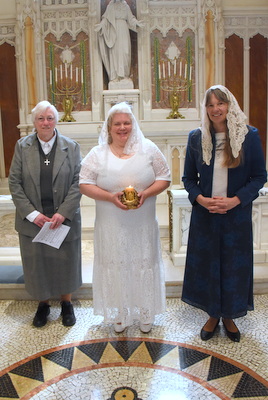 "I was like, 'Wow, this is the way God made me. This is who I am. This fits what I have been called to all my life," she says.
She returned to Maine to spend more time in discernment and in consultation with the diocese. Along with Bishop Deeley, guiding her along the way were Elizabeth Lee, a consecrated virgin from Massachusetts, and Sister Rita-Mae Bissonnette, RSR, the diocesan delegate for religious. Sister Rita-Mae and Lee accompanied McCormick during the Rite of Consecration of a Virgin.
As a consecrated virgin living in the world, McCormick will balance her prayer life with her career. McCormick works as a counselor, primarily doing evaluations of schoolchildren who are having difficulties. Although she lives in the southern part of the state, most of her work is in Aroostook County.
"Through her counseling, she strives to heal and make whole what has become broken in some way. In our prayer today, we thank God for the gift of this vocation, and we ask God to continue to send his Spirit to guide this consecrated virgin in her vocation of serving others," the bishop said.
McCormick said she considers her work to be a ministry, and even though she's not always able to talk about faith with her clients, she said she always offers prayers for each of them.