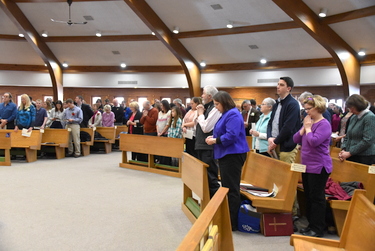 "God is with us. God's providence and care are with us."
That was the message Bishop Robert Deeley shared with dozens of individuals seeking to become members of the Catholic Church, as he celebrated the Rite of Election and Call to Continuing Conversion at Holy Rosary Church in Caribou on Saturday, February 17, and Notre Dame Church in Waterville on Sunday morning, February 18.
"As we come today to witness the journey of those who will be baptized and received into the full communion of the Church at Easter, we are powerfully reminded of the great gift that is our faith," the bishop said.
During the Rite of Election, parishes present catechumens, those who have not been baptized in any Christian faith, to the bishop and the congregation. The catechumens publicly affirm their desire to become Catholic, while their sponsors and godparents confirm the catechumens' readiness to do so. The bishop then signs each parish's Book of the Elect, into which their names after been entered, enrolling them into what is known as the Order of the Elect.
A similar examination takes place during the Call to Continuing Conversion for those who have been baptized as Christians in other traditions and have not received confirmation and first Communion, the other initiation sacraments. Referred to as candidates, they also publicly express their readiness and are then called to ongoing conversion, as they prepare to share fully in the Church's sacraments.
In all, 54 catechumens and 52 candidates from across the state are participating in the Rite of Election and Call to Continuing Conversion. They include 11 at Holy Rosary Church, 43 at Notre Dame Church, and 52 at the Cathedral of the Immaculate Conception in Portland, where the bishop celebrated the rite on Sunday evening.
Catechumens and candidates take many different paths to the Catholic Church. Dave Wininger, from St. Rose of Lima Parish in Jay, says his journey goes back to his childhood. He says he wasn't raised in any faith but has been searching for most of his life. He says his service overseas as a U.S. Marine, as well as what he experienced and learned about the faith through his wife and her family, who are Catholic, finally led him to the Church.
"When I look back, there were key people that I knew who were religious. They didn't really project that to me, but it did have an effect on me. Meeting Madeleine was a big piece of that and our relationship over the years. It just started to grow over time, especially after we started to attend Mass on a regular basis," he says. "It just kind of grew on me, and something inside me started to grow, and here I am today."
Dave and Madeleine's 27-year-old son is also joining the church.
For Ira Mandel, of St. Brendan the Navigator Parish in Camden, the call to join the Church came during a pilgrimage to Medjugorje that he took with his wife, Catherine. Ira, who is Jewish, thought the trip would mean a lot to Catherine, who is Catholic, but it turned out to be a lifechanging experience for him.
"We were just immersed, total immersion. It's kind of like a baptism," he says.
Ira says he was particularly moved when spending time in eucharistic adoration and when, after seeking an opportunity to speak to the priest who ministers to the English-speaking pilgrims there, the priest took the opportunity at the end of a Mass to invite Ira to meet with him.
"The moment when Father Leon (Pereira, OP) called out my name, that was the one thing. But it was not only that, it was everything…the love of the other people I was on pilgrimage with, all the support," he says.
Kayla Jesvik says she, too, was influenced by a person in her life, but for her, it was Sister Elaine Lachance, SCIM, whom Kayla met at a conference when she was a student at the University of New England in Biddeford.
"I met her, and we became good friends, and I started going to Mass with her, and from then on, I just knew that this was the right place for me," she says.
Kayla was baptized in the Lutheran Church but says one side of her family was Lutheran and the other Catholic, so she grew up attending both.
"I have a lot of wonderful memories of my grandparents taking me to Mass as a kid. It's just something deep in your heart. It's hard to explain. It's just a feeling, and I don't get that feeling in any other churches. That's why I ended up here," she says.
Sean Arquette, from St. Paul the Apostle Parish in Bangor, says when his wife started to get more involved in the church, he decided to look into it as well.
"I felt like I needed more in my life, and it was the little nudge I needed to make the decision. So, she is going for confirmation, and I am going to join the Church," he says.
While he looked into other churches, he says he appreciated the fact that the roots of Catholicism go back to the days of Christ.
"I'm a bit of a student of history, and I figured, if I'm going to join a Church, it might as well be the Church," he says. "The original is usually the best."
Susie Vigue, from Corpus Christi Parish in Waterville, agrees. Originally from Ireland and then Australia, she was baptized in the Church of England but decided she wanted to become Catholic.
"I've felt the need for something in my life, and when I was trying to decide which Church, I said, 'Well, I'll go back to the basics and come to the Catholic Church,'" she says. "I've just gone back to the roots."
The Rite of Election is part of the Rite of Christian Initiation of Adults (RCIA). For months, catechumens and candidates have been meeting at their local parishes to learn about the faith, ask questions, and get to know Christ better. RCIA s also an opportunity to grow in community with each other and with members of the parish.
"The whole process has been fulfilling," says Stephen Gudroe, a catechumen from Dexter. Deacon Dave (Denbow) has been a fabulous, fabulous person. He has just walked me through it and taken his time. He has been patient, so patient. I've learned a lot."
"It's been extremely enlightening, and it's amazing how friendly everyone has been, just helpful, a lot of food for thought on a weekly basis," says Dave.
The catechumens and candidates will now spend the season of Lent in final preparation for their entry into the Church. They will be baptized and/or be confirmed and make their first Communion during the Easter Vigil Mass.
"I'm very excited for Lent to be here," says Kayla. "It's definitely an ongoing journey, and I'm very excited for it."