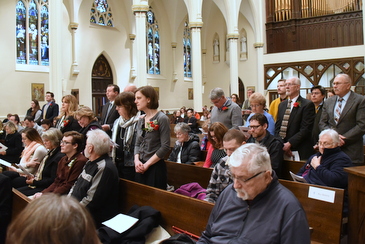 Easter is always a time of great celebration, but this year, Jocelyn Carr of North Yarmouth can't wait for it to come.
"It's exciting. I've been counting the days for the past four or five months," she said. "I think it's going to be really great."
That is because Carr is among 123 people from around the state who will be welcomed into the Catholic Church at the Easter Vigil. They include 57 people who, like Carr, were baptized in other Christian faiths (candidates) and 65 others who were never baptized in any faith tradition (catechumens).
On the weekend of March 9 and 10, those seeking to become Catholic passed an important milestone, celebrating the Rite of Election and Call to Continuing Conversion. During the rite, parishes present the catechumens and candidates to the bishop and the congregation. Godparents and sponsors then confirm to the bishop that the catechumens and candidates have taken the necessary steps to enter the Church, the congregation commits to praying for and supporting those in preparation, and the catechumens and candidates confirm their desire to fully enter into the life of the Church. Through the rite, the catechumens become known as "the elect," signifying they have been chosen by God. Their names are entered into each parish's Book of the Elect, which the bishop signs.
"As we come today to witness the journey of those who will be baptized and received into the full communion of the Church at Easter, we are powerfully reminded of the great gift that is our faith. The choice of those whose journey to the Easter sacraments of baptism, confirmation and Eucharist continues with a new purpose after this celebration," Bishop Robert Deeley told those gathered. "In the message of the Lord Jesus we gather to hear and celebrate, these people have found a special meaning by which they, too, seek to guide their lives. They seek to become part of a community that, as St. Paul reminds us, proclaims that 'Jesus is Lord.' In their desire to join the community of the Church, the followers of Jesus, we see God's loving presence, his guiding grace. That makes our gathering a wonderful moment of grace."
The Rite of Election and Call to Continuing Conversion was celebrated by Bishop Deeley at three churches: Holy Rosary in Caribou, Notre Dame in Waterville, and the Cathedral of the Immaculate Conception in Portland.
Carr, who is participating in the Rite of Christian Initiation of Adults through All Saints Parish in Brunswick, attended the rite held at the Cathedral Sunday evening.
Carr, who has been active in the Presbyterian Church, credits her work as a music teacher at St. John's Catholic School in Brunswick for leading her to Catholicism. She said when she started teaching there two years ago, she immediately felt God's presence.
"It just filled my whole being after being here. It pervades the whole building, the community, the environment. It's just such a special place." she said.
Carr not only attended weekly Mass with students and faculty but, as the music teacher, helped prepared the student choir for it.
"It's just been so wonderful for me," she said. "Every day, I'm going through one of the responsorial psalms with them."
As a result, she said she discovered the richness of the Catholic faith.
"After being at St. John's for several months, I just became very aware of many things, firstly that Christ is truly present in the Eucharist. That, for me, was a big draw into realizing I really need to become Catholic."
The realization that Christ is truly present in the Eucharist is also what led Andrea Sheehan of Fryeburg to the Catholic Church. She was raised in an Assemblies of God church but was introduced to Catholicism through her husband and his parents.
"My in laws are so wonderful, so I got a good example of Catholicism from them," she said. "I started feeling kind of called to the Church, just in my prayers and different things I was learning about the Church."
She said she resisted the call, because she liked the evangelical church she was attending, but as she learned more about Catholicism, the call grew stronger. So, she asked God for a sign.
"I just said, 'This is a life changer, so if you want me to do this, I will, but I need you to really let me know that this is really what you want,'" she said.
She believes she got her answer when she went to the evangelical church for services and the topic of the sermon was the bread of life.
"It was the Protestant version of what they believe: that it is a metaphor. And I was just thinking to myself the whole time: 'No, it's not. No, it's not. No, it's not.'"
It led her to take the next step and participate in the Rite of Christian Initiation of Adults (RCIA) which, she said, helped her understand some of the rituals that had previously been obstacles for her.
Elizabeth Ouellette, a catechumen from Biddeford, said it was a desire to learn about the faith that led her to participate in RCIA.
Ouellette's husband and four children are all baptized Catholic, and she said she wanted to be able to journey with them.
"I thought that it would be good for me to be starting a new life as a Catholic, so I can bring my girls up in the Catholic faith," she said.
Ouellette said she was attending religious education class with one of her daughters and realized how much she didn't know.
"I just felt out of place," she said. "They actually went over how to pray, and they had us sitting there, reflecting on how to pray, and I thought, 'This is my time to do this. This is my time to find out about the Catholic life, so that I can bring my child up in it,'" she said.
She said she also wanted to feel more in touch with God and understand more about her purpose in life. She described her time participating in RCIA as "really rewarding."
Stephanie Mills, a catechumen from Brunswick, said the RCIA process also helped her put the pieces together, creating what she described as a beautiful tapestry.
"The Mass feels more meaningful. I understand all the history of the different elements of the Mass and the different parts of the Church, and it all has just come together in a really nice and profound feeling way," she said.
Mills was not raised in any faith but has attended Mass with her husband since their first child was born nine years ago. A lawyer by profession, who once worked as a civil rights attorney, she said she was particularly drawn to the social justice teachings of the Church.
"The Catholic social justice figures have always, sort of, figured largely in my thinking about civil rights work and social justice work – Dorothy Day and Cesar Chavez, etc.," she said.
She also pointed to the sense of community, the music, and even the architecture of Catholic churches.
"There is something very aesthetic about Catholicism that, to me, really fosters being in that mindset. There is something almost tangible about the Church, and the rituals just very much put me in the space to find that spirituality," she said.
Mills and the other members of the elect, as well as the candidates, will now spend Lent in final preparation for receiving the sacraments and deepening their faith, something, the bishop noted, the season calls all Christians to do.
"Wherever we are in living as Christian and Catholic people, whether catechumen or lifelong Catholic, there is a purpose to this season. Just as the Holy Spirit led Jesus into the desert and watched over him, so too does God want all of us to know of his care for us, wherever we are on the journey of conversion. The name of God is mercy. As we reflect on our need for change, for conversion, all the more do we become aware of his grace and his compassion for us. It is the fruit of Lent," the bishop said. "And, as we become aware that God's mercy is transforming our hearts, through his faithful love for us even in our weakness, let us not forget that we are called to love and be merciful in return. That is the work of Lent for all of us. We will find ourselves a joyful people at Easter if we can use these days well. "