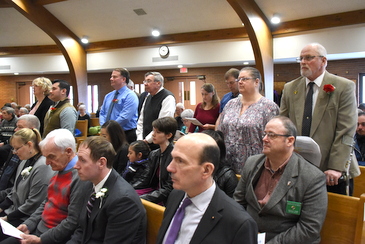 "I feel full. I feel like I'm fulfilled."
Joe Gonzalez from Houlton is looking forward with anticipation to becoming a full member of the Catholic Church.
"My life has just been so much better since I found God. Everything just sort of came together," he said. "I just feel happy."
Tina Tompkins from Mapleton said she, too, has seen a difference in her life as a result of her journey to the Church.
"I just feel differently. I look at things differently. I'm a registered nurse, and I think it's even helped me in caring for people, for patients, just being overall more patient, more at peace, more at ease," she said.
Joe and Tina are among the catechumens and candidates who participated in the Rite of Election and Call to Continuing Conversion celebrated by Bishop Robert Deeley on March 9 at Holy Rosary Church in Caribou and March 10 at Notre Dame Church in Waterville. A third celebration was held at the Cathedral of the Immaculate Conception on the evening of March 10. The catechumens are those who have never been baptized in any faith, while candidates are those baptized in another Christian tradition. All will be welcomed into the Church during the Easter Vigil.
"The work of God is visible in you. God's grace is alive. St. Paul tells us today, 'The Word is near you, in your mouth and in your heart.' The Word is, of course, the Lord Jesus. It is his Spirit that has stirred up your hearts and called you to a deeper relationship with him. That has led to this decision to embark on a journey of discovery, one which seeks to know what God wills for you," the bishop said.
During the Rite of Election, celebrated for catechumens, and the Call to Continuing Conversion, celebrated for candidates, parishes present to the bishop and the congregation those who desire to become Catholic. The catechumens and candidates then publicly affirm their desire to enter the Church, and godparents or sponsors confirm their readiness to do so. For those who are catechumens, Bishop Deeley then signs each parish's Book of the Elect, signifying they have been chosen by God and his Church.
"One of our privileges as Christians is to be open to see the ways in which God works in our world. Being with you, hearing your stories, and seeing the community that is formed among you and in your parishes is a gift," the bishop said.
Each journey is unique. For Joe, a border patrol agent, it was a move to rural northern Maine from Washington, D.C., that gave him time to reflect on his life. He said he really felt he could hear God talking to him, as well as a deceased brother and grandfather.
"I felt really connected," he said. "As an atheist for 11 years, for the better part of my adult years, having a sense of feeling and a sense of bigger purpose was a very scary realization moment for me."
He went to see Father Kent Ouellette, pastor of St. Mary of the Visitation Parish in Houlton, which led him to the Rite of Christian Initiation of Adults (RCIA), a period of learning, preparation, and growth in faith.
"I was just trying to learn, and I wanted to take a very elementary approach to things. Then, I just kept falling in love more and more with the faith," he said.
For Timothy Clark of Bangor, it was his wife, Evelyn, who led the way to the Catholic faith. The two were pastors with the Salvation Army for many years, serving in this country, as well as in Estonia. It is work they greatly enjoyed, but about 15 years ago, influenced both by the deep history of the faith in Estonia and a friend who is Catholic, Evelyn sought to learn more about Catholicism. It was a gradual process, but over time, she came to believe it was the true faith. Timothy, however, said that, at first, he had no interest in pursuing it.
"I put up every barrier I could to the idea even though Evelyn just took to what the Church is teaching," he said.
Timothy said his wife delayed entering the Church because her departure from the Salvation Army meant both would have to give up their positions. Then in 2017, after a medical issue turned their lives upside down, Timothy said he knew he could no longer stand in the way of Evelyn joining the faith. She became Catholic that same year. Timothy said he began attending RCIA classes just to become more informed, not with the intention of becoming Catholic, but the more he learned, the more he knew it was the right path for him, too.
"For years, I had put up all these barriers about things the Catholic Church believes saying, 'Oh, the Catholic Church just makes up all these things.' Then, once I started looking at the Church Fathers and things, it's like, 'Oh, actually this was part of the Church from the beginning,'" he said. "So, that kind of opened my eyes to really having to consider the teachings of the Church, and the more I looked at it, the more I just could see, o.k., this is true."
Other catechumens and candidates say they, too, were inspired by the witness of Catholics in their lives.
For 10-year-old Austin Saucier of Chapman, it was his grandmother.
"My grammy mostly inspired me, and I just really want to be like her," he said.
Austin is hoping to become an altar server once he receives the sacraments at Easter.
Meghan Dumont of Fort Kent and Samantha Cummons of Northport said they were both helped in their faith journeys by their husbands.
Meghan had attended both a Catholic and a Baptist church growing up but had never been baptized in either faith. After she got married, she began to feel more connected with Catholicism because her husband and his family are Catholic. Now, she and her daughter are joining the Church together.
"I've always been fascinated with the Masses, with just the whole process of it," she said.
Samantha and John were married in a Catholic Church last October, and she credits his witness and the witness of his family for bringing her to the faith.
"It was really the most experience I've had with a Catholic family and just seeing their relationship with God and each other, and how the holidays and Mass would bring them together," she said. "I saw how faith affected their family, and relationships, and their lives. It really was kind of an inspiration for me."
Samantha also pointed to a homily given by Father Bob Vaillancourt, pastor of St. Brendan the Navigator Church in Camden.
"He spoke about how you didn't need to know everything right off the bat, as long as you were willing to be a seeker and kind of search for your faith," she said. "That was what kind of drove me to be a seeker."
In all, 65 people will be fully initiated by the Church at Easter through the sacraments of baptism, confirmation, and first Eucharist, and 57 others will enter into full communion through confirmation and first Eucharist.
The elect and candidates will now spend the season of Lent in prayer, reflection, and final preparation.