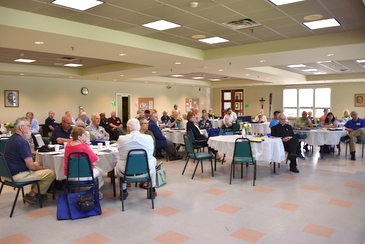 "You are the face of Christ. Can you imagine the impact you have just by showing up?"
Those were among the words of encouragement offered by Father Ron Cloutier to prison and jail ministers gathered at St. Maximilian Kolbe Church in Scarborough.
"You are a very important part of the Church. You are called. You are chosen. Your ministry is sacred," he told them.
Father Cloutier, the Archdiocese of Houston's director for the spiritual needs of the imprisoned, of those who have been victimized by crime and violence, and of family members in need of healing, was the featured presenter at the Prison Ministry Volunteer Conference held on Friday, June 7. Father Cloutier has served in jail and prison ministry for 33 years.
The conference was held to uplift those involved in the ministry, make them aware of available resources, and help them make connections with one another. It also provided an opportunity for those considering the ministry to learn more about it.
"Affirmation, support, and more information – it helps to establish a network. It's a big state, and there aren't a whole lot of people involved in prison ministry, so we can get together and know who each other is. It helps to be with one another in so many different ways: to share ideas, share concepts, share what we do. Hopefully, that will help others. I know I'm getting some help," said Deacon Frank Chambers, who has served at the Maine Correctional Center in Windham for 17 years and in prison ministry for 27 years.
"I think it helps us understand what other prison ministries are doing so that there is a little bit of consistency in the diocese," said Adams Stearns who volunteers at the Somerset County Jail in Skowhegan. "It's an opportunity to learn new things that we can bring to the table when we're with our people in Somerset County. There are a lot of good things that come out of this convention."
Sixty people from Aroostook to York County attended the conference, which was organized by Catholic Charities Maine Parish Social Ministry. Bishop Robert Deeley turned to Catholic Charities four years ago, seeking to get an assessment of jail and prison ministry in the diocese and to make sure it had the needed support.
Michael Smith, director of mission for Catholic Charities, said since that time nearly 50 new volunteers have become engaged in the ministry. He said the parishes in York County are now teaming up to serve inmates at the county jail there, and St. Joseph Parish in Ellsworth is working to establish a ministry team to serve at the Hancock County Jail.
"It's growing not only in the number of people but in parishes and facilities as well. It's really exciting to see the sustained growth of this," he said.
Exciting and critical because of the value of the ministry, something that was stressed by Bishop Deeley, who celebrated the opening Mass at the conference, as well as by the jail and prison ministers.
"Our mission is, by our very presence, to bring the love of God to those we serve," the bishop said during his homily. "In your cases, it is people who oftentimes feel unworthy. Your presence to them helps them to know of their worth, of their importance to us in the Church."
"The importance of prison ministry, in my opinion, is taking God back into prison, letting inmates know that there is someone who cares for them, who loves them where they're at and wants them to improve, and that he is there to help them," said Deacon Bob Curtis, who has served in prison ministry for 21 years, including the last nine full-time at the Maine State Prison in Warren.
Bishop Deeley and Father Cloutier both offered some guiding words to the prison and jail ministers, stressing to them the importance of ensuring that God remains at the center of their lives and service.
"The love that you are called to bring needs to be nourished. It needs to ground itself truly in God's love. The way, of course, we do that is by renewing ourselves in that love by being together in Eucharist. Otherwise, we get into the mode where we begin to think we're doing something ourselves and forgetting that our task is the ministry of God's love. We think we are sharing ourselves, when really, what we are called to do is share God's love," the bishop said.
"You must accept the challenge to be holy. That is the universal call," Father Cloutier told the jail and prison ministers. You must believe in the power of God's grace. You must. I can't change people and you can't either. You cannot change people, but God's grace can. You have got to believe in the power of God's grace."
Father Cloutier called the jail and prison ministers prophets, because they often see what others cannot.
"I don't listen to my friends and my neighbors who say, 'Why are you wasting your time?' I see through the eyes of God. Only a prophet can see that," he said. "To be able to see in those that we work with God's presence and the sacredness of their life requires a prophet, one who is able and willing to say, 'I see something in you that maybe you don't see yourself.'"
Father Cloutier stressed that inmates can change, that conversion is always possible through the grace of God, yet, he admitted the results of the ministry aren't easy to measure. He said that is why it is so important for those in jail and prison ministry to make sure they ground their work in prayer.
"The only results we get very often working in jail and prison ministry are negative results, and it's easy to burn out as a result," Father Cloutier said. "You have to be very careful about that. I am encouraged by Dorothy Day. She said something that I thought is very profound and applies to us who work in jails and prisons. She said do not focus on results. Focus instead on faithfulness. Faithfulness -- I thought how wonderful."
Denise Ducharme, who shared a witness story during the conference, said prayer provided her the guidance she needed when she experienced some doubts about the effectiveness of her ministry at the Somerset County Jail.
"I really needed to know. Was I in it for me or was I doing this for God and Jesus? And the Holy Spirit came to me and told me plainly, clearly, 'You're in this for me, not for you.' So, I was able to renew my commitment to prison ministry," she said.
That was more than a year ago, and she said she hasn't had a second thought since.
"I find a sense of purpose and a sense of peace in being part of this ministry to bring encouragement and hope to incarcerated people, whether they're Catholic or not," she said. "They need to know that Jesus loves them, and that's why I do it."
"The value for me is to see a smile on someone's face that hasn't been there for 20 years when they finally realize they're loved," said Deacon Curtis.
"Everyone who begins in this ministry, the first time, or the second time, or the third time that they're going into a prison, it's a little scary because everyone is concerned about their safety. Once you get over that safety issue and you realize that everybody is God's child and that you're just with more of God's children in a different place, it's a wonderful thing," said Stearns, who also gave a witness talk. "For me, personally, it just is really a faith strengthener to be involved, just a wonderful experience."
If you are interested in becoming involved in jail or prison ministry or in supporting the work of those who are, contact Catholic Charities Maine's Parish Social Ministry at 207-523-2772 or psm@ccmaine.org. Also, check with your local parish to see what opportunities might be available.