The Diocese of Portland, Maine and Manchester, New Hampshire proudly present: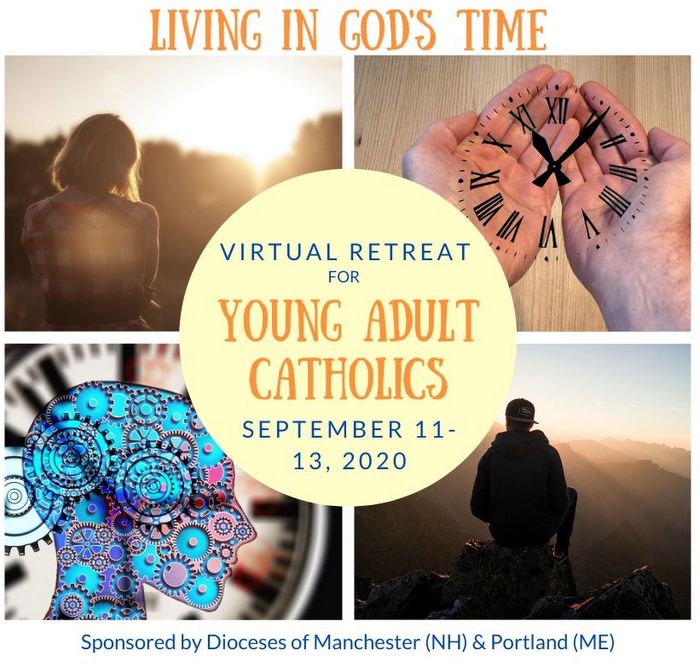 Have you ever:
Felt bound by time?

Felt like there is pressure to meet milestones by a certain age (i.e I need to graduate by age 21, be established in my career by 25, be married by 30 etc.)?

Felt stuck in the past

?

Felt overwhelmed by the future?

Wondered how to live in God's time?

Wonder what it would be like to feel perfect just as you are?
Then this is the virtual retreat for you!
The Living in God's time virtual retreat will dive deep into what it means to live on God's time. We will cover topics such as Kairos and Chronos, Identity, Connection, and Letting Go, and Going Down the Mountain (living our faith in the season of Young Adulthood). The schedule for the weekend will include a mix of real-time interactions via video conference and off-line time for personal reflection. The retreat will conclude with a livestreamed Mass in southern Maine that, if conditions allow, registrants will have the option to attend in person.
Lifesize Cloud Video Conferencing Equipment will be utilized. For instructions on how to navigate Lifesize click here.
Details
Who is invited: Catholic men and women ages 18 to 35
When: 7pm Friday through 12pm Sunday, September 11-13, 2020
Where: Video Conference from the place of your choice
How: Register online using Eventbrite
Cost: Free (with the suggestion of a donation to your local Diocese or the Catholic appeal)
**More information about the retreat will be sent to you as the date gets closer.
Co-Sponsors: Diocese of Manchester and Diocese of Portland
---
Promotional Materials:

Click to download or share color poster
Registration:
Click here to register
Register by September 7th.
---
Questions:
If you live in New Hampshire, email Mary Jane Silvia or call (603)-663-0172.
If you live in Maine, email Hannah Gonneville or call (207)-773-6471.