...putting people not only in touch with, but also in communion and intimacy with Jesus Christ...
The Office of Lifelong Faith Formation (OLFF) serves the parishes of the Diocese of Portland in the efforts of evangelization, catechesis, and lifelong faith formation of adults, youth, and children. According to the Vatican General Directory for Catechesis, all evangelizing activity promotes communion with Jesus Chris (no.80) and the aim of catechesis to encourage a living, explicit, and fruitful profession of faith in each baptized person (no. 66).
The OLFF staff provides ongoing support and resources for pastors, parish staff, ministry volunteers and parishioners to participate fully in the life and mission of the Church.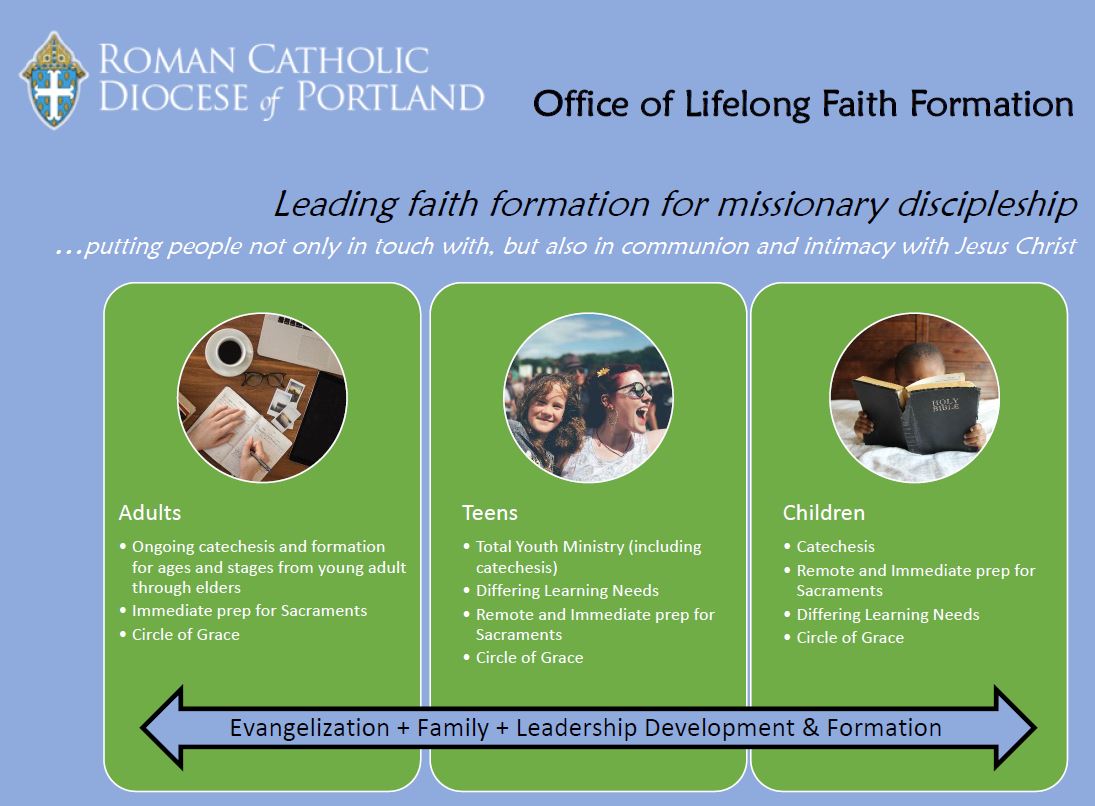 The OLFF team works to realize this vision as we:
Encourage and supports parishes in forming all people to answer the universal call to holiness

Help parishes promote and strengthen Christian marriage and family life

Assist Parish Catechetical Leaders, Youth Ministers, and Pastoral Life Coordinators in their formation and ministry

Encourage adult faith formation and catechesis of children and youth throughout the diocese to form the laity in the Catholic faith, relationship with Christ and role as disciples in the mission of evangelization

Serve parishes by supporting sacramental perparation, including the implementation of the Rite of Christian Initiation of Adults, Marriage preparation, infant Baptism, preparation for Confirmation and First Communion, and preparation to celebrate the Sacrament of ReconciliationEngage youth to reflect, demonstrate, lead, celebrate,and stretch as Christian disciples

Coordinate diocesan-wide pastoral outreach such as Project Rachel and the annual Men's and Women's Conferences

Utilize technology and modern media as evangelization and lifelong faith formation tools, especially as relevant to the lifestyles of today's Catholics and to address geographic challenges of the diocese