Click title to jump to related info on this page
---
Fall 2021 Leader Meetings
CHILDREN: Recording of Oct 27 meeting for leaders of Children's Confirmation/Ist Communion prep
ADULTS/OLDER TEENS: Recording of Nov 4 meeting for leaders of Adult/Teen Initiation and Confirmation prep
Determining Appropriate Path for Sacramental Preparation Click image to download larger version of decision tree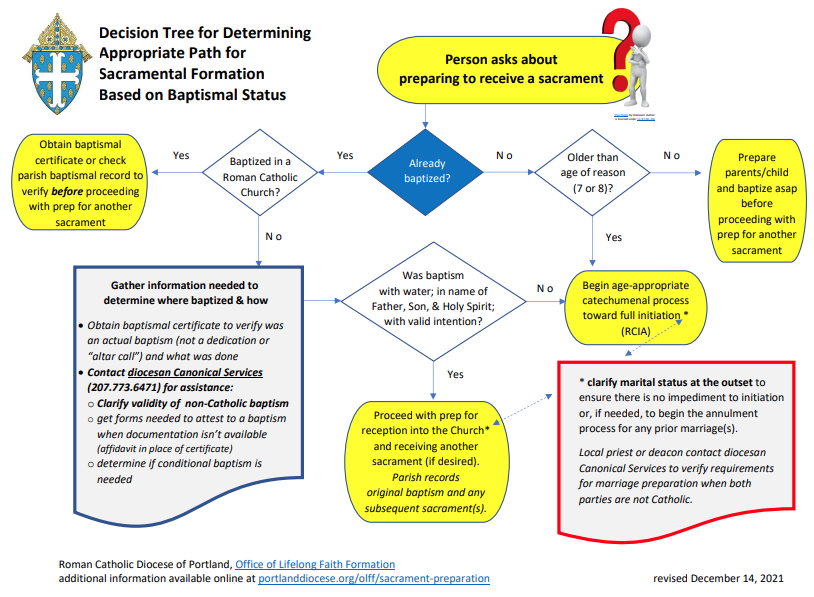 ---
Guidelines for Celebrating Sacraments with Persons with Disabilities from the United States Conference of Catholic Bishop (USCCB, 2017)
Online Resources on the Seven Sacraments from the USCCB
Liturgy is essential
---
What is RCIA? (USCCB)
Diocesan Forms/Guides
Resources for Use in the RCIA process:
---
Diocesan Guidelines Infant Baptism (1995) - also addresses child younger than age of reason
Click to view recording of Msgr Marc Caron and Shannon Fosset addressing Infant Baptism at Nov 12, 2020 LFFA meeting
Initial Parent Interview for Infant Baptism (May 2022)
Resouces for Use in Sacrament Formation for Infant Baptism: Simple List with Links (May 2022)
Godparent/Sacramental Sponsor Verification Form (April 2021)
---
Marriage Preparation Guidelines "Telling Anew the Story of Marriage" (2009)
Info on diocesan policy, permissions, dispensations, etc.
---
2022 Schedule of Parish celebrations of Confirmation and first holy Communion (updated March 7, 2022)
2022 Memo to PCLs about Spring Celebrations (updated April 14, 2022)
The Diocese of Portland Guidelines to Prepare Children for the Sacraments of Confirmation and First Eucharist was approved and published in June 2015. The guidelines establish a two year preparation process for all children preparing to receive Penance, Confirmation and First Eucharist which includes the involvement of their parents/guardians. Below you will find a link to these guidelines. A variety of resources to support parish leaders in the implementation of this policy have been prepared by the Office of Lifelong Faith Formation and the Sacrament Guideline Committee. Follow the links below.
• Conformity Listing of Catechetical Texts and Series
• Sacraments of Christian Initiation of Children (Chart)
• Guidelines for Low-Gluten Hosts
• Godparent/Sacramental Sponsor Verification Form (March 2020)
Communicating with parents / guardians
• Sample Bulletin Announcement
• Sample Letter to Parents & Guardians
• Family Consultation with Parish Leaders
Sacrament Preparation - Year 1
• Printable Mass Book for Children
Handout for Who do you say that I am?
• Bible in a Nutshell: Scripture
• Do this in Memory of Me: Encounter Jesus in the Eucharist
• Hello! Can you Hear Me Now? Prayer
• I am The Way, Come Follow Me: Following Jesus as a Family
Sacrament Preparation - Year 2
• Sacrament of Penance/Reconciliation
Resources and Articles
Resources for Sacrament Preparation, including: Sacrament Preparation Program for Parishes • Confirmation Preparation for Teens • Resources for Parent Formation • Resources for Children with Disabilities • Video Resources for Children • Supplemental Resources for Families • Suggested Books
Videos
• Coaching Parents to Form Their Own Children by Bill Huebsch
• Catechizing Parents through their Children's Sacraments by Janet Schaeffler, OP
• Confirmation at the Time of First Communion
• What do parents want to hear from the Church?
---