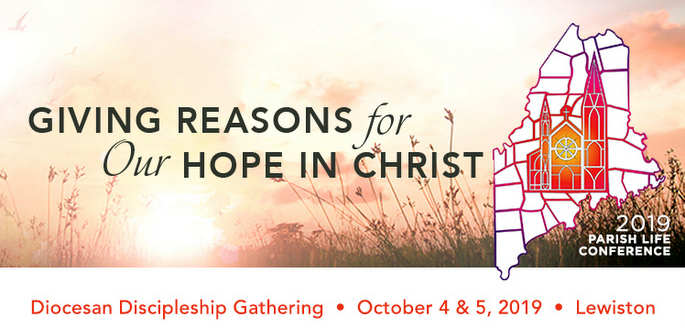 The Apostle Peter (1 Peter 3) challenges us to always be ready to give an answer to anyone who asks about our faith in Christ. This conference is designed to help us do just that, both in our common life as Catholics and in our day to day encounters with people.
---
FEATURED SPEAKERS
image source
Fr. J. Michael Joncas
priest, theologian, composer, professor and consultant to USCCB Secretariat on Worship
image source
Joe Paprocki
long-time catechist, author, blogger, and Loyola Press national consultant for faith formation
Watch this video to get a taste of what Joe will address.
When:
Friday October 4, 2019; 7- 9:30 pm
and Saturday, October 5, 2019 9 am - 4pm
Morning Mass celebrated by Bishop Robert P. Deeley
Complete schedule coming soon.
Where:
Ramada Inn and Conference Center, 490 Pleasant St., Lewiston
a special hotel room block is reserved until September 4 or until sold out at the discount rate of $225/night plus tax (rack rate for the weekend of the conference is from $332 to $480 per night)
Cost:
$60/person for full conference
$25/person for Friday only
Early Bird Discount: $50/person through September 16 with possible Group rate of $45/person for 5 or more from the same parish
Last-Minute Pricing: $75/person on or after October 1, including walk-ins
Registration (opens August 1):
To register and pay online,
To register and pay by mailing a check,
---
Workshops sessions focused on Catholic teaching, spirituality and skills for living and serving as a Christian disciple.
List of presenters and workshop descriptions (coming soon)
Planned topics include:
♦ The Sacredness of Life
♦ Choosing Music for Liturgy
♦ Basics of Sharing Your Faith Story: connecting life and faith
♦ Making Good Choices: discernment in everyday life
♦ Maintaining Joy while Dealing with Ministry Conflicts
♦ Family and Intergenerational Formation
♦ Scripture and Tradition: keys for explaining the Catholic faith in everyday situations
Anticipated Exhibitors Include:
Catholic Charities Maine • Loyola Press • Sadlier •
The Daughters of St. Paul • The Abbey Catholic Book Store and MORE
---
Sponsors
Diocese of Portland Office of Lifelong Faith Formation (a service possible through the Catholic Appeal),
Catholic Foundation of Maine
Lifelong Faith Formation Association (LFFA)
Loyola Press
Wm. H. Sadlier, Inc.
---
Group Hotel Rate (must be booked by September 4th)
The Ramada Inn has arranged a discounted room rate of $225 per night + tax (more than 40% off the regular rate that weekend) for October 4 and 5. Please contact the hotel at ??? and ask for the Parish Life Conference group rate. This rate is only availble for bookings by September 4 or until our room block sells out, whichever is first