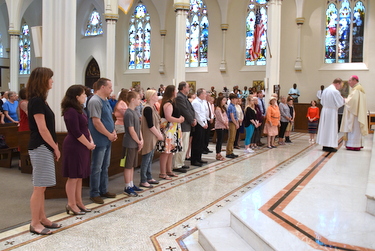 A neophyte is a newly initiated person who is going through the final period of Christian Initiation, the post-baptismal catechesis called "mystagogy." The Rite of Christian Initiation notes that during the period of mystagogy the Bishop meets again after the celebration of the Easter Vigil with those whose names were called at the Rite of Election. To celebrate this, the neophytes and newly received, along with their families and friends, are invited to attend a Mass with the Bishop to rejoice in their initiation:
Sunday, June 19 at 10:00 AM
Cathedral of the Immaculate Conception
307 Congress Street, Portland
The liturgy will also be available via livestream at www.PortlandCatholic.org/online-mass
---
PARISH LEADERS:
Registration is closed. Please contact Georgette Dionne at 321-7886 or by email if you have questions
---
KEEP IN MIND:
Please ask neophytes and newly received to arrive at the Cathedral no later than 9:45 am
The neophytes are encouraged to wear white in honor of their recent Baptism; newly received through Confirmation and first holy Communion are encouraged to wear red.
Those who participated in the Rite of Election and Call to Continuing Conversion are also encouraged to wear the lapel pins given to them at this celebration.
There will not be a rehearsal, though Georgette Dionne will be on hand to help direct the neophytes and newly received to come to the base of the sanctuary after the homily to receive the special blessing from Bishop Deeley.
There will be no reception following Mass, though all are encouraged to join in the eucharistic procession around the Cathedral.