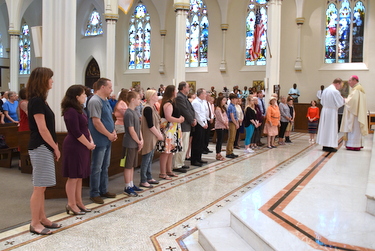 A neophyte is a newly initiated person who is going through the final period of Christian Initiation, the post-baptismal catechesis called "mystagogy." The Rite of Christian Initiation notes that during the period of mystagogy the Bishop meets again after the celebration of the Easter Vigil with those whose names were called at the Rite of Election. To celebrate this, the neophytes and newly received, along with their families and friends, are invited to attend a Mass with the Bishop to rejoice in their initiation:
Saturday, June 29 at 4:00 PM
Cathedral of the Immaculate Conception
307 Congress Street, Portland
A reception will follow the Mass to honor the newest members of the Church.
The Diocese will provide names tags and carnations for the all neophytes and newly received who RSVP by June 24th.
---
PARISH LEADERS: Click to RSVP by June 24th with names and total number attending from your faith communities
---
KEEP IN MIND
Please ask neophytes and newly received to arrive at the Cathedral no later than 3:45 pm on June 29th.

Each should stop by the check-in table in gathering area near the Millenium Doors (accessed from the parking lot near Cumberland Ave) to pick up his or her name tag, flower, and a note about the special blessing after communion.
There is no special seating reserved for this celebration which takes place as part of a regular weekend Mass. Neophytes and newly received should sit where they like along with their family and friends.
There will not be a rehearsal. After communion, the neophytes and newly received will simply be asked to gather in front of the steps to sanctuary for a special blessng by Bishop Deeley.

Please have those who RSVP'd for the reception come to the back of the church following mass to celebrate with one another and Bishop Deeley