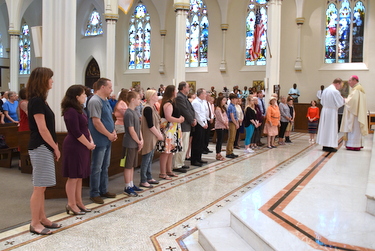 A neophyte is a newly initiated person who is going through the final period of Christian Initiation, the post-baptismal catechesis called "mystagogy." The Rite of Christian Initiation notes that during the period of mystagogy the Bishop meets again after the celebration of the Easter Vigil with those whose names were called at the Rite of Election. To celebrate this, the neophytes and newly received, along with their families and friends, are invited to attend a Mass with the Bishop to rejoice in their initiation:
Sunday, May 30 at 10:00 AM
Cathedral of the Immaculate Conception
307 Congress Street, Portland
The liturgy will also be available via live stream at www.PortlandCatholic.org/online-mass
---
PARISH LEADERS: Click to RSVP by May 24th with names and total number attending from your faith communities
---
KEEP IN MIND
Please ask neophytes and newly received to arrive at the Cathedral no later than 9:45 am on May 30

The neophytes are encouraged to wear white in honor of their recent Baptism; newly received through Confirmation and first holy Communion are encouraged to wear red.
The first pews off the center aisle near the baptismal font are served for those attendees who registered ahead of time.
The Cathedral does take one name and a phone number for each household for contract-tracing. Please include this information when you register so it can be added to their check-in list for faster entry.
There is no special seating reserved for this celebration which takes place as part of a regular weekend Mass. Neophytes and newly received should sit in available spaces along with their family while other households sit at least 6 feet apart in open spots.
There will not be a rehearsal, though Lori Dahlhoff will be on hand to help direct the neophytes and newly received to come to the base of the sanctuary after the homily to receive the After communion, the neophytes and newly received will simply be asked to stand in their pews for a special blessing by Bishop Deeley.

There will be no reception following mass, though a group individual picture with Bishop Deeley are possible.